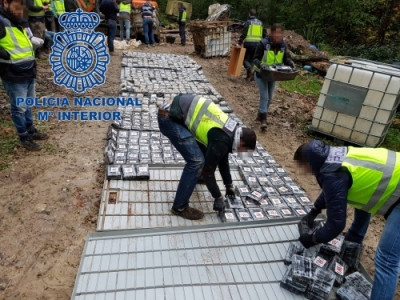 Three Britons have been arrested in Spain after the country seized one of the largest drug hauls in its history. Spain's National Police said that their investigation had dismantled an international drug trafficking organisation that was transporting narcotics to the country's south.
The three Brits were arrested alongside two Spaniards in Granada and Guipúzcoa as authorities seized 1.2 tonnes of cocaine, numerous tools used in the distribution and discovered a hidden marijuana plantation.
Spanish National Police said that the organisation was "one of the most active in Europe", adding that they used professional truck drivers to transport narcotics hidden amongst legal shipments. Authorities said that the arrests occured after a main member had transported cocaine to a warehouse in Granada.
After picking up a legal shipment in Valencia, authorites said the driver picked up a second load in Burgos, then in San Sebastian met another driver who led them to a farm away from population centers. Both vehicles later ended the journey at the warehouse where agents arrested the driver and two members of the organisation as they unloaded 483 packets of cocaine - a total of 531kg.
Authorities said they then raided a second location in Guipúzcoa where two further people were arrested. Inside an uninhabited home they discovered an area for marijuana cultivation.
They then found a further 612 packets of cocaine buried underground. The Guipúzcoa haul had similar characteristics to the previous lots of cociane and added 678kg to the total seizure. One further kilo was added after being found at one of the leaders' houses.
National Police said that along with the cocaine they seized: "a truck, its trailer, two cars, 4 weighing scales, 3 precision scales, 2 thermo-sealing machines, 6,000 euros in cash, several telephone terminals, various accounting documents, 35 cartridges of caliber 22 and a list with official license plates of camouflaged vehicles of the National Police."