UFC heavyweight contender Francis Ngannou has revealed that his dream opponent in the octagon is former champion, Brock Lesnar.
Ngannou (11-1 record) has quickly risen the ranks since making his UFC debut back in December 2015 with six finishes in his last six fights.
The most recent one came in a devastating fashion at UFC 218 against long-time contender Alistair Overeem as "The Predator" was able to connect with a left uppercut that knocked his opponent out cold in the very first round to announce himself to the world.
UFC president Dana White confirmed afterwards that a heavyweight title fight was next for the French-Cameroonian with current champion Stipe Miocic lying in wait.
However, a dream opponent for Ngannou would be current WWE Universal champion and former MMA cash-cow Lesnar, who as of now, is retired from the UFC.
"I'd always like to see the match between me and Brock Lesnar," Ngannou said, as quoted on MMAFighting.
"Two big dudes. I like that matchup. I'm excited for that kind of match as a fan. ... I want to see that match."
"He's big. Huge, as you say. But he's not stronger than me. I'm stronger than him. I'm the best striker in the heavyweight division and the more powerful guy. I'm also a talented guy and I will deal with that very easy."
Ngannou has become known for his power, especially after his knockout of Overeem, but he has more to his game according to his coach Dewey Cooper.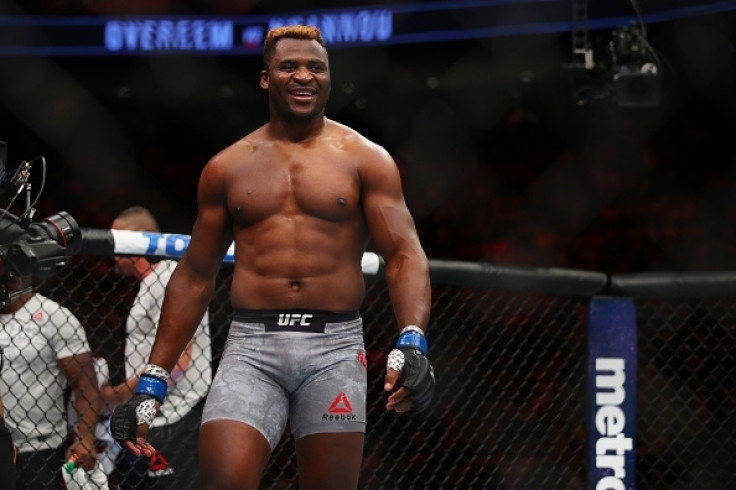 A real student of the sport, Cooper believes the 31-year-old has the potential to even go into boxing and defeat the heavyweight champion in a year's time.
"This isn't some jock-type guy," Cooper told MMAJunkie. "He's really smart, he really studies, he really studies, and he really believes what he's going to accomplish. Everything is coming to fruition right now.
"He has punching power. Anyone that has that equalizer will fare well. If he spends more time and takes it seriously, trains hard, he could be a champ in boxing also.
"Everyone was so enthralled about the Conor McGregor/Floyd Mayweather fight. I'd like to see Francis about one year from now fight whoever the heavyweight champion is, whether it be Deontay Wilder or Anthony Joshua.
"That would be a real fight, where an MMA fighter could go in there and upset a current boxing champion."