As the world joins Brussels in a show of solidarity following the barbaric attacks on the Belgian city that left 34 people dead and over 120 people injured, the Islamic State (Isis) has released photographs of jihadis distributing sweets to local residents in Syria to "celebrate" the massacre in Europe.
Militants wearing shoulder holsters were photographed with callous smiles as they handed bags of sweets to young children and men in the province of Deir Ezzor, eastern Syria. The photos included a statement, describing how IS (Daesh) distributed the sweets to Muslims in "joy of the blessed attack against the Crusaders in Brussels."
More than 30 people were killed and many more left injured following a coordinated series of bomb attacks at Zaventem Airport and Maelbeek Metro Station in the Belgian capital. Dozens of people are still missing following the horrific attacks. British man David Dixon, from Nottingham, commutes on the Belgian capital's Metro system and is still missing.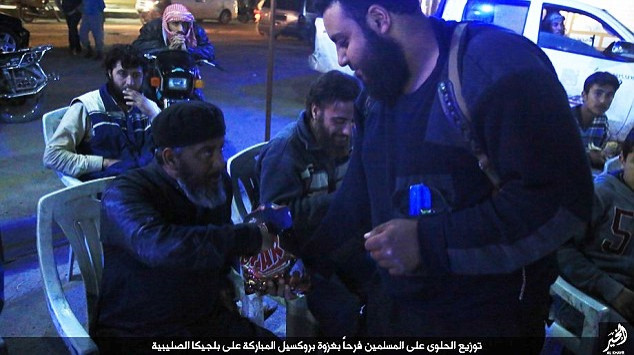 Meanwhile a major manhunt is underway for one of the suspected terrorists who fled Brussels Airport after the two explosions ripped through the terminal. Police issued a wanted notice for the man who was seen on CCTV pushing a luggage trolley through the check-in area with two other suspects minutes before the blasts.
Two men blew themselves up while the third suspect is believed to have left a nail bomb and fled, according to De Standaard. His alleged accomplices were wearing black gloves on their left hands, which security sources say would have hidden the triggers for their explosive vests.
The explosions come just a day after the Belgium Interior Minister warned of possible revenge attacks after the arrest of Paris massacre suspect Salah Abdeslam in the city last week.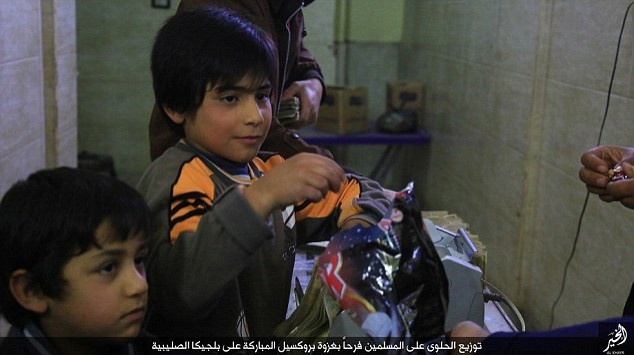 After claiming responsibility for the Brussels bombings, IS pledged to carry out similar attacks in the UK and threatened to hit the British capital "'harder and more bitter." It was earlier reported that Isis has trained and dispatched at least 400 fighters to Europe to hit the continent in deadly waves. The fanned out network of interlocking terror cells similar to the ones that struck Paris in November and Brussels yesterday have "orders to choose the time, place and method for maximum carnage."
Britain has ramped up security with armed officers taking to the streets near major landmarks, train stations and airports.
London's iconic landmarks including Tower Bridge and the National Gallery were lit up in the colours of the Belgian flag in a show of solidarity with the people of Brussels.