Brussels attack: Facebook Safety Check inactive until 3 hours after terror bombings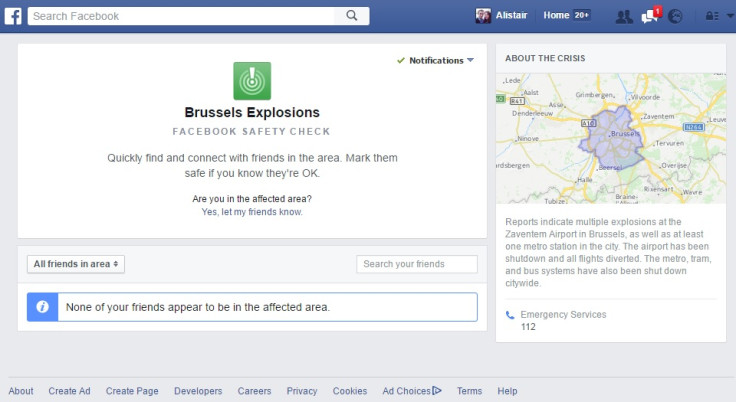 Facebook was criticised on Tuesday morning (22 March 2016) for not activating its Safety Check feature until three hours after Brussels was struck by what's believed to be coordinated suicide-bomb attacks.
Two explosions at the departure hall of Brussels airport in the Belgian capital caused multiple deaths, with 28 fatalities currently being reported. Further explosions were later heard on the city's Metro system. The death count is expected to grow throughout the day.
Facebook's Safety Check feature was quickly activated after the Paris terror attacks in November, allowing users in the city to confirm through the app that they were safe. This message are then seen by all of their friends on the social network.
Safety Check in Brussels was switched on at approximately 10:15am GMT, approximately three hours after the first blast took place. Several Facebook users complained directly to the company on Twitter asking for Safety Check to be switched on.
A Facebook spokesperson said: "We activated Safety Check – a simple and easy way to say you're safe and check on others after a major disaster or crisis – in Brussels. In 2015, more than 950 million people received a notification that a friend or loved one was safe in a crisis."
Safety Check is still a work-in-progress feature that Facebook tweaks and develops each time it is used. After it was activated during the Paris attacks, Alex Schultz, vice-president of growth at the social network, explained: "Each time we have launched the tool, we've improved it.
"We saw spam abuse with the tool in some launches, in others it has overwhelmed our notification systems because of the huge numbers of people wanting to tell their friends they are safe. We are learning to make the tool and policies behind it better as we go – and because Safety Check is a relatively new feature for us, we're still understanding how it can best be used and in what instances."
© Copyright IBTimes 2023. All rights reserved.