Brussels lockdown after 'specific' threat of Paris-style terror attack and arsenal found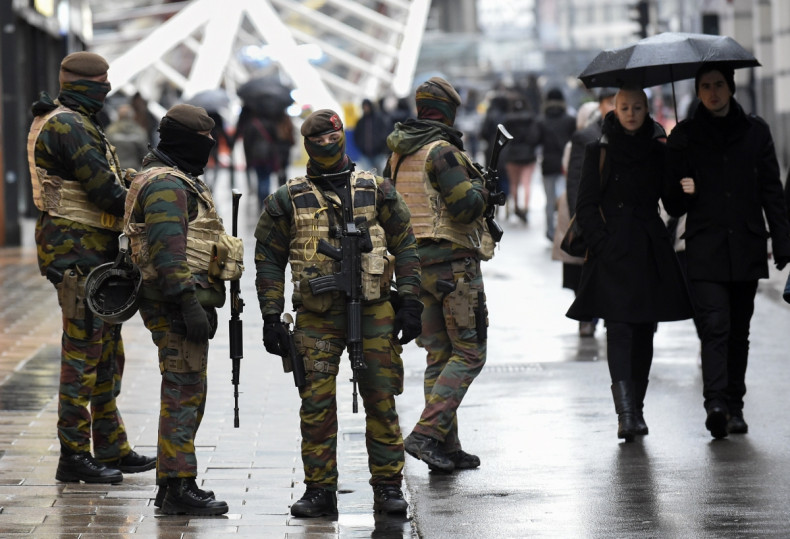 Brussels is in lockdown today after Belgium's authorities received "specific information" about an imminent Paris-style terror attack in the city. Shopping centres have been closed down, the military patrol the streets, police in black balaclavas are on rooftops, and the city's metro system has been closed down.
The Belgian capital raised its terror alert to the highest possible level this morning (21 November). The threat level has been escalated to "very serious", or level four, in the city where many of the suspects in last Friday's Islamic State (IS) attacks in Paris hail from. The rest of Belgium remains at level three – or "serious".
A level-four threat means that a terror attack in Brussels is "imminent" and the Belgian government has issued advice instructing citizens to avoid crowds, including shopping centres and concerts. The Flemish government has postponed activities and a Belgian first division football match between Anderlecht and Lokeren, which was to be played 47 miles from Brussels, was called off by the mayor of Lokeren. Despite warnings from the Belgian FA, three Pro League games are set to go ahead this afternoon or evening.
Belgian PM Charles Michel says the decision to raise the terror alert level in Brussels was taken due to concerns over an attack "like that happened in Paris". He said: "It results in quite precise information about the risk of an attack as it happened in Paris. We are therefore talking about threats pertaining to a hypothesis of individuals with weapons and explosives would lead attacks, probably at several places at a time."
Molenbeek arsenal discovered
A raid on a house in the much-troubled eastern district of Molenbeek revealed an "arsenal" including explosives and chemicals, reported the Telegraph. The area has since become notorious, as being where several of the terrorists who took part in the Paris attacks lived.
The impoverished area was home to the suspected mastermind of the Paris atrocities, Abdelhamid Abaaoud, who blew himself up outside the Stade de France. It was also home to Salah Abdeslam, the lone surviving terrorist of the IS attacks in Paris, who has still not been captured.
The 26-year-old French citizen was last seen driving near the Belgian border. He was stopped by police and questioned a few hours after the Paris attacks, but was released.
French officials said on Saturday that Abdeslam, whose brother Brahim blew himself up in the Paris attacks, might be in France or Belgium. The last time any part of the Belgium was put on a level-four terror alert was in May 2014, after four people were shot dead at a Jewish Museum in Brussels.
The Brussels' LGBT community is also on edge after reports that one of the alleged jihadists had been seen in bars in the city's lively gay district. Bar owners are being questioned in an area known as "Jacques Quarter" as well as hours of CCTV being analysed by security services.