Brussels lockdown: Armed soldiers patrol Belgian capital, on highest level of terror alert
Soldiers are patrolling the streets of Brussels as Belgium hunts a suspected Islamist militant who has been on the run since the attacks in Paris.The Belgian capital's streets are eerily quiet when they should be bustling with shoppers in the run-up to Christmas.
Authorities are still warning of possible imminent attacks like those in the French capital, in which 130 people were killed. They are searching for Brussels barkeeper Salah Abdeslam, who returned to the city from Paris hours after the attacks on 13 November.
The metro, museums, most cinemas and many shops will stay shut in the usually bustling EU capital. Many staff have opted to work from home. There is also no school or university for almost 300,000 students. On the Grand Place, a historic central square that usually draws crowds of tourists, an armoured military vehicle was parked under an illuminated Christmas tree.
Nato said its headquarters in the city are open, but some of its 1,000 staff have been asked to work from home and external visits had been cancelled. EU institutions, which employ some 21,000 people in the city, are also open with the soldiers patrolling outside.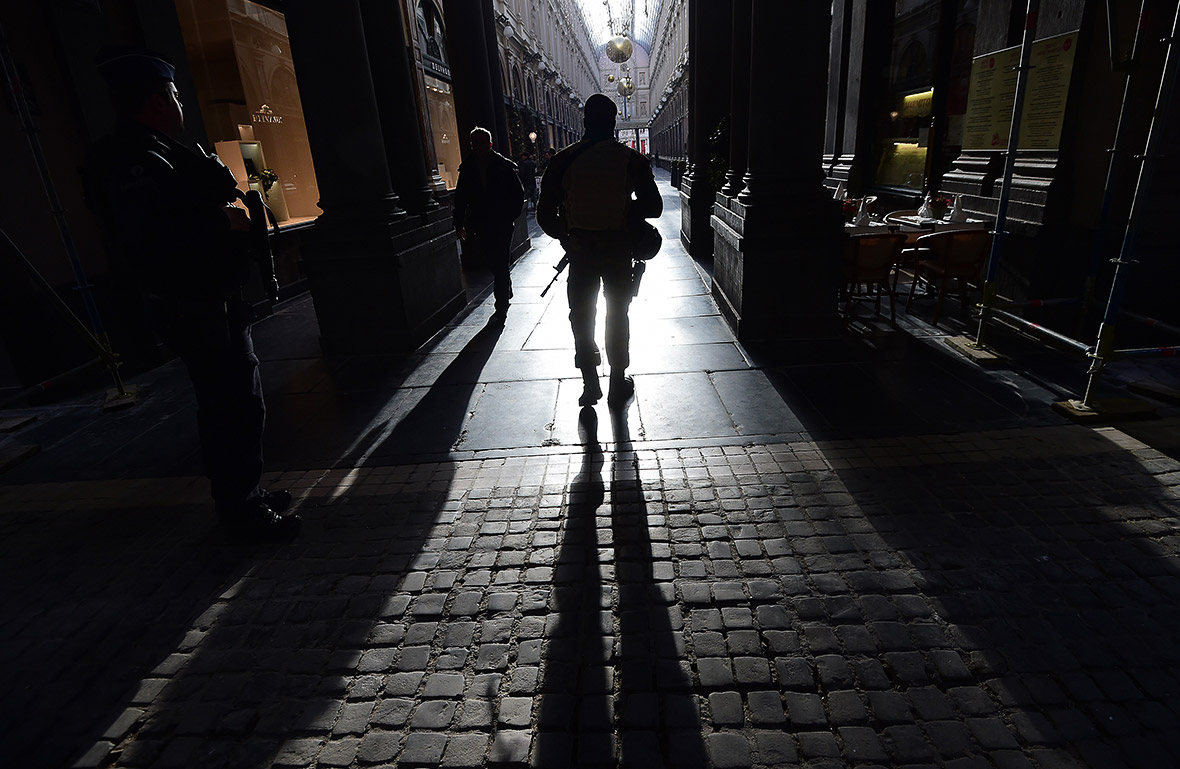 Some locals are not convinced the government's moves are anything more than a PR move. "They have a lot of attention on them now so they have to prove they're doing something, but I don't know how much difference this will make," said Maxime Legena, an IT technician. "We don't really know how big this threat is because the government hasn't said very much." But he did appreciate one unintended side-effect of the attempts to shutter the city: "My drive to work was much faster today because there's nobody on the streets."
Jacqueline Vander-Poelen, who lives near the city's Grand Place, said the noise of police operations and reporters scurrying to cover them made for an annoying weekend. "What's making me scared is the alarmist journalists saying there's going to be another attack," she said. While she couldn't remember any other instance where the city shut down so completely, she said residents would likely accept whatever measures were necessary to defeat extremists.
Some Belgians have developed their own style of acceptance. When authorities asked people to stop commenting on ongoing police raids, social media users responded by flooding Twitter with pictures of cats, including some snaps of kittens holding up their paws like captured suspects.
Prime Minister Charles Michel said the city of 1.2 million will remain on Belgium's fourth and highest level of security threat, meaning the threat of an attack is "serious and imminent". Interior Minister Jan Jambon said Belgium's capital is still operating. "Apart from the closed metro and schools, life goes on in Brussels, the public sector is open for business today, many companies are open," Jambon said. The city's buses are running normally and many shops in the suburbs are open.
Organisers of the Davis Cup tennis final between Belgium and Britain in Ghent, 55km (35 miles) to the west of Brussels, said it will go ahead this weekend.