Molenbeek: Brussels district which bred pothead jihadist Paris attackers looks for solutions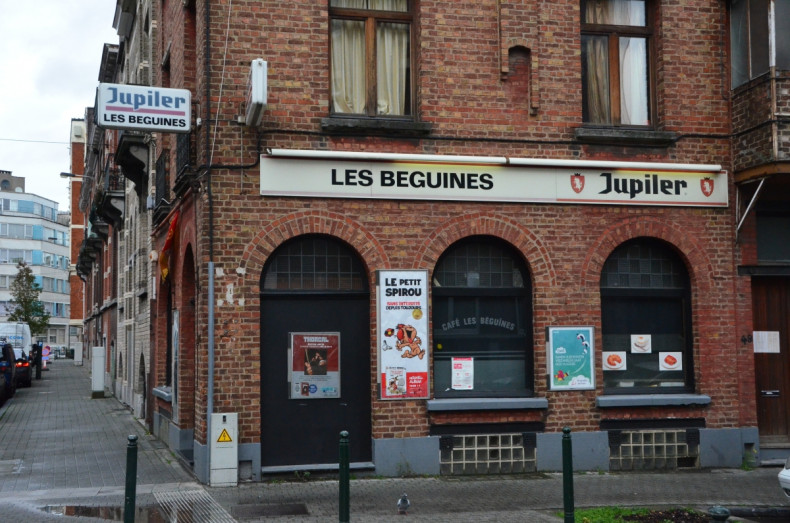 "When I saw the cameras I thought they were shooting a movie or something," said Christiane, a middle-aged woman of Caribbean descent living in what has been described, to the surprise of most of its residents, as Europe's jihadi central, the Brussels district of Molenbeek.
Christiane, not her real name, was peering out of her home to watch the media circus a few doors down, where a dozen reporters were deployed around the favourite hangout of two Islamic extremists that participated in the Paris attacks of 13 November – a pub.
The Les Beguines, on the namesake rue des Beguines was run by brothers Salah and Brahim Abdeslam, 26 and 31. Brahim blew himself up detonating a suicide vest near a café on Boulevard Voltaire in Paris on 13 November. Salah is currently on the run and has been dubbed Europe's most wanted man.
Their bar was in the quiet Karreveld area of Molenbeek, a multi-ethnic neighbourhood of the Belgian capital, just two metro stops from the main train station linking Brussels to London and Paris. It was renowned in the area as a small drug-dealing hub and was shut down by authorities for that reason earlier in November.
"Let's say it was not famous for its beers," said a young Belgian man working at a shop nearby. "However, we never had a problem with them," added his 23-year-old colleague Anthony Beuel.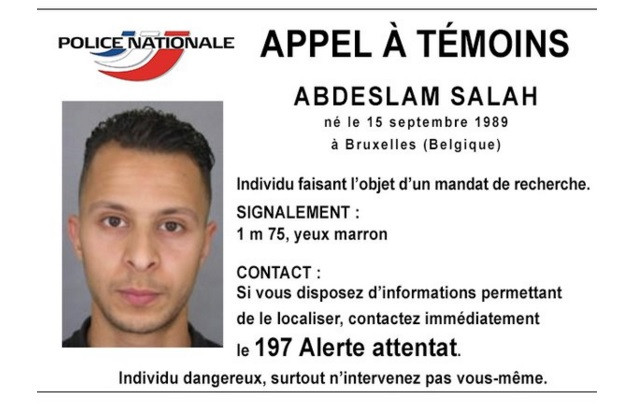 The international arrest warrant issued for Salah Abdeslam, the prime suspect in the Paris attacks
File
In the area many find hard to come to terms with the idea that the two pot-loving brothers could have participated in the killing of 129 people. "They were regular guys, who enjoyed a laugh," 25-year-old Nabil told Reuters. "There was nothing radical about them... They were here just last week hanging out."
Karreveld, where other bars are filled with Belgian pensioners choosing between a trappist beer and a glass of red wine to wash down their lunch, also hardly fits the image of Islamist haven it has acquired.
"We don't understand those people, they are not Muslims the way we are," said a man at a café nearby favoured by the Albanian community, explaining he doesn't believe religion defines him. There are portions of Molenbeek where Islamic conservatism is more visible, but the Abdeslam brothers were not known to be part of that environment.
Zoufri Moustapha, a 56-year-old Moroccan painter, has been running a secular youth centre in Molenbeek for 35 years. He said there have been a few ideological run-ins with radicals living in the area but never violence.
"There are youths that think what we do here is not good. They say theatre is not good as it is for amusing people," he said. "We try to explain to them it is not just about that. It teaches you how to speak, to face an audience and to express yourself and that at the same time life is about music and theatre."
He never had to explain that to the Abdeslam brothers. "They smoked weed, went out dancing, they really were Mr Everyone. We never had hints that they were dangerous; they had a completely normal attitude. How they became radicalised is a big question mark," he said.
As IBTimes UK visited, Molenbeek was still reeling from the carnage in Paris, which threatened to leave a deep scar in the once-harmonious relations between different communities.
Carmen, a 46-year-old woman working at an Italian café three minutes walk from the Les Beguines said she has been left in fear. "It is Belgium's fault because they let everyone in," she said. "I've developed a phobia of all Arabs," added a female costumer. Outside an elementary school nearby, a woman wearing a hijab who gave her name as Saida said she too was afraid for the safety of her children.
Back at the Albanian bar, some showed a more down-to-earth attitude towards the potential threat posed by locally grown extremists. "I am a little worried because I have family and kids but they are not going to attack here, who are they going to kill? Their parents or cousins?" said a man who preferred not to be named.
Christiane, living near the Abdeslam brothers' bar said finding out about their involvement in the Paris attacks made her doubtful of all her neighbours, when a few years ago she would trust them with her children when she was not home.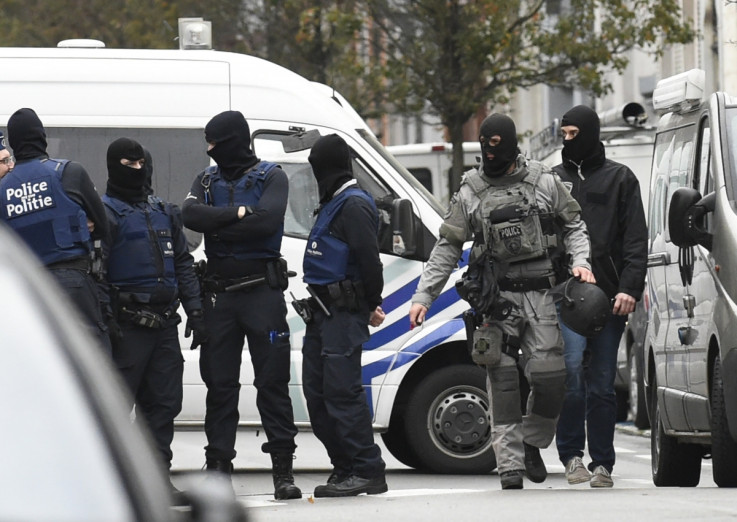 Security forces personnel walk past during ongoing operations in the Molenbeek district of Brussels
JOHN THYS/AFP/Getty Images
In a twist of fate, one of her now grown-up sons was supposed to attend the rock concert at the Bataclan theatre in Paris on 13 November which accomplices of the Abdeslam brothers stormed, killing 89 people. Luckily, at the last minute, he decided not to go.
Police have been carrying out a series of raids in Molenbeek, which is home to large Moroccan and Turkish communities and suffers form a high unemployment rate, since the coordinated series of shootings and bombings that shocked the world.
The related investigation was the last in a series of terrorism probes leading to this suburb, which was previously linked to the Charlie Hebdo attacks in January, the Thalys train shooting in August and last year's killing of four people outside a Jewish museum in Brussels.
Belgian authorities have now vowed to crackdown on radical preachers, with Prime Minister Charles Michel threatening to shut down some local mosques. Some locals however argue that repression is not the answer, but risks fuelling the problem instead.
Said, a 54-year-old who attends the Al Khalil mosque known locally for its championing of social conservatism, said the attacks are unrelated to what imams preach. "These are not Muslims, they are criminals. They are sick fanatics," he said "At the mosque they tell us to do good, not terrorism."
Outside the mosque some worshippers were annoyed at media, which they lament, portrays all Muslims as militants. To make that point, a man pulled his car blocking traffic in front of the religious site to ask me what I thought of the shootings in Paris with a tone between the angered and sarcastic.
Moustapha, the painter, said engaging with youths was the best solution. His centre provides a wide range of activities including, theatre, cinema, painting classes and poetry lectures to up to 300 young people aged between 12 and 26 from various backgrounds every year. "We try to integrate them in society," he said. "Cultural work helps them develop an open and critic mind so they can grow to become their own defenders [from radicalism]."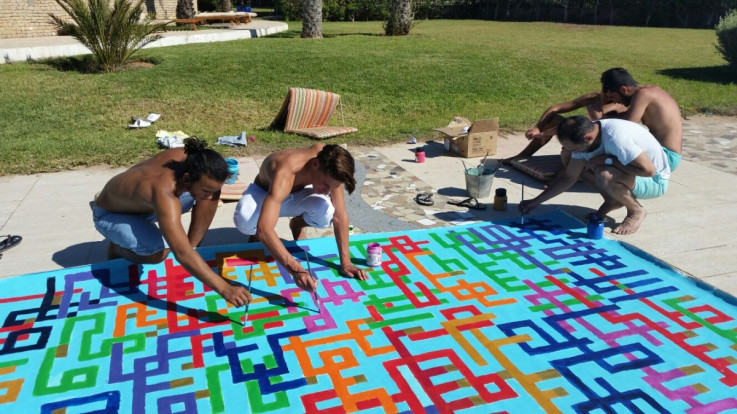 Molenbeek youths from a centre run by Zoufri Moustapha work at an artwork in Agadir
Courtesy of Zoufri Moustapha
He was echoed by Ahmed Hadraoui, a Moroccan writer involved in the running of a cultural centre in central Brussels. "Painting, poetry music, dance are activities that help you to develop a personality, a certain ego.
"When you have that you can't be manipulated by someone else," he said. "A kamikaze is a person that has been transformed into a bomb. It's not he that presses the detonator, it is someone else pushing a button in his head."