Brussels: Thousands join peaceful march for return of democracy to Burundi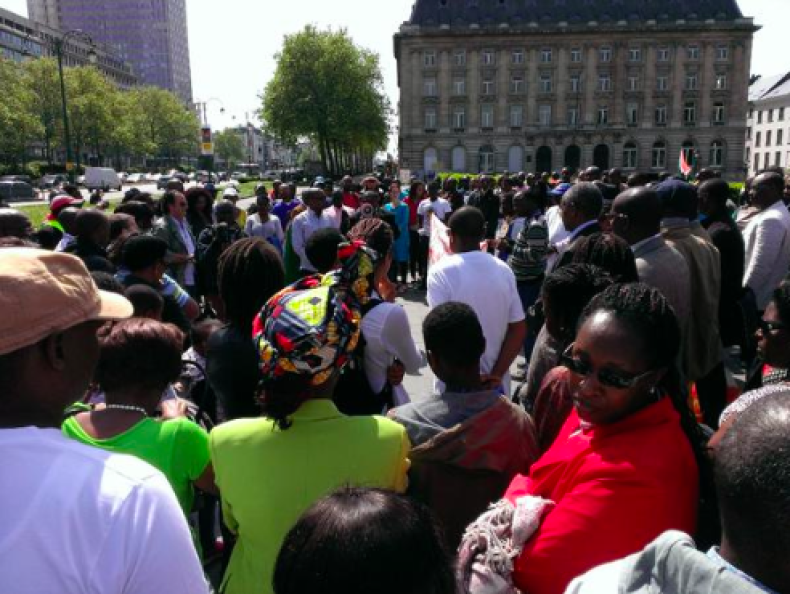 Thousands of people gathered on 10 May in Brussels for a peace march in the wake of violent protests that have rocked Burundi, claiming 20 lives by the end of last month.
Political and community leaders and Burundi refugees were among those taking part, with hundreds brought in from other parts of Europe to demonstrate against the violence, which erupted as hundreds of protesters took to the streets of the capital Bujumbura on 26 April. The protests were in opposition to president Pierre Nkurunziza's "unconstitutional" decision to seek a third term.
"We are joined today by our Burundi friends from Germany and France with one common objective: Burundians have kept quiet for far too long but now that our fundamental rights have been violated and that we face the provocation from the party in power (CNDD-FDD), we are uniting," Bakunda Athanase, president of the Burundi Diaspora of Belgium (DBB) told IBTimes UK.
"It is time for us to protest, and ask the entire world, the international community and the UN to understand the truth about Burundi. The more we wait, the more our country is falling into an endless crisis. We need immediate intervention."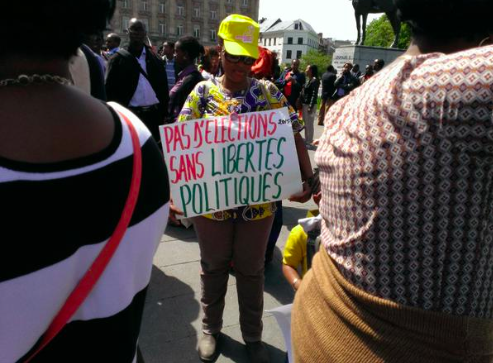 A protester carries a poster that reads: 'No elections without political freedom'.
Twitter
Many demonstrators on the 1,000-strong walk towards Brussels' Place du Luxembourg, located close by to the European Parliament, spoke of their frustration at Belgium's silence.
Belgium ruled Burundi and Rwanda as a European colony known as Ruanda-Urundi after the WWI and is today one of Burundi's closest political allies. There were chants calling for Belgium to step in and chastisement for the lack of response from the international community.
Real European democracy for Burundi
The march was organised on the same day the 26 June Presidential electoral campaign was poised to commence in Burundi, where members of the opposition believe that the government is behind extra-judicial killings and other acts of political violence, and are demanding the elections are cancelled.
Pancrace Cimpaye, spokesman for the Alliance for Democratic Change (ADC-IKIBIRI), one of the country's largest opposition parties, told IBTimes UK how the European Union should call the elections off while police and militia forces continue firing on peaceful demonstrators.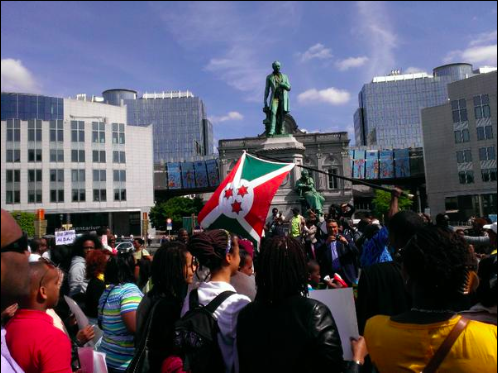 Protesters walked to Place du Luxembourg, siege of the European Parliament
Twitter
"It's even cynical, discourteous that a European-type democracy is at the other end of the barrel. It simply can not work, and our so-called European democracy must have the same conditions."
He continued: "People living 10,000 km from Bujumbura do not know the drama that is happening, even if the United Nations and its Security Council know of the Imbonerakure militia who started the killings."
"Are twenty persons killed still not enough? How many do we need for these countries and the entire world to move? Will we need another 100 killed? 200?" he said, pointing to Burundi's 12-year ethnic-based civil war that killed 300,000 and internally displaced 800,000.
Pleading the international community
The African Union warned on 7 May it was impossible to hold an election under such violent conditions and announced it could no longer send its long-term observers.
The US has urged Burundi's government to allow peaceful dissent and political opposition in the country. Meanwhile, the European Union has remained more neutral, stating its priority "is for all sides to refrain from violence and engage in ongoing political consultations ahead of the elections".
"It's not enough," a demonstrator said. "We need a real democracy in Burundi: it is a very poor country, we know that, but this is too serious, they have gone too far with this crisis."
Bakunda Athanase, who has been living in forced exile in Belgium since 1995, is calling on the international community to take a stand against the current party in power, the CNDD-FDD.
Among the blameworthy are Russia, which has said Burundi should find a solution by itself and South Africa which has economic interests with Burundi to protect, especially mobile telephony but seems to be "waiting for the situation to degenerate completely to intervene", said Athanase.
"Waiting also means that there have already been around 20 deaths, we're not going to work anymore, and everything has come to a standstill," he said.
Burundi's civil war, which resulted from a long-running post-colonial struggle between the country's majority Hutu and its Tutsi governing elite, was allowed to take place under the noses of former Tanzanian President Julius Nyerere, South African President Nelson Mandela and Deputy President Jacob Zuma.