A man has been burned alive during protest in Bujumbura, capital of Burundi, erupted after President Pierre Nkurunziza announced he will seek a third term in June's election.
The country descended into chaos at the end of April as people accused Nkurunziza of not respecting the Arusha Peace Agreement, which says the president can only stay in power for two terms.
The man was attacked by protesters who thought he belonged to the Imbonerakure – the youth wing of Nkurunziza's party National Council for the Defense of Democracy (CNDD-FDD) – accused of attacking the demonstrators, Reuters reported.
"They put tyres around his neck and then burned him," a witness said after seeing the incident in the Nyakabiga district of Bujumbura.
A presidential spokesman condemned the incident and urged the government to take "strenuous measures" to prevent similar incidents from occurring in the future.
AP reported other people suspected of being part of the Imbonerakure were chased by the demonstrators until soldiers dispersed the mob by firing into the air.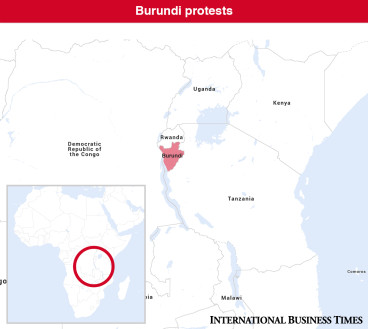 In a separate report, a source told IBTimes UK the protest is being "violently repressed by the police, the Imbonerakure and Rwandan terrorists from the Hutu rebel group Democratic Forces for the Liberation of Rwanda (FDLR)".
The source added thousands of people are fleeing Burundi are sheltering in neighbouring countries as they are fearing a genocide could occur after "Nkurunkiza let in the country the Hutu militiamen responsible for the 1994 Rwanda genocide and he uses them, together with the Inborenakures, to terrorise people in villages, where nobody sees what happens".
According to AFP, at least three people were killed during protests on 7 May, bringing the number of deaths to 17.