Buddhist mobs throw petrol bombs to stop aid shipment to Rohingya Muslims in Rakhine
A group of 300 Buddhist protesters tried to block Red Cross relief supplies.
Buddhist protesters in Myanmar are reported to have tried to stop humanitarian aid headed for Rohingya Muslims, tens of thousands of whom have been fleeing to Bangladesh, by throwing petrol bombs at a shipment.
The shipment was bound for the north of the Rakhine state, which has seen a spate of violence since 25 August, forcing over 420,000 Rohingya Muslims to flee their homes in Myanmar.
According to local media reports, around 300 men started throwing rocks and Molotov cocktails at a boat that was being loaded with about 50 tonnes of bottled water, food, blankets, mosquito nets, and other supplies for the Rohingya.
The ship was docked in the Rakhine state capital of Sittwe, the local government information office said.
The relief supplies came from the International Committee of the Red Cross and some of its workers loading the boat suffered injuries, Reuters reported a witness as saying.
Some of the protesters were reportedly carrying sticks and metal bars.
"People thought the aid was only for the Bengalis," the secretary of the state government, Tin Maung Swe, told Reuters. He referred to Rohingya as 'Bengalis', a term that the minority community finds offensive.
Police had to fire in the air to disperse the crowd.
Eight people were arrested following the incident that took place late on Wednesday (20 September).
According to Red Cross spokeswoman Maria Cecilia Goin, a group of Buddhist protesters approached the relief boat to ask what the workers were doing.
She said her team explained to the community about the emergency support they provide.
"It's important for them to understand that we are working in neutral and impartial way," she said, adding that the work is being done "with full transparency with the Myanmar authorities".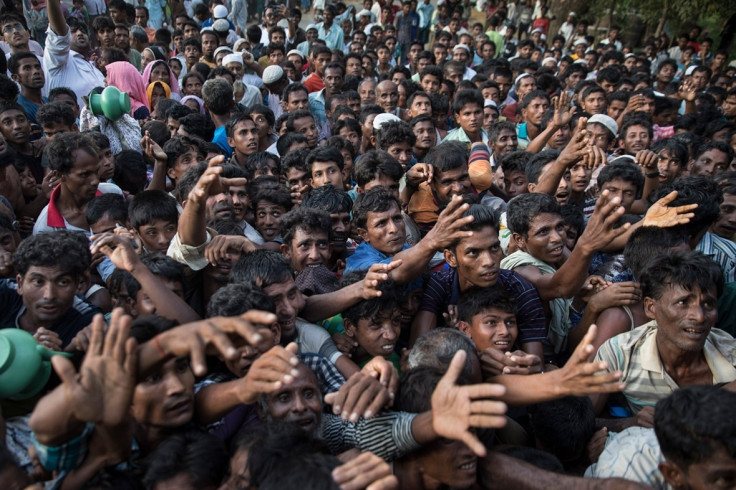 Meanwhile, a truck carrying aid for Rohingya refugees is reported to have veered off a road and fallen into a ditch in Bangladesh, killing nine people and injuring 10 others.
These relief supplies too were thought to have been provided by the Red Cross, the Associated Press reported.
The incident took place on Thursday morning (21 September) near the Bangladeshi border in southeastern Bandarban district.
Those killed were Bangladeshi workers hired to distribute food packages to Rohingya families seeking shelter in the country, Red Cross spokeswoman Misada Saif said.
She said the aid agencies were "very shocked and sad" at the deaths of workers as they were "there to help the people who desperately need help".
The ethnic Rohingya, who have been persecuted in a systematic manner for the past few years, are often dubbed as a stateless minority and are branded illegal immigrants in the Buddhist-majority country, Myanmar.
© Copyright IBTimes 2023. All rights reserved.