Chancellor Philip Hammond is to use his first Spring Budget on Wednesday (8 March) to lay out his vision for Britain's economy as it prepares to leave the European Union.
The Conservative cabinet minister is to deliver an "upbeat" assessment of Britain's financial future post-Brexit, but will concede more has to be done for families concerned about their prospects.
He will say that there are those who are "still feeling the pinch" almost 10 years on from the financial crash, but will say the government "will do everything it can to help ordinary working families to get on".
Hammond will say he wants to tackle those problems "head on" and that he will not "shirk" difficult decisions on taxes and public spending.
As such, taxes are expected to rise and further public spending cuts are predicted in his first budget.
One area to be affected is believed to be the National Insurance rates for the self-employed, which could be worth as much as £1bn ($122bn), to bring them closer to the level paid by those in salaried jobs.
The rate could rise from 9% to 12% – in what would be an increase of £1,000 for some people.
Hammond is also expected to target buy-to-let landlords, in what is expected to be one of the biggest revenue raisers for the Government.
From April investors are expected to no longer be able to claim higher rate tax relief on mortgage interest ­– a move that could cost landlords thousands of pounds.
Business rates are also expected to go up for a majority of the South and London to reflect higher property prices, but those in the North, where value has gone down, will see some benefit.
The changes prompted a backlash from Conservative MPs and small businesses, and caused Hammond to confirm he will subsidise the blow to local traders and pubs by £1,000 a year to ease the pressure from the rises.
Other areas of spending will include a £5m fund, which will be set up to mark the centenary of female suffrage next year.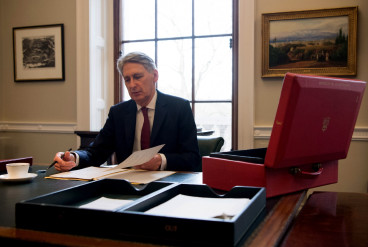 It will support projects celebrating the 1918 Representation of People Act, which gave more than eight million women the vote for the first time and which paved the way for universal suffrage a decade later.
Hammond has already announced £320m of funding for the next generation of grammar schools as well as a £60bn Brexit war chest, aimed at smoothing out any turbulence felt when Prime Minister Theresa May triggers Article 50 in several weeks' time.
He is also expected to devote extra money for social care as recent forecasts on the UK's economic growth and revenues from income tax were more positive than expected.