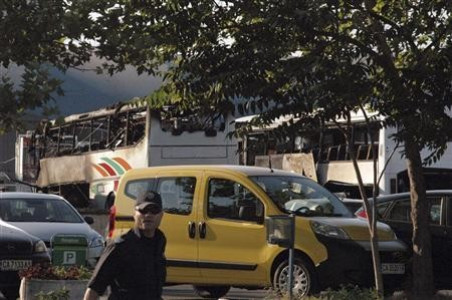 A bus carrying young Israeli tourists has exploded in Bulgaria, reportedly killing seven people and injuring a further 27.
The blast occurred at Sarafovo international airport in the Bulgarian holiday city of Burgas, some 400km (250 miles) east of the capital, Sofia
Two more buses caught fire but the blazes were quickly put out, the Bulgarian interior ministry said.
A doctor on duty at the Burgas city hospital told Bulgarian radio that, among the 27 people hurt, at least three had severe injuries.
Bulgarian news agency Novinite.com says there were about 40 Israeli tourists on the bus that blew up.
Israeli Foreign Ministry spokesman Jonathan Rosenzweig said a flight from Tel Aviv had landed at 4:45pm local time (1:45pm GMT), and that the blast took place around 40 minutes later.
Paul Hirschson, another spokesman for the ministry, said: "We don't know if it was a terror attack.
"We do know it was an explosion."
Witness Gal Malka told Israeli TV station Channel 2 that she saw someone board the bus just before it exploded.
Burgas, the second-largest resort on Bulgaria's Black Sea coast, is popular with Israeli tourists, particularly teenagers, and is home to a Chabad centre, a Jewish community facility.
Novinite.com reports that the Bulgarian president, prime minister, and interior minister have travelled to the scene.
In January, Israel's foreign ministry warned of a possible terror plot against Israelis in Bulgaria from Islamist militants who could infiltrate via nearby Turkey.
Reuters says Burgas airport has now been closed and flights are being diverted to Varna.
Israel's Prime Minister Benjamin Netanyahu blamed Iran for the explosion, saying: "all signs point to Iran.
"Iranian terror continues to strike at innocents. Israel will respond with force to the Iranian terror," he added.
The attack occurred on the 18th anniversary of an attack on a Jewish community in Buenos Aires, Argentina, in which 85 people were killed and more than 300 injured.
No one has been convicted of carrying out the bombing and Iran denies any involvement, despite Netanyahu's accusations.