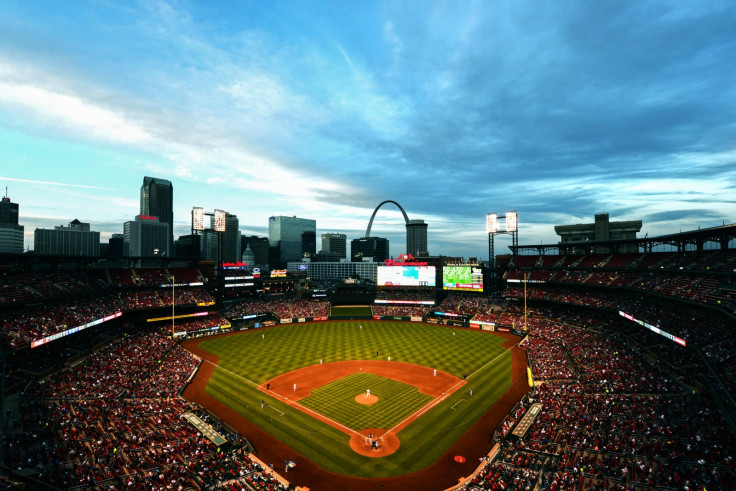 A 34-year-old baseball fan was struck by a stray bullet as she watched St Louis Cardinals play Milwaukee Brewers at Busch Stadium, Missouri on Tuesday (2 May) night.
The bullet grazed the woman's arm and nobody is believed to have been seriously injured.
The unidentified victim was in her seat when she felt pain in her arm. She removed her jacket and found an abrasion on her elbow, the St Louis Post-Dispatch reported.
She went to seek treatment from the first-aid station where staff members contacted an off-duty policeman working as a security guard.
Police said they found a bullet slug "in the immediate area around the victim's seat", and added that it appeared to have been fired from outside the stadium.
Just before the woman was hit, police were alerted to shots being discharged less than a mile from the stadium and they believe someone may have been firing the gun into the air.
Todd Porter, 54, attended the game with his teenage son and recalled the moment the woman realised she had been injured. "Wow, I think I've been shot," the woman said suddenly, according to Porter.
"We thought she was joking, but everybody turned around and she showed me the blood coming down from her elbow," he added. "It looked real purple and red and it looked like there was a hole in her jacket."
Porter said the fans around the woman were all in shock and he and his son decided to leave the ground "before someone else gets to shooting", he said.
Following the incident, the Cardinals said in a statement: "We are aware of an incident last night in which a fan reported being struck by a stray bullet that presumably originated from outside of the stadium.
"The fan was treated for an abrasion and a bruise on her arm at first aid and released. She was interviewed by police who are investigating the matter. There is nothing more important than the safety of our fans, and the Cardinals are grateful that no one was seriously injured. We will be sharing more information with the media as further details emerge."
The St Louis Police department said in a statement: "This further amplifies our yearly message of encouraging 'Fun Without Guns'."
It continued: "We know 'what goes up must come down,' and in this case, an innocent victim was struck. The department constantly stresses the importance of safety and responsible gun ownership."
During a Cardinals game in 1965, Carolyn Yount Pomicter was just 13-years-old when she too was grazed by a bullet – in the throat. On that occasion too, the bullet was discharged from outside the stands as a robber tried to hold up a ticket office at Sportsman's Park.
Now aged 65, Pomicter contacted the Post-Dispatch to vent her disbelief that such an incident had happened again. "My parents didn't retain an attorney back then," Pomicter told the local newspaper. "We were compensated with three baseball game tickets!"