Burkina Faso's new jihadist threat sweeps through villages targeting schools
IBTimes UK hears of worrying trend from Corinne Dufka, West Africa director at Human Rights Watch.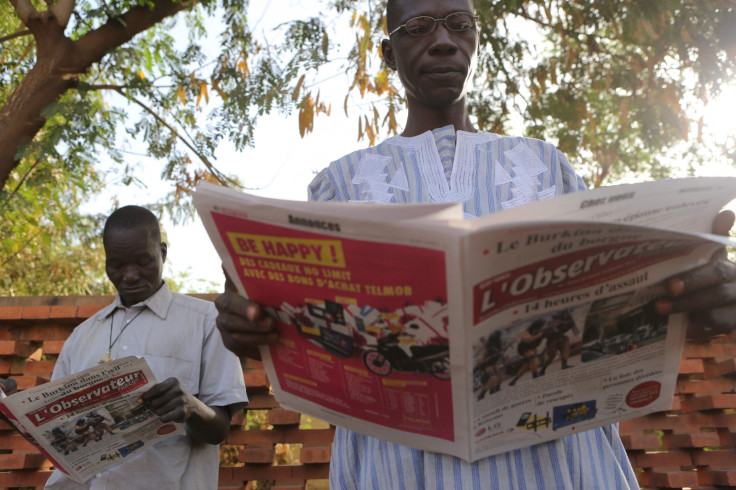 A new Islamist group has been spreading terror across villages in Northern Burkina Faso, as armed men enter schools and force teachers to drop the national curriculum in favour of the Koran.
Al-Qaeda-linked groups have recently been moving into previously untouched parts of Africa, as Islamist terrorists seek to gain exposure in the Sahel. Burkina Faso's northern province was rocked by reprisal attacks carried out on New Year's Eve by commandos linked to an al-Qaeda affiliated religious group.
This week, there were reports of armed men arriving on motorcycles in villages in Northern Burkina Faso before entering packed classrooms and demanding that the teachers review their curriculum, arms in hand.
As panic spread, villagers started fleeing the villages, after armed men told the pupils, "We defend the Koran" before threatening teachers with retaliation if they refused to devote their schooling to the Islamic text.
Corinne Dufka, West Africa director at Human Rights Watch, confirmed the "worrying" trend, highlighting how this new group was led by radical Muslim preacher Malam Ibrahim Dicko.
Over the years, Dicko established an affiliation with the Macina Liberation Front (militant Islamist group MLF or Katibat Macina) that operates in Mali. MLF is an affiliate of Ansar Dine, a Tuareg jihadist front group for al-Qaeda in the Islamic Maghreb.
Cynthia Ohayon, West Africa director for Crisis Group told IBTimes UK that Dicko's new group is not directly linked to MLF. Ohayon said "it's actually a [new group] and we're not even sure it's a real group; more like 30 people trying to put themselves on the map."
Since 2012, various different Malian Islamist groups have recruited men from villages in northern Burkina Faso to grow their presence in Mali, aided by the porosity of borders.
Islamist groups conducting meetings in several central Malian villages are now preaching in Burkina languages Fula and Mooré. Fula is spoken by the Peul (or Fulani) people, who are present in many African countries incl Mali and Burkina. Mooré is spoken by the Mossi, the main ethnic group in Burkina Faso.
Dufka described new shifting movements within the area, with groups currently heavily recruiting men from the Peuhl ethnic group, to which Dicko belongs, and appearing to spread in Northern Burkina Faso, where state capacity and presence is feeble.
"As they have in Mali, the Islamist armed groups appear to be taking advantage of the vacuum of the weak state presence in northern Burkina to recruit and establish themselves there," Dufka said. "They appear to be doing the same thing in Northern Burkina Faso."
Since late 2016, HRW has received several report of alleged abuses by the Burkina Faso security forces as they respond to the Islamist armed groups' threat.
"We urge them to ensure they scrupulously respect human rights and international due process norms as they respond to what appears to be a growing threat by Islamist armed groups in northern Burkina Faso."
Burkina Faso said it has strengthened its defence and security forces position on the ground, and a psychological care unit has been set up to provide support to the affected populations, the authorities said.
<sub>Note: This article was updated to add clarity on Dicko's affiliations.
© Copyright IBTimes 2023. All rights reserved.