Burmese python devours entire deer to amazement of Florida's snake researchers
The snake had devoured an entire 35lb white-tailed deer.
A Burmese python has been documented devouring a white-tailed deer in a case that has stunned veteran biologists.
The 11ft (3.3m) snake was tracked down by conservationists at the Collier-Seminole State Park in Florida, who discovered its bloated body containing the corpse of a six-month-old fawn.
The female snake was captured and brought out into a opening where it began to regurgitate the deer, allowing researchers to weigh them.
What scientists found amazed them: The snake came in at 31.5lbs while the fawn weighed 35lbs, meaning that the python had devoured an animal that was 110% of its entire body mass. The snake was later humanely euthanised.
A peer-reviewed study, which will be published in March 2018 Herpetological Review, concludes that this represents the highest predator to prey ratio ever recorded for a Burmese python and perhaps for the entire python species.
Scientists say the case illustrates the impact non-native Burmese pythons are having on the Florida's Everglades conservation region.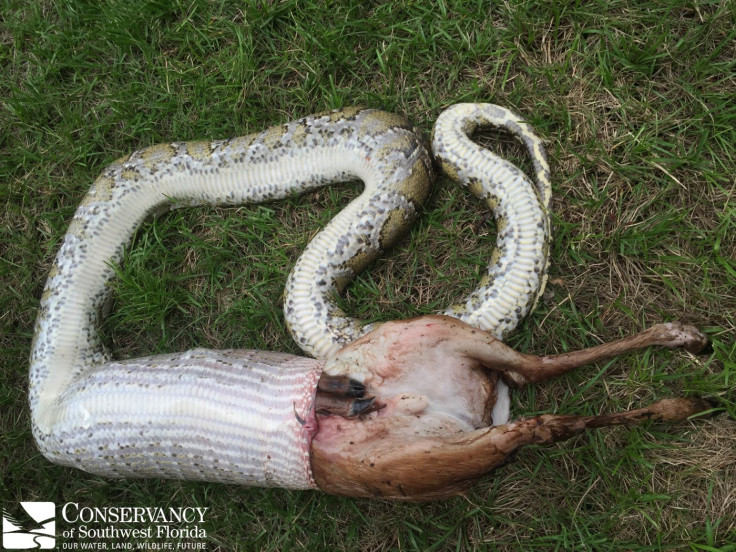 "This observation is another important piece of evidence for the negative impact invasive Burmese pythons are having on native wildlife across the Greater Everglades Ecosystem," said Ian Bartoszek, a biologist at the Conservancy of Southwest Florida.
"Imagine the potential consequences to the state and federally protected Florida panther if Burmese pythons adversely affect the number of white-tailed deer, a panther's primary prey," he added.
Burmese pythons, which are native to southeast Asia and can grow up to 20ft in length, were first introduced to the southern United States in the late 1970s and have thrived in the state's humid climate. However, biologists say their impact could be having a detrimental effect on the area's carefully-balanced ecosystem
The Conservancy of Southwest Florida claims the Burmese Python is a "new apex predator making its way through the bottom of the food chain" and could be the reason for a 90% decline in the small mammal population.