Burundi: Authorities and opposition blame each other as calls for genocide spread online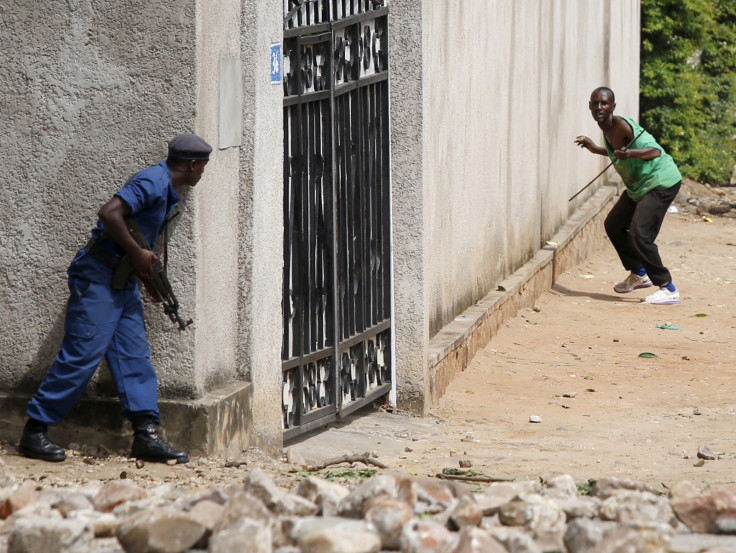 Growing calls for ethnic-based massacres in Burundi have emerged on social media over recent weeks, a trend both the embattled authorities and the opposition are condemning.
Thousands of opposition protesters took to the streets during the spring, leading to a failed coup d'etat on 13 May against President Pierre Nkurunziza – the former leader of a Hutu rebel group –but authorities have since been waging a severe crackdown on dissidents, who now claim they are preparing for war.
Growing calls for massacres
It emerged last week that a Facebook post, published by an anonymous user, was calling Hutus (Bahutu) to turn against Tutsis (Batutsi). Translated from Kirundi, the post read:
"What I know for sure if anything happens to Pierre Nkurunziza (a Hutu) all of you (Hutu) get ready to correct those who are deaf (understood to mean Tutsi and opposition groups). I am calling upon all those Bahutu who are supporting Tutsi to come and support us (Bahutu). Now it is tooth for a tooth. Bahutu, open your eyes and see. Remember the Past in Burundi and what happened in Rwanda should be lesson for all Bahutu".
The 'past' in Burundi includes the Hutu-Tutsi ethnic conflict that resulted in the slaughter of between 80,000 and 200,000 Hutus by the Tutsi army in 1972, and the civil war that ran from 1993 to 2005, when some 300,000 people were killed. During that time, neighbouring Rwanda witnessed massacres which cost more than one million lives.
The same user, named Norris Samandari, whose profile stock picture has been described by Burundians as a caricature of a Hutu, published another message.
"Did you know that Batutsi in Burundi who say there is no more ethnic groups divisions/ dissensions are the ones who killed in 1972? Bahutu remember the past and don't pretend we did not have (Hutu) orphans because of Batutsi. Let me give you an example of a Tutsi who killed..."
Hunt to identify hate authors
Following the latest messages, other social media users launched a campaign to track down and identify the author, and are denouncing the growing number of hate messages. Both camps – pro-Nkurunziza and the opposition – are blaming each other for the posts.
One of the leading opponents of Nkurunziza's third term, Pacifique Nininahazwe, said on Twitter: "Pro Nkurunziza continue to diffuse hatred messages and calls to murder on social media."
A Burundian, Florent Nduwayo, described how "a very bad thing is being prepared in Burundi". He added: "It stinks strongly. Sorry to say that, but history is repeating itself."
In May, Burundian Tutsis, who have been living in the Bugendana refugee camp since the July 1996 massacre of Bugendana, where some 600 people were killed, told IBTimes UK how members of the Imbonerakure, the youth wing of the country's ruling party, had threatened to kill them in their refugee camp.
Pro-Nkurunziza accuses opposition
The other camp, meanwhile, claims those manning the hate-filled social media accounts are actually from the anti-third-term coalition, dubbed "Sindumuja" (I am not a slave).
Jean Ndikumana, a user known to be pro-Nkurunziza, said: "I'm 100% sure it is you Sindumujas yourselves writing this in order to get the world's "Genocide" attention". Another, Rutuku John, referred to one of the ruling party's latest statements, which blamed the opposition, foreign media and the European Union for inciting ethnic violence.
The presidency alleged EU sanctions "were taken against four Burundian Hutus", while the president's party said it was "deeply shocked to hear about its sanctions that only too well remind [us of] the sad story that Burundi experienced, punctuated by bloody events for over 40 years".
"Sanctions against four Burundians of the same Hutu ethnic group do not result from a known justice because there is no justice for one ethnic group in the world," the statement read.
In a statement released on Thursday, the ruling party also accused international broadcasters of spreading "lies", and condemned the role of the media in saying the bloody conflict in Burundi "is about ethnical issue without giving concise explanations". Rutuku John defended the ruling party, saying it was not implicated in the hate messages, and asked whether the CNDD-FDD's statement had "also been written by the Sindumuja".
"You (Sindumuja) encourage extremists and deny everything afterwards," he added.
Burundi up close: Check out our Flipboard magazine
Hutus and Tutsis: any difference?
Hutus and Tutsis speak the same Bantu languages as well as French. They are both generally Christians. Geneticists, meanwhile, have failed to find deeply marked ethnic differences between the tribal factions.
Studies have, however, pointed to the fact that Tutsis may have originated from the Horn of Africa after Nilo-Saharan traits were found in their genetics. This could support their cattle-farmers historical affiliations, as opposed to Hutus, who were primarily Central African Bantu agriculturalists.
The Hutu-Tutsi conflict stems from class warfare: the Tutsis were perceived to have greater wealth and social status and Hutus, who were mainly farmers, were seen as lower-class.
Many theories claim that German and Belgian colonisers tried to find differences between Hutus and Tutsis to better categorise native peoples in their censuses, and these racist ideologies helped the colonisers maintain their hold on power.
© Copyright IBTimes 2023. All rights reserved.