Burundi genocide fear: Government youth militia Imbonerakure threatens to kill Tutsi refugees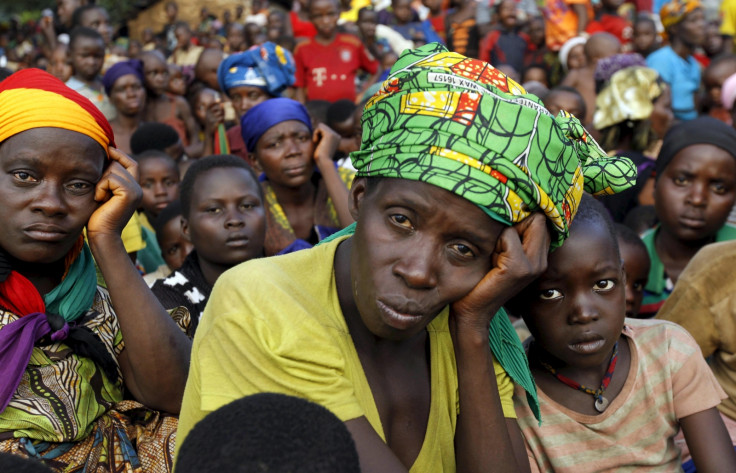 In scenes reminiscent of Rwanda's 1994 genocide in which at least 800,000 people (mainly Tutsi and moderate Hutu) were killed, Burundian Tutsi refugees say local security forces have prevented a massacre after they dispersed members of the Imbonerakure, the youth wing of the country's ruling party, who had threatened to kill them in their refugee camp, IBTimes UK has learned.
Under Burundi President Pierre Nkurunziza's CNDD-FDD party umbrella, the Imbonerakure (the Kirundi word for "those that see far") have been waging a campaign of intimidation and violence to help Nkurunziza win a controversial third term in the 26 June elections.
The Imbonerakure arose in 2010 out of disarmed fighters from the ruling party's previous existence as a rebel group who never fully demobilised, and members of the group are said to have never left the mentality of war.
Burundian Tutsis, who have been living in the Bugendana refugee camp after surviving the massacre of Bugendana where some 600 people were killed on 20 July 1996, told IBTimes UK how they were on the verge of reliving an 18-year-old nightmare when the armed group allegedly surrounded their camp in the night of Friday (15 May) into Saturday (16 May).
Threatened with death by Imbonerakure
"At around midnight, we started hearing the Imbonerakure coming. They were chanting and saying their would kills us because they said we are against the President's third term," Leon* told IBTimes UK from the 3,600-strong Tutsi refugee camp in Bugendana, located in the heart of Burundi.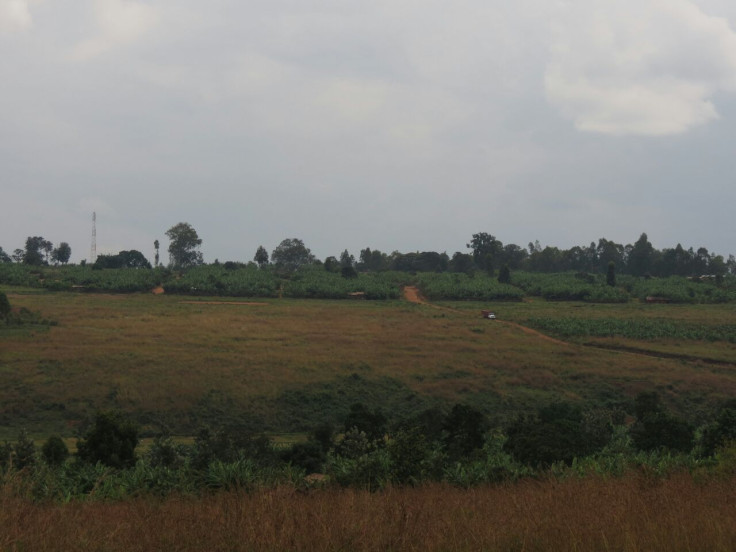 On hearing the group arriving, many of the women and children fled the camp for safety and ran into the nearby bushes, where they spent the night, too frightened to come back.
"We heard them getting very close. They were at 30 metres from us," Leon said. "The men [refugees] gathered, ready to fight while the women and our children went into the forest where they spent a sleepless night. Just like during the massacres."
Along with around 100 other women and children, Yvone* and her 8-year old son Jean-Innocent* ran to the forest. "They walked the hill to attack us. They were singing slogans saying they wanted to kill us. We were scared so I took my son and went into hiding. We only came out the next morning at 5 o'clock. Even then, we were terrorised by those slogans," Yvone told IBTimes UK in Kirundi through a translator.
"I was scared because in 1993 they were using the big ideas of the Hutu-majority parties that they could have no peace with the existence of Tutsis. Up until today, there have been warning signs before the armed groups blundered."
Leaders of the camp explained how they phoned the regional security forces, which arrived soon after and dispersed the Imbonerakure.
The youth militia has often been described as "murderous, militarised, partisan, powerful, unaccountable, uneducated". The ruling party, however, has always dismissed such accusations as opposition propaganda.
The young woman who spoke to IBTimes UK in the camp where she has been living since 1996, explained how there have been rumours that if they do not accept the President's third term, the Imbonerakure are going to attack again.
"We are threatened to death. We don't feel safe and we are just waiting for them to come and strike [kill] us," she said.
Leon, a camp chief, explained the distrust refugees have in the army: "They are divided, ex-fighters who came from the bush are pro-president, but ex-Forces armées burundaises (FAB) are on our side. If the army starts dividing, we are scared that those who support the president and back the Imbonerakure to eliminate us."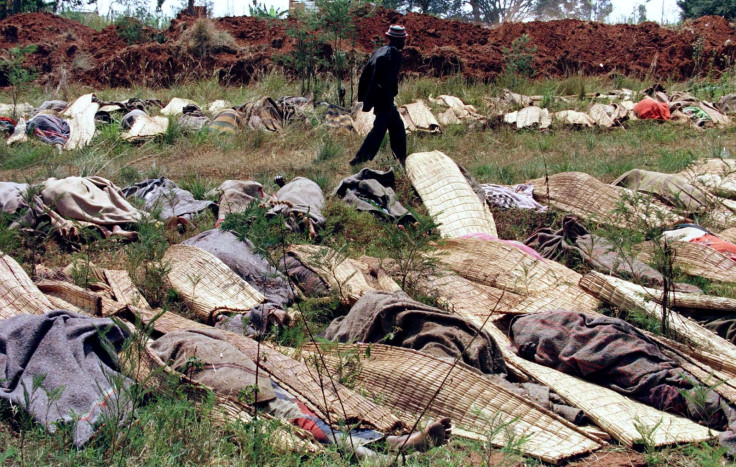 'Please, help us get help from the UN'
Yvone, whose father and four brothers were hacked by machetes and clubbed to death in 1993 before losing her only remaining brother in the 1996 massacre when he was first shot and then burned to death in his home, called on the international community to help refugees.
"It's not only for us, refugees of Bugendana, but also for all the others living in the [dozen] other camps. It's the same fear that reigns for our security," the mother of one explained.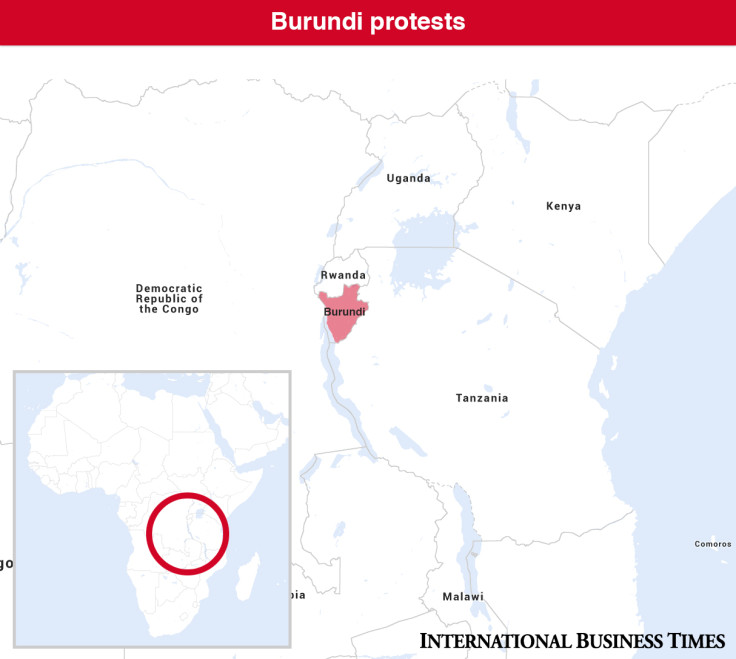 Burundi is southern neighbour to Rwanda, where the 1994 massacre of 800,000 mainly Tutsi and moderate Hutu was perpetrated
IBTimes UK
"The idea of a genocide has not yet been eradicated, it's still rooted in the heads of these Hutus, who have been killing us since 1993. They still hold the bad dream to exterminate us. Even children, who see their mothers scared, grow up with this fear, this trauma," said Leon.
After losing most of her family in 1993, a young Yvone was first taken to a refugee camp in Gitega before being transferred to Bugendana in 1996. Having had "terrible nightmares" since 1993, she repeated "you need to alert them [the UN and the European Union]".
"The international community, via the UN, needs to declare a law that will authorise foreign armies to come and support our policemen and armed guard [army]. The UN needs to intervene as it is doing in other countries, send peacekeepers."
Until this is done, Yvone says, Tutsi refugees living in the dozen camps across the country, will not rest.
<sub>*Real names withheld.
Hutus vs. Tutsis: Burundi's ethnic-based civil war
From its independence in 1962 until the elections of 1993, Burundi was controlled by a series of military dictators belonging to the minority Tutsi group, who ruled over a significant Hutu majority population.
A struggle between Hutu and Tutsi elites over land and power fuelled widespread violence and ethnic cleansing which occurred up to 1988 and during the country's civil war (1993 to 2003), which was sparked by the assassination of Melchior Ndadaye - Burundi's first elected President and also the first Hutu leader of the country - by a group of Tutsi officers.
Burundi slid into violence as Hutu peasants spontaneously rose up and massacred Tutsi, while the Tutsi army rounded up and killed thousands of Hutu. The Rwandan genocide in 1994 sparked additional massacres of Tutsis in Burundi.
Since 26 April 2015, Burundi has been rocked by a wave of protests and violence culminating in a short-lived coup d'etat on 13 May, which happened after President Nkurunziza announced his plans to extend his stay in office by seeking a third term. The coup d'etat was aborted after 24 hours and some of its leaders were arrested after surrendering.
Since protests began, 107,000 refugees have spilled into neighbouring countries, according to the United Nations.
Up to 21,000 Burundians who have fled to Rwanda say the Imbonerakure threat is what has made them leave their country, after government officials made accusations that the demonstrations were in "Tutsi-dominated areas."
However, protest organisers have rejected ethnicity as a motivating factor in their rallies, which resumed on Monday (18 May).
Imbonerakure chairman Denis Karera, meanwhile, paints a different picture of the group. "We don't kill, harass or threaten anybody. People are free to support their candidates and this is what we are doing," he told IRIN. "Nobody should stop us supporting our president."
© Copyright IBTimes 2023. All rights reserved.