According to the country's civil society, the families of two young men – Clovis Ntukamazina and Emmanuel Kamana – have been without news since the two were arrested on 21 October 2015 in Kinindo, in the Burundian capital of Bujumbura.
The international community has called on the Burundian government to protect prisoners' human rights and stop abuses, raising concerns on the treatment of prisoners in an African nation rocked by deadly political violence for over a year.
The bloody crisis, that has seen as many as 1,500 people killed, pits supporters of President Pierre Nkurunziza against those who say his July 2015 re-election for a third term violated the nation's constitution.
After a failed coup, the government intensified its crackdown and most of those arrested or disappeared today are young men and women accused of participating in or supporting opposition groups – including armed groups whose attacks have also left dozens dead.
Missing men were MSD members
On 2 June, the Focode, one of the 300 civil society groups that backed protests, demanded that the authorities shed light on the forced disappearances of Ntukamazina and Kamana, two young men aged 28 and 32 respectively who have been missing for over seven months. The pair were known as members of the opposition Mouvement pour la solidarité et le développement (MSD) party for Kinindo suburb – a stronghold for opposition supporters of Bujumbura.
According to a group carrying out a campaign against enforced disappearances in Burundi, dubbed Ndondeza, the two men were chatting and watching a movie at Kamana's residence in Kinindo between 6pm and 7pm (local time) when they were both arrested.
Police spokesperson, Pierre Nkurikiye, confirmed their arrest in Kibenga, Kinindo zone in the commune of Muha. He told Radio Isanganiro that three young men - including Ntukamazina and Kamana - had been arrested "in relation to an investigation relating to the disruption of security in the southern part of Bujumbura".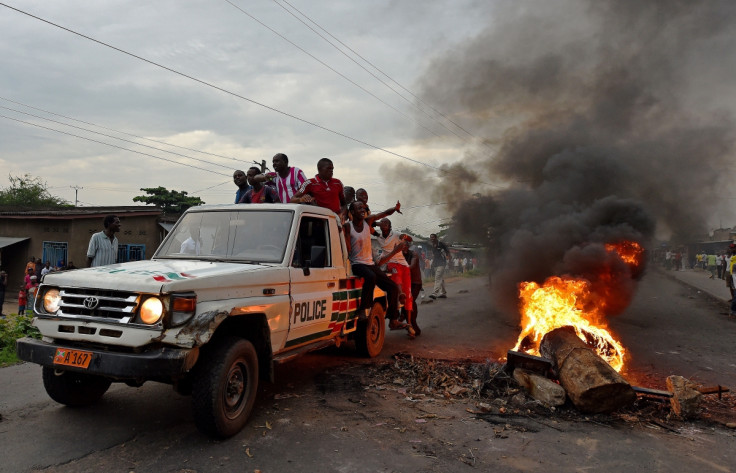 'Families'

ordeal

'

Both families claim they have been living an ordeal, after they told Focode they have "searched (for the young men) in vain in Bujumbura's official prisons". They also alleged they were forced to abandon the search after receiving death threats.

Members of Ntukamazina's family fled outside Burundi following those threats, while Kamana's mother – subsquently suspected of having cooked food for protesters in Musaga - also had to flee. Her family told Focode they believe she was sought by elements of the National Intelligence Service (SNR) and Nkurunziza's CNDD-FDD young wing, the Imbonerakure.
"The Focode treats these two cases together for the simple reason that the two young men, both members of the MSD party and having demonstrated against the third term of Pierre Nkurunziza, were arrested together and have probably suffered the same fate, and because of the similarity in the plight of their families," Focode's president, Pacifique Nininahazwe said in a statement.
Indeed, Nininahazwe explained, both families fell victims of racketeering following the men's arrests. Ntukamazina claimed to have paid BIF700,000 Burundian Francs (£311, $448) to an agent of the SNR, who promised to lead the family to the young man after payment of the ransom. In Kamana's case, the family paid BIF1m (£444) before claiming they faced more threats when they continued to investigate the activists' detention.
No help from the authories
In its statement, Focode denounced the "indifference of state institutions" regarding the two forced disappearances.
"Apart from the implicit recognition by the police spokesman that the two young men had been arrested, no further communication has been made by the public authority on the fate of Clovis Ntukamazina and Emmanuel Kamana, seven months after their enforced disappearance," Nininahazwe said.
While Ntukamazina's family said it has appealed to the Independent National Commission on Human Rights (Commission Nationale Indépendante des Droits de l'Homme, CNIDH), it claims it has not received any help. In its 2015 report, the CNIDH failed to mention the arbitrary arrest of the two men, Focode said.
The civil society group urged the Public Security Ministry, which it says is "directly implicated" in the arrests, to give light on the forced disappearances.
In April, the International Federation for Human Rights (FIDH) 's Africa Desk Director, Florent Geel, told IBTimes UK that around 700 people have been confirmed dead, while hundreds are still unaccounted for.
"Our official estimates are of 700 dead, and between 600 and 800 forced disappearances – for some, we have no way of knowing whether they are still detained or have already been executed. The traceability of these missing people is difficult to assure," Geel said over the phone. "With 700 people killed, plus up to 800 disappeared, these figures are more than worrying."
In February, and after an hour of discussion with embattled President Nkurunziza, the United Nations Secretary General Ban Ki-moon announced that the head of state had promised to release 2,000 prisoners.
Who are Clovis Ntukamazina and Emmanuel Kamana?

Clovis Ntukamazina
Nicknamed Ndomo, he was born 28 October 28, 1988 in Kinama, Bujumbura, but his family moved to Musaga when he was six

His father Lazarus Ntukamazina, a policeman, died in 1997

Awarded diploma in humanities from Kinanira college

Employed as a waiter at the Le Canoé bar at the time of his enforced disappearance

MSD member, he stopped participating in the 2015 protests after fracturing his leg
Emmanuel Kamana
Nicknamed Emma, ​​he was born 24 December 24, 1984 in Musaga, Bujumbura.

He is father to an eight-year old daughter

He was a driver for a Chinese company

Lived in Kinindo at the time of enforced disappearance

MSD member, he participated in the demonstrations against Nkurunziza's third term
Burundi up close: Check out our Flipboard magazine