One of Burundi's vice presidents has fled the country, saying he felt threatened after opposing President Pierre Nkurunziza's third-term bid.
Demonstrations started in the East African nation when President Pierre Nkurunziza declared his intention to stand for a third term in the upcoming 26 June elections, which the opposition claims is unconstitutional. However, his supporters argue that the president's first term should be discounted as it was chosen by the parliament rather than via election.
It is estimated that more than 80 people have died and about 150,000 civilians have sought refuge in neighbouring countries since the start of the violence on 26 April.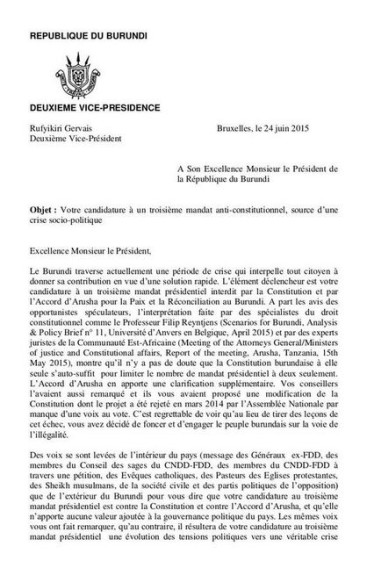 Vice President Gervais Rufyikiri, who has sought refuge in Belgium, has called on Nkurunziza not to seek an "unconstitutional" third term in office.
"Put the interests of the Burundian people before your personal interests and withdraw your presidential bid, because it violates the constitution," Rufyikiri said in a letter to Nkurunziza, which was shared on social media.
In his letter, the vice president slammed an "oversized repression" of protesters from the police, which he claims is to blame for the death of 70 people.
According to Rufyikiri, the "only logical way" to end the conflict would be a "frank, sincere and inclusive dialogue about all the questions linked to the crisis".
Rufyikiri told France 24 television he had sought refuge in Belgium after opposing Nkurunziza's bid for a third term in power.
"I left ... because I was not able to continue to support the attitude of the president, his desire to lead the people of Burundi on the path of illegality," he said.
A government spokesman denied that Rufyikiri had been threatened.
Burundi up close: Check out our Flipboard magazine