A member of Burundi's most popular reggae band, Lion Story, is asking for political asylum in the United Kingdom as he claims he could die if he returns to his country.
Burundi President Pierre Nkurunziza is consolidating his position in the aftermath of a failed coup attempt by carrying out a relentless crackdown on dissidents and enforcing a virtual ban on protests.
Demonstrations started in the Eastern African nation when Nkurunziza declared his intention to stand for a third term in the upcoming 26 June elections, which the opposition claims is unconstitutional. However, his supporters argue that the president's first term should be discounted as it was chosen by the Parliament.
"Because we sing about democracy, are against corruption and political violence, and are famous in Burundi and elsewhere, politicians might feel targeted when we sing that we don't want corruption, and that we don't want politicians to use their power to kill," Noel Urbain Barikumwe, the manager of the band, told IBTimes UK.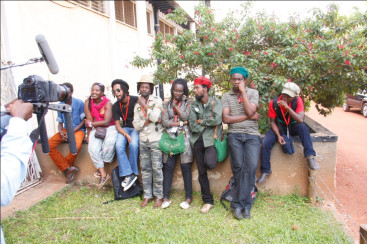 "They think we are the opposition - but we are not," Barikumwe, 31, said from a Middlesex detention centre.
The 11-strong band, which is described as "very active politically... radical" by local journalist Teddy Mazina, says many of its concerts were cancelled despite initially receiving approval by local authorities, and its studio, Dreamland, was closed.
In August 2013, for instance, during the Buj'Art festival the band was stopped mid-concert by Bujumbura's mayor, Saidi Juma, "for security reasons".
"When human rights activist [and APRODH member] Pierre Claver Mbonimpa was arrested in 2014, independent radio RPA aired one of our songs in which we asked 'Why do you jail a sheep after accusing it of eating the meat?'" said Barikumwe, who originates from Gitega.
RPA prepared a media spot with this song, which was played every time before and after the news bulletin to ask for Mbonimpa's liberation.
"The Information Minister at the time ordered the spot to be taken off air," Barikumwe added.
In the spring of 2015 - before the street protests started - every member of Lion Story, whose slogan translates as "keep the people awake" decided to flee Burundi, where they feared they could be jailed, become victims of acts of torture or even killed.
"At first I didn't really want to leave, because it is not easy to flee when you have a family. But because the threats continued, and that we were told our house was targeted, we ended up leaving," Barikumwe said.
Seven members found refuge in Uganda, including lead singers Urbain Bwengenikindi and Patience Igirukwigomba. Barikumwe, however, landed in the UK on 11 April.
Burundi up close: Check out our Flipboard magazine