Two people have died after being shot by the police in Burundi's capital Bujumbura on Wednesday morning (10 June), sparking street violence.
The death of a young man, who was shot by a policeman at 11am on the 15th avenue of the capital's Buyenzi district, has ignited the neighbourhood, which is now spewing a huge cloud of smoke.
"It was a peaceful young man. A policeman walked up to him and shot him for reasons we don't know," a source told IBTimes UK from Buyenzi. "He died. People immediately rose."
Another source, who has been hiding in the back of a local store since the violence began, confirmed: "The policeman entered the young man's parcel and slowly shot him."
A young woman, in her twenties, was also found dead on the 16th avenue of Buyenzi.
According to sources, residents then ran after the policeman, who fled, before flocking to the streets where they set fire to tyres on the main road, blocking traffic.
These latest incidents follow over a month of street violence, which have left more than 30 people dead and over 500 injured since 26 April, when Burundi's ruling party National Council for the Defense of Democracy (CNDD-FDD) nominated President Pierre Nkurunziza to stand for re-election.
Opposition leaders want Nkurunziza to withdraw his third-term bid in the upcoming 26 June elections, claiming it violates the country's constitution and the Arusha Accords, a peace deal that ended an ethnic civil war in 2005.
Nkurunziza's supporters, however, argue that the president's first term should be discounted as he was chosen by the parliament and not by the people in an election as is specified in the agreement.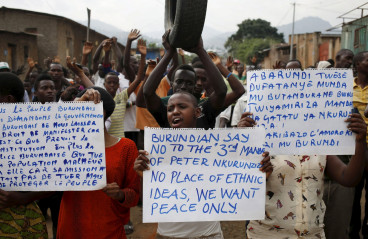 UPDATE
(10 June 2015, 2:40pm GMT)
The clashes are ongoing and traffic has come to a halt forcing the local market Ruvumera to close, sources said.
"It's really a mess in Buyenzi. No cars can go through. Everything is burning," the source, who wished to remain anonymous, said.
The district's youth, who have tried to carry the young man's body to the 'commune' - the office of the local mayor - have been barred by the police.
"The young people were trying to bring the body to the mayor for him to face up to [his] own responsibilities, but police stopped them with tear gas. The police are shooting with real bullets," another source told IBTimes UK.