Burundi's presidency has told IBTimes UK the former secretary-general of the United Nations has no right to meddle in the country's affairs.
On Friday (6 June), Nyamiwe rejected calls from Kofi Annan for President Pierre Nkurunziza to quit as president, with the country engulfed in political violence for more than a month.
Opposition leaders want the president to withdraw his third-term bid, claiming it violates the country's constitution and the Arusha Accords, a peace deal that ended ethnic civil war and established the foundation for Burundi's post-conflict recovery in 2005.
But Nkurunziza's supporters argue the president's first term should be discounted as he was chosen by the parliament and not by the people in an election as is specified in the agreement.
Annan posted a tweet on 4 June calling on Nkurunziza to resign, in which he said: "I believe President Nkurunziza has lost his legitimacy and should step aside."
'No right to meddle in our internal affairs'
Presidential adviser Willy Nyamitwe, however, slammed Annan's comments, describing them as "misplaced" and unsubstantiated. In another tweet, the former secretary-general said Burundi needed "to find a new leader".
"What Kofi Annan said does not engage Burundians, because they are following the electoral process. They have laws to respect," he told IBTimes UK over the phone in Friday. "When we are democrat we accept everyone's point of view, but Burundi has its own laws. Has Annan interrogated our laws?"
The former secretary-general earlier posted a tweet that read: "Burundi needs to run fair and peaceful elections and find a new leader for the country," claiming "what is happening in Burundi could be tragic" – perhaps in reference to the country's 12-year civil war that left 300,000 people dead.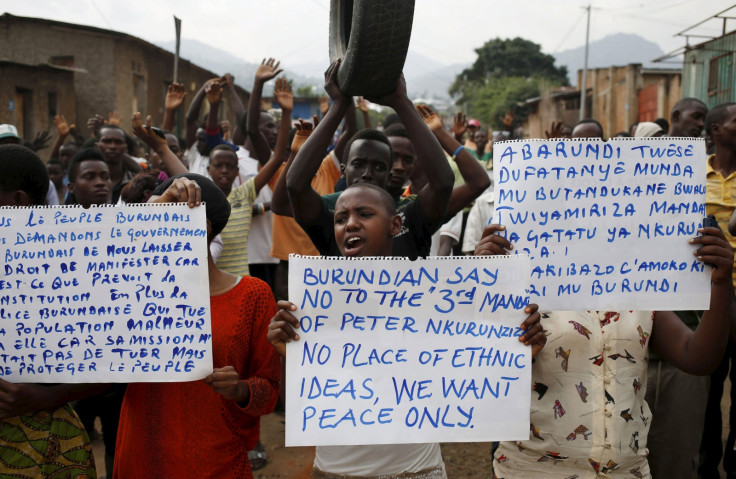 Commenting on the tweet, Nyamitwe said: "If we violate a law then he's allowed to criticise, but if we don't, then he has no right to meddle in our internal affairs."
The adviser claims he "prefers that people criticise by basing themselves on our Constitution or by supporting a documented argument rather than people who criticise for the fact of criticising, basing themselves on emotional arguments".
"If we violate a law then he's allowed to criticise, but if we don't, then he has no right to meddle in our internal affairs."
- Willy Nyamitwe
"He was [secretary-general] of the UN, and should be the first to know that an independent and sovereign country has its own laws and he should respect those laws. It's not because we have a point of view that we should trample citizens, who also have their own point of view," he added.
Third term 'not a taboo issue' for Nkurunziza
These comments come just two days after UN secretary-general Ban Ki-moon said he remained concerned about "the potential for escalating violence" in Burundi and reiterated his call "for calm and restraint" amid the African country's simmering political tensions.
Nkurunziza, meanwhile, said he would agree to discuss the issue surrounding his third-term mandate for the first time since start of the protests.
"It is true that in previous discussions, we agreed to leave the (third term) issue out of the schedule" during the East African Community (EAC) summit held in Tanzania, presidential adviser Willy Nyamitwe told AFP on 4 June.
"So the question should not come back. But for the Burundian government, the question of the third mandate of the president is not a taboo subject," Nyamitwe added.
Until now, the government has refused to consider the third term in the presidential election of 26 June as anything else but a non-negotiable "red line".
Around 40 people are dead and over 500 have been injured in the aftermath of Burundi's ruling National Council for the Defense of Democracy (CNDD-FDD) nominating Nkurunziza to stand for re-election.