Burundi's President Pierre Nkurunziza has agreed to discuss the issue surrounding his third-term mandate for the first time since the country was engulfed in political violence.
This follows over a month of street violence, which has left around 40 people dead and over 500 injured in the aftermath of Burundi's ruling National Council for the Defense of Democracy (CNDD-FDD) nominating Nkurunziza to stand for re-election.
Opposition leaders want the president to withdraw his third-term bid, claiming it violates the country's constitution and the Arusha Accords, a peace deal that ended ethnic civil war and established the foundation for Burundi's post-conflict recovery in 2005.
But Nkurunziza's supporters argue the president's first term should be discounted as he was chosen by the parliament and not by the people in an election as is specified in the agreement.
"It is true that in previous discussions, we agreed to leave the (third term) issue out of the schedule" during the East African Community (EAC) summit held in Tanzania, presidential adviser Willy Nyamitwe told AFP.
"So the question should not come back. But for the Burundian government, the question of the third mandate of the president is not a taboo subject," Nyamitwe added.
Shift in Nkurunziza's camp
Until now, the government has refused to consider the third term in the presidential election of 26 June as anything else but a non-negotiable "red line".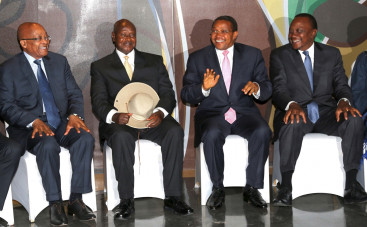 In a clear shift in the CNDD-FDD's camp, the presidency is calling for "a frank but also constructive dialogue for us to meet deadlines dictated both by the Summit of the EAC and the Constitution of Burundi", Nyamitwe added.
Following calls from the East African Community for a postponement of the elections – echoing the US's same demands, the government announced on 3 June, it will postpone the parliamentary polls scheduled for 5 June until a new date, set by the electoral commission.
The same day, members of the opposition announced they were ready to resume the "dialogue" with the ruling party, also adding the issue of third term was "not taboo."
The dialogue between the presidential camp, the opposition and representatives of the civil society, which was initiated in May by the United Nations to try to defuse the political crisis in the country, stalled when the issue of the third term was discussed.
Negotiations include an end to the protests and the withdrawal of Nkurunziza's candidature.