Burundi's presidency has rejected calls from Kofi Annan, the former secretary general of the United Nations, for Pierre Nkurunziza to quit as president, with the country engulfed in political violence for more than a month.
Around 40 people are dead and over 500 have been injured in the aftermath of Burundi's ruling National Council for the Defense of Democracy (CNDD-FDD) nominating Nkurunziza to stand for re-election.
Opposition leaders want the president to withdraw his third-term bid, claiming it violates the country's constitution and the Arusha Accords, a peace deal that ended ethnic civil war and established the foundation for Burundi's post-conflict recovery in 2005.
But Nkurunziza's supporters argue the president's first term should be discounted as he was chosen by the parliament and not by the people in an election as is specified in the agreement.
Twitter spat
On 4 June, Annan posted a tweet calling on Nkurunziza to resign, in which he said: "I believe President Nkurunziza has lost his legitimacy and should step aside."
The former secretary general added: "Burundi needs to run fair and peaceful elections and find a new leader for the country," claiming "what is happening in Burundi could be tragic" – perhaps in reference to the country's 12-year civil war that left 300,000 people dead.
On Friday (5 June), though, Nkurunziza adviser Willy Nyamitwe took to Twitter to slam Annan's call.
In a tweet, the presidency's spokesperson wrote: "@KofiAnnan, in Burundi we also have an opinion of millions of Burundians who want him to run again as long as our constitution is respected."
On 4 June, UN secretary general Ban Ki-moon said he remained concerned about "the potential for escalating violence" in Burundi and reiterated his call "for calm and restraint" amid the African country's simmering political tensions.
Controversial elections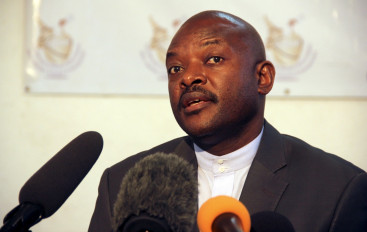 The East African Community has echoed the US's calls for a postponement of the elections.
During a crisis meeting on 31 May, the East African leaders called on the government in Bujumbura to postpone elections by a period of more than a month and a half, demanded "all parties stop violence and exercise restraint during this period", and ruled for an "urgent disarmament of all armed youth groups allied to political parties".
The state department said it also wants the region to play a leadership role in resolving the crisis and encourages high-level visits from Burundi's neighbours to the country to reiterate the importance of upholding the Arusha Agreement.
On 28 May, leaders of the opposition announced a boycott of the controversial legislative and municipal elections on 5 June and presidential elections on 26 June.
Nkurunziza's government, meanwhile, said it is happy to postpone the presidential elections until 26 July.