The United States has urged President Pierre Nkurunziza of Burundi to adhere to the Arusha Accords by stepping down ahead the upcoming 26 June elections, after two terms in office.
This follows over a month of street violence, which has left more than 30 people dead and over 500 injured, in the aftermath of Burundi's ruling National Council for the Defense of Democracy nominating Nkurunziza to stand for re-election.
Opposition leaders want Nkurunziza to withdraw his third-term bid, claiming it violates the country's constitution and the Arusha Accords, a peace deal that ended ethnic civil war and established the foundation for Burundi's post-conflict recovery in 2005.
Nkurunziza's supporters, however, argue that the president's first term should be discounted as he was chosen by the parliament and not by the people in an election as is specified in the agreement.
On 2 June, the US said "the government of Burundi should adhere to the tenets of the Arusha Accords, to include the provisions on term limits.
"President Nkurunziza's decision to disregard the term limit provision of the Arusha Accords has destabilized Burundi and the sub-region, triggered violence, and endangered Burundi's economic well-being," John Kirby, a spokesperson for the Department of State, said in a statement.
Burundi government's "troubling actions"
The US said the Nkurunziza administration's "troubling actions" include severely restricting political space and press freedoms, violently disrupting political protests, pressuring the Constitutional Court and Electoral Commission, and reportedly using an armed ruling party youth militia to intimidate protesters and political opponents.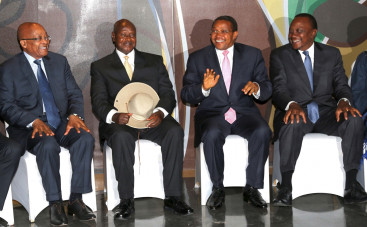 "[This] contradicts the basic principles of democratic governance and starkly contradicts President Nkurunziza's claim that he is dedicated to respecting the Arusha Accords and the rule of law," Kirby said.
The East African Community has echoed the US's calls for a postponement of the elections.
During a crisis meeting on 31 May, the East African leaders called on the government in Bujumbura to postpone elections by a period of more than a month and a half, demanded that "all parties stop violence and exercise restraint during this period", and ruled for an "urgent disarmament of all armed youth groups allied to political parties".
The state department said it also encourages the region to play a leadership role in resolving the crisis, and encourages high-level visits from Burundi's neighbours to Burundi to reiterate the importance of upholding the Arusha Agreement.
On 28 May, leaders of the opposition announced a boycott of the controversial legislative and municipal elections on 5 June and presidential elections on 26 June.
Nkurunziza's government, meanwhile, said it is happy to postpone the presidential elections until 26 July.