Burundi: Government kills and kidnaps fighters in hospital where they were treated, claims doctor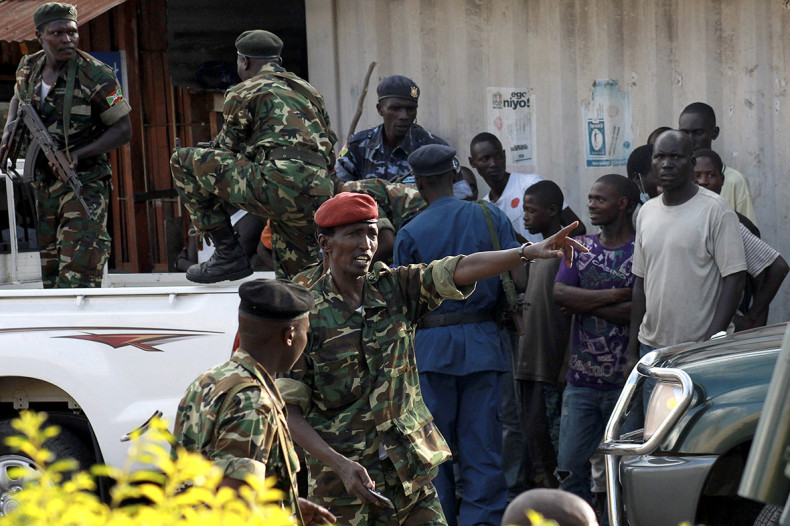 Burundian police have kidnapped and killed fighters injured in clashes that erupted after a failed coup d'etat, after storming a hospital in Burundi's capital, shooting and injuring patients as they searched for the men, a doctor said.
Following weeks of protest, the Burundian army announced a coup on 13 May, but after hours of pitched battle between forces loyal to incumbent President Pierre Nkurunziza and the supporters of the coup, the insurgents surrendered and Burundian forces arrested the leader of the failed coup on Friday, 15 May.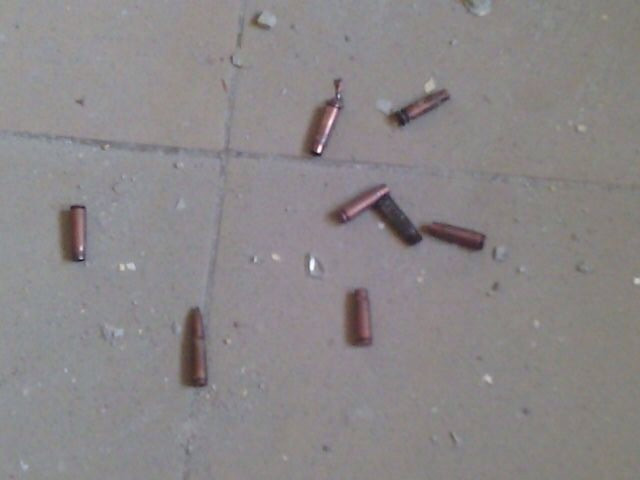 Arms cartridges lay on the floor of Bujumbura's Bumerec hospital after government forces and coup d'etat supporters exchanged fire among patients
IBTimes UK
After returning to the capital, according to his spokesman, Nkurunziza said in an address to the nation that he would retaliate against anyone who launched an attack on Burundi, and that people would "not be allowed to set fire" to the country.
Up to 100 officers open fire in A&E
Alain [name redacted], chief of department at Bumerec hospital, told IBTimes UK how between 50-100 police and army officers stormed the building on Friday afternoon, looking for the supporters of the failed coup.
Soldiers who entered the hospital were met by a volley of bullets from the fighters inside the building.
Two of the rebels, who had been in a contingent responsible for securing an independent radio, had arrived at the hospital at 5am on Friday, 15 May, for treatment. They were injured during gunfight with loyalist forces.
Two others had entered the building between 9am-10am, and were part of a group who had tried to take over the state-run broadcaster RTNB.
The hospital's armed security guards only start their shift at 5pm, but loyalist officers entered the building at 3pm.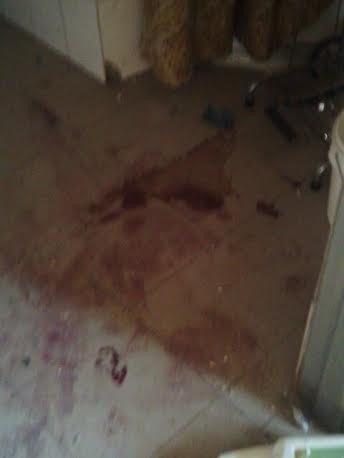 The floor of Bumerec hospital's emergency department stained by blood after police officers opened fire on fighters who had participated in a failed coup
IBTimes UK
The two unarmed security guards were outside the hospital's doors, but "couldn't do anything" as the dozens of government troops barged in.
"Dozens of officers, wearing army khakis and the police's blue uniform barged into our hospital. They had surrounded the vicinity of the hospital. No patients could come or leave," Alain explained over a phone interview from the capital Bujumbura.
After entering the building, Burundi police opened fire in the Emergencies section of the private hospital, and shot fighters on their hospital beds, the doctor said.
Aime [name redacted], a doctor who was on stand-by that evening, described heavy gunfire.
A loyalist policeman was badly hit and died on the Emergencies porch.
Three putschist fighters kidnapped
"As both sides exchanged gunfire, the putschists tried to hide among the sick and injured patients. Loyalist policemen were looking for them in every patient room. It was catastrophic. Patients, who had to leave their rooms as they tried to flee the gunfire, asked us to be relocated to another hospital for fear of this happening again," Alain told IBTimes UK on Saturday, 16 May.
Three putschists, who suffered from firearm injuries, were taken away by force by the military forces, and doctors at Bumerec hospital say they do not know what has happened to them.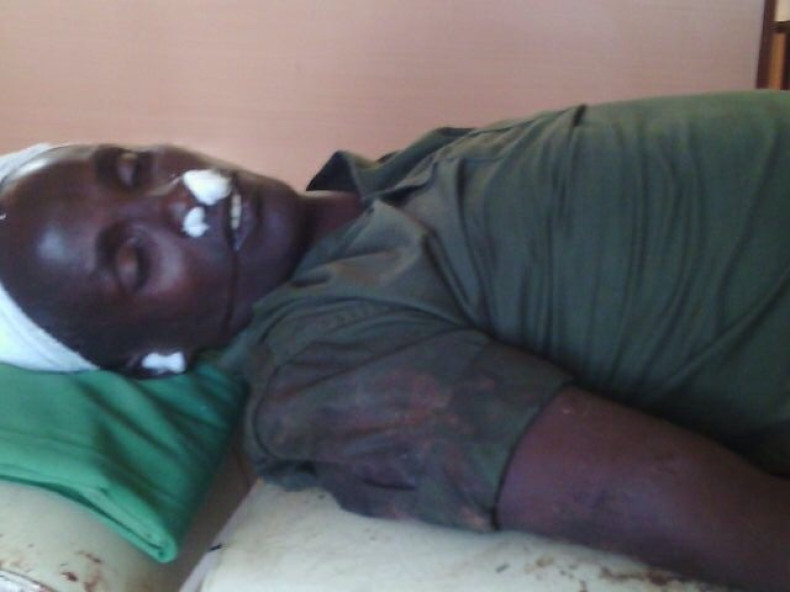 "We don't know if they are still alive, or dead. We don't know where they are being detained," Alain said, describing how the fourth fighter was hit by a gunshot to the head during the fight.
"The bullet went into his brain."
His body has been transferred to a local morgue, and the hospital has prepared a statement, which doctors say could help find and inform his family.
'We are scared it will happen again'
Around 10 patients have now been evacuated to other hospitals in the capital.
"We have been forced to close the hospital for the time being, we are still assessing the damage. The Emergencies service is in a total chaos, we need to change everything," Alain said.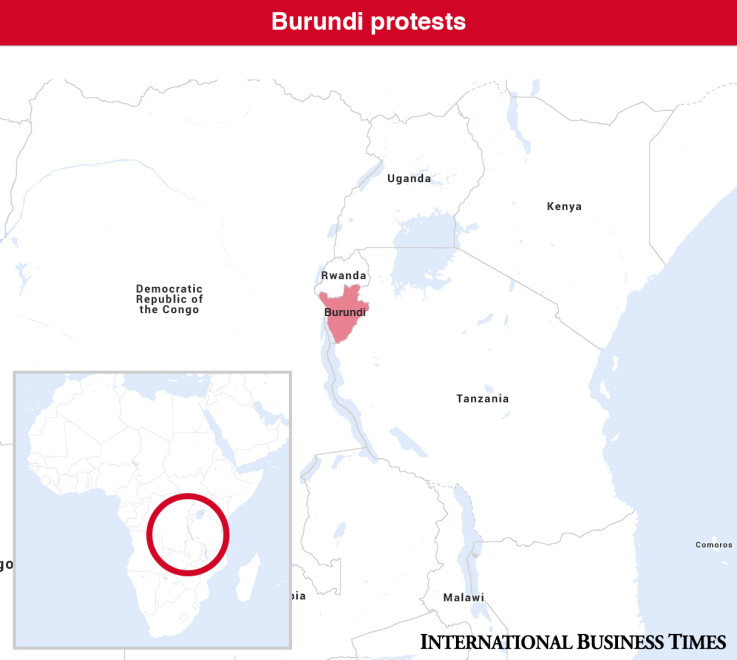 Burundi map
IBTimes UK
The doctor confirmed no other hospital has reported similar incidents, but said patients were scared military forces could decide to enter hospital buildings again.
"Particularly because of the situation in this day and age, I think it is possible that will happen again.
Activists and journalists, who have described a fear of reprisals from the government following the failed coup, have been in hiding or have been attempting to flee the country.
A local journalist at independent radio RPA, Josiane told IBTimes UK on Saturday she fears journalists are on an alleged hit-list rolled out by the country's government after the failed coup.
"There are lists of people to eliminate. We just don't know exactly who is on the lists, but we know journalists are on those lists. For the moment, we are staying at home because journalists – especially those from independent media – are very scared because of those lists that are said to be in the hands of agents from the secret services," she said over the phone from her hiding place.
President spokesperson Willy Nyamitwe told IBTimes UK that soldiers arrested would "face justice" and be put on trial. He added they would not be killed.
This article has been modified since it was first published on 17 May. Names of sources have been removed in order to protect their identities.