Burundi: One man dead as President Nkurunziza returns to Bujumbura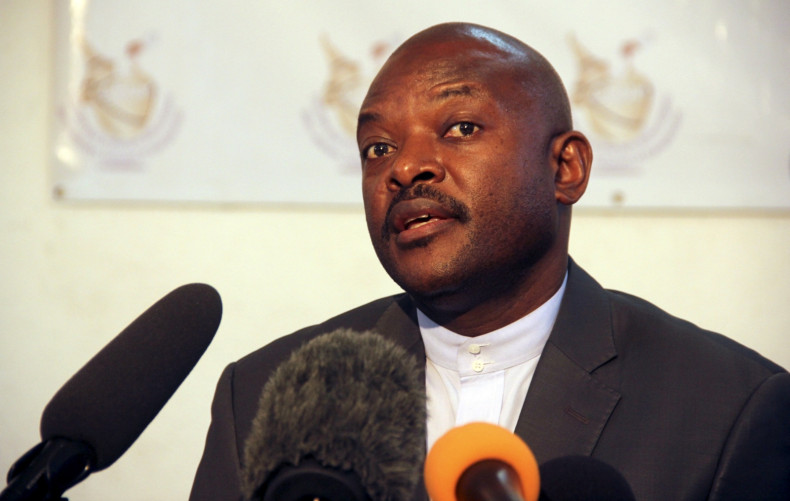 One man was found dead in Burundi's capital Bujumbura on (Friday 15 May), a day after an attempted coup against President Pierre Nkurunziza was put down.
Witnesses told the Reuters news agency that the man was shot by police in the Butarere area of the capital.
Young men in another district of Bujumbura said police had warned them that they would be shot if they launched protests against Nkurunziza, who is expected to address the nation on the ongoing unrest.
Protests in the country have been ongoing since Nkurunziza announced he will seek a third term in elections due to take place in June.
BURUNDI IN BRIEF
Capital: Bujumbura.
Population: 10.6 million of whom 85% are Hutu, 14% Tutsi, and 1% Twa.
Official languages: Kirundi, French, English.
Colonisation era: Burundi and Rwanda were German colonies from the 19<sup>th century until the end of the Second World War. Then Belgium took control of the so-called "Rwanda-Urundi", modern day Rwanda and Burundi.
Burundi gained independence and established a constitutional monarchy in 1962. It became a republic in 1966.
Civil war: The first democratically elected Hutu president, Melchior Ndadaye, was assassinated by Tutsi extremists three months after taking office in 1993. Hutus started massacring Tutsis and in retaliation, the army, mainly composed of Tutsis, killed thousands of Hutus.
This sparked civil war which claimed at least 300,000 lives.
Protesters accused the president of violating the constitution and the Arusha Peace Agreement, which says the president can only stay in power for two terms. At least 20 demonstrators have been killed and reports emerged that police fired on protesters.
Nkurunziza's supporters argue the president's first term should not be counted, as he was chosen by the Parliament and not by the people in an election as is specified in the agreement.
A presidential adviser told IBTimes UK that Nkurunziza could arrive in Bujumbura "within the next three or four hours."
The president, whose whereabouts have been unknown since an attempted coup d'etat by army generals on Wednesday 13 May, is alleged to have left his home province of Ngozi and is said to be en route to Bujumbura in a white jeep.
"His procession has just left Ngozi. It could take three or four hours for him to arrive in the capital," presidential communications chief Willy Nyamitwe told IBTimes UK on Friday 15 May.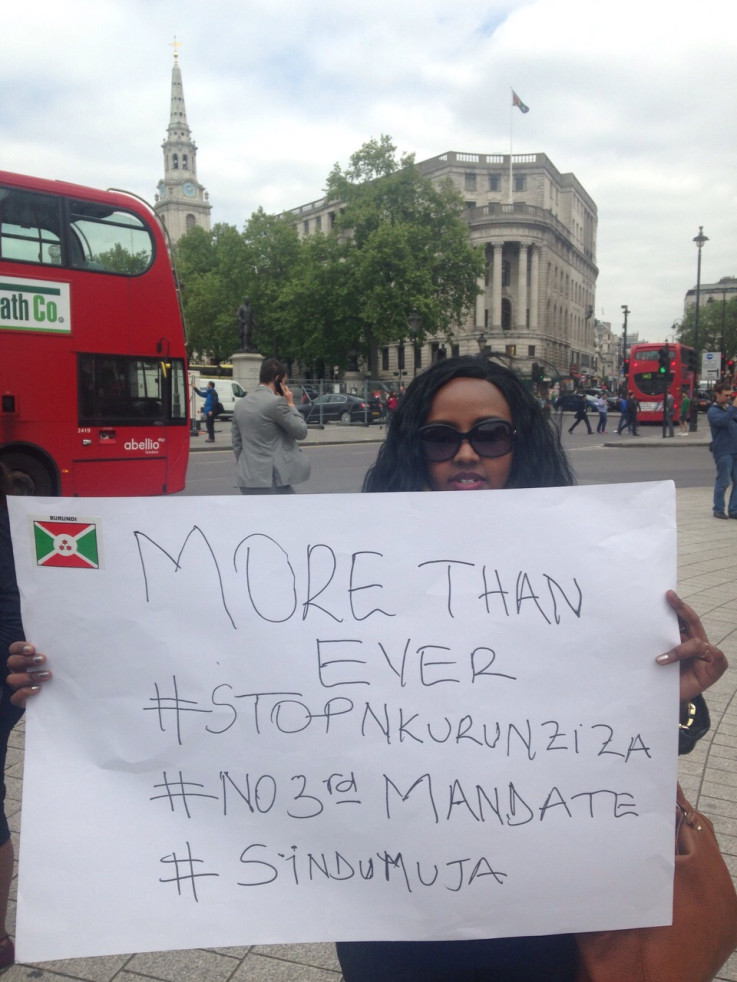 UKBD's vice-president Lionelle Kingsley Bio is holding a sign at a protest held in central London against Nkurunziza's third term bid
Elsa Buchanan
The trip from Ngozi to the capital typically takes 1 hour 30 minutes, but Nyamitwe claims "cheering crowds" are slowing the convoy's progress.
Meanwhile, the UK Burundian Diaspora (UKBD) organised a March in central London on 15 May to protest against the ongoing violence.
Demonstrators called on the president to withdraw his third-term bid.
Fred Ngamiye, UKBD's president, told IBTimes UK that some 30 people turned up at the protest. He added that more were expected, but many decided not to participate because they feared for their families who live in Burundi.
Mudibu, one of the leaders of the London Burundian community, said: "We are going through a lot and the world still doesn't know it."
Referring to members of Nkurunziza's party, the National Council for the Defense of Democracy (CNDD - FDD), Mudibu said: "They can propose another member [for the election]. It's not like they don't have other members. It's almost an insult to their party. We say no to Nkurunziza's third term. It's not about Hutu or Tutsi."
In a separate interview with IBTimes UK, UKBD vice-president Lionelle Kingsley Bio, warned that the history of the region cannot be ignored and the ongoing unrest in Burundi has "worrying similarities" to what happened during the 1994 Rwanda genocide in which at least 800,000 people, mainly Tutsi and moderate Hutu, were killed.
UPDATE:
(2:09pm 15 May) Burundi President Nkurunziza has returned to his Presidential Palace in Bujumbura, presidential communications chief Willy Nyamitwe told IBTimes UK.