Burundi President Pierre Nkurunziza is consolidating his position in the aftermath of a failed coup attempt by carrying out a relentless crackdown on dissidents and enforcing a virtual ban on protests as security forces tighten their grip on an increasingly desperate population.
Protests started in the Eastern African nation when Nkurunziza declared his intention to stand for a third term in the upcoming 26 June elections, which the opposition claims is unconstitutional. However, his supporters argue thatthe president's first term should be discounted as it was chosen by the Parliament.
It was while Nkurunziza was attending the first crisis meeting organised by East African leaders on 13 May in Dar es Salaam that a top general launched an unsuccessful coup d'etat – after which government forces took a increasingly harder line against protesters.
Hundreds of arrests
An aid worker, who wished to remain anonymous, told IBTimes UK how hundreds have already been detained.
The source said says he was in the central Gitega province when around 100 people were arrested on Monday (1 June).
"Rumours started on Sunday that certain members of the [opposition parties] FNL and MSD and civil society were going to organise new protests against the third term. So, through Sunday night, police officers tried to stop these protests from taking place," the source said.
"It just takes for someone to suspect you are against the third mandate, even if you don't participate in the protests, for you to be arrested."
- Aid worker
"On Monday at 6am, we heard gun shots and grenades in the Yoba neighbourhood of Gitega, then we found that arrests had started.
"By the afternoon, around 100 people had been detained, and two people had been severely injured by gun shots. These people were heard and accused of wanting to disrupt public order."
By Wednesday, most of the detainees had been freed, but eight people – members of FNL and MSD – were still behind bars. The two wounded were still under intensive care at Gitega hospital.
"These arrests are rife everywhere, especially in Bujumbura's neighbourhoods where protests continue, such as Musaga and Buterere. It just takes for someone to suspect you are against the third mandate, even if you don't participate in the protests, for you to be arrested," the source said.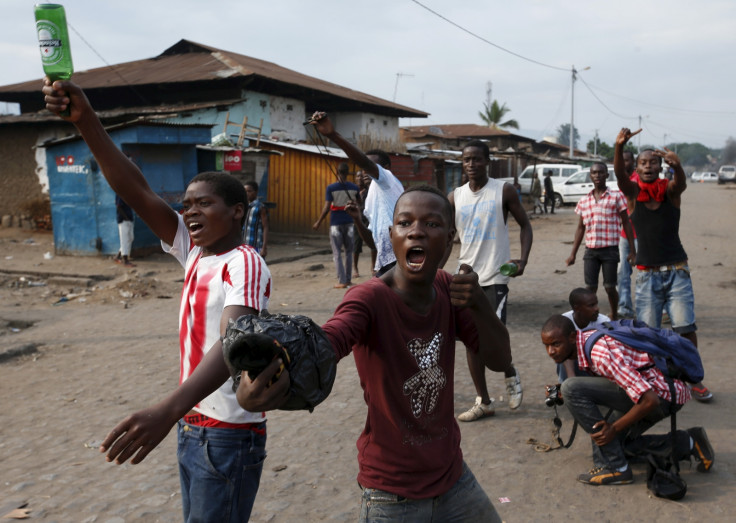 'Who gives you food? Who gives you money?'
A local journalist from the Rohero district described how his 20-year-old neighbour had been detained and arrested, claiming this practice had become increasingly common.
"He would go and protest in the area of Nyakadiga, where he was arrested. When he arrived there on Tuesday morning, he found that the area was really calm because there were lots of policemen. Instead of protesting, he was arrested and handcuffed by officers who took him onboard a pickup," the local fixer told IBTimes UK.
Officers took the man's smartphone, where they found videos filmed during the protests in Nyakabiga and Niagara, before he was transferred to the Brigades de Speciale de Recherche (Research and Intervention Brigades, BSR), where he was handed to seven policemen who interrogated him.
The journalist says his neighbour was beaten and hit with sticks before being released on Wednesday evening.
"He now has bruises and open wounds on his arms, legs, back and head. He could barely stand up when I saw him yesterday," the journalist said.
The victim's brother, Kenny (not his real name), told IBTimes UK the young man was recovering in hospital where he was being treated for injuries to his feet.
"They beat his feet so badly that he cannot walk normally. He's awaiting X-ray scan results."
According to the victim, police were trying to get information about people who have helped him during the demonstrations.
"Who gives you food? Who gives you money? Who finances you? Which other student takes part?" the young protester was asked.
No one to investigate disappearances
As the situation in the country becomes increasingly tense and security forces implement their clampdown, it is also becoming difficult for human rights activists to keep track of any potential wrongdoing by the authorities.
Activist Jean-Claude Nkundwa says there was a time when he and other activists would follow up and investigate reports of false arrests or mistreatment, but that has become virtually impossible in the current climate.
IBTimes UK could not verify these claims, but Nkundwa alleged it was not only opposition members and civil society activists that had been arrested in their homes in the capital and outside in the countryside, but also army staff and their family members.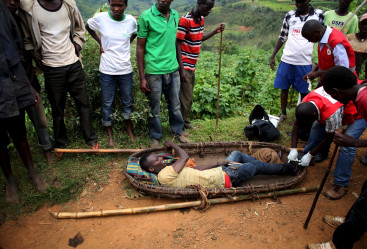 "It is impossible for anyone to know what is happening for sure outside of the capital because no one can go there to verify as it is too dangerous and because most of the people who would investigate these allegations are now hiding," Nkundwa said over the phone.
While human rights activists, such as the Association for the Protection of Human Rights and Detainees' Rights (Aprodh), and civil society representatives would typically investigate incidents involving arrests, those people are now in hiding, and the police force is not as transparent as it had been previously.
"Now everything is done clandestinely," Nkundwa added. "What is most alarming now is that you can be arrested and tortured and we don't exactly know where these people go."
The activist questions estimates that around 500 people have been and are currently detained, claiming that many arrests go unreported.
"But I believe it is more than that. If it was someone who didn't have family members in that province, then no one would know he went missing. That's what happens in a world where there is no means of communication, and no radios. People have no information."
"What is most alarming now is that you can be arrested now and tortured and we don't exactly know where these people go."
- Jean-Claude Nkundwa
Nkundwa linked overnight arrests to elements of "the systematic arrests of 1972, when the population only heard about killings months after people had been arrested".
That year, Burundi experienced massive bloodletting, when hundreds of thousands of Hutus were massacred by government forces. Despite the situation being brought under control, the killings lasted for months.
"There seems to be a common narrative and I am scared that we are living the same thing because there is no one to oversee what is happening. There are only rumours," Nkundwa said.
'If you are caught, you are a dead man'
That is something Aimable (not his real name), a student activist from the district of Nyakabiga in Bujumbura, can relate to. The vice-president of the MSD party at his university says he has had enough of the intimidation and hopes to leave the country.
Since the protests resumed this week, he has been planning his escape because, he claims, members of the government's secret services have been patrolling his neighbourhood.
"We participate in every protest, so our fear is that we will be arrested. If they catch me, I don't know what would happen to me. I could be killed and thrown in the river," Aimable told IBTimes UK from Bujumbura.
"If they catch me, I don't know what would happen to me. I could be killed and thrown in the river."
- Aimable, a protester
"If your family does not know that you have been arrested, you are taken and no one will know where you are. You disappear. You are a dead man."
A member of his own party, Pacifique Nkurunziza, was "kidnapped" on the night of Friday (29 May). The student and organiser of the protests, who is in his twenties, was taken to one of Bujumbura's central prisons.
"He was considered to be a resistant, who organised the activities, and calling on people to stay and not flee. He was one of the front-men," Aimable said, adding that his peer had suffered a "very violent interrogation".
"I am scared that someone will denounce me."