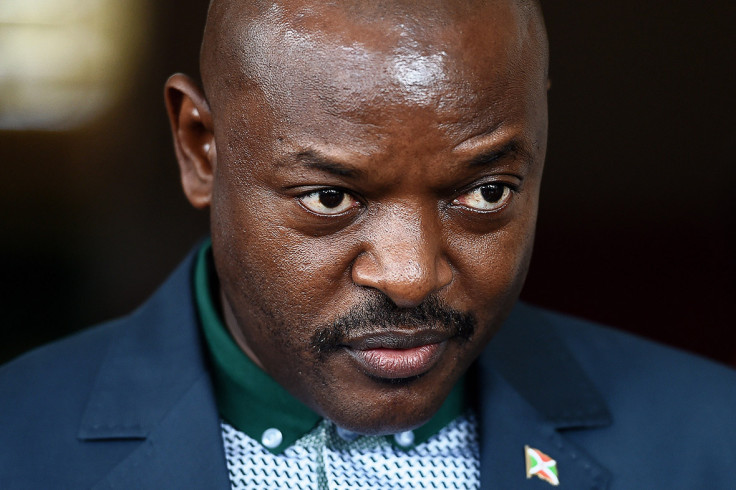 Burundian president Pierre Nkurunziza is facing a tough decision after being summoned by East Africa leaders to attend a special summit to discuss the violent protests against his bid for a third term in office.
On Monday (25 May), the East African leaders announced they would meet on 31 May in Dar Es Salaam, Tanzania, to talk about the clashes between the police and protesters on the streets of the capital Bujumbura, and the opposition's boycott of peace talks. Ministers are expected to hold talks on 30 May.
While the Burundian presidency said it was unsure whether the president would attend, his adviser confirmed his presence in the delegation.
"The president has not yet decided if he will be in Dar Es Salaam, so we cannot say for sure, but I will be going to Tanzania," Willy Nyamitwe told IBTimes UK. "So you can draw your own conclusions."
Protesters, who are demanding that Nkurunziza withdraws his bid to retain his role as president in the upcoming 26 June elections, say a third term in power violates the country's constitution and the Arusha Accords, a peace deal that ended an ethnic civil war in 2005.
The president's supporters disagree and say a constitutional court ruling allows him to run.
The opposition boycotted talks following the murder of one of its leaders, Zedi Feruzi, on Saturday.
Failed coup
Factions in the Burundian army announced a coup d'etat on 13 May while Nkurunziza was out of the country attending a similar summit in Dar Es Salaam, Tanzania.
Plotters of the Burundi army coup knew they could not make their move until the president's plane had taken off.
A leading opposition figure received a phone call on 13 May from the minister of defence who told him he was launching the coup – which was later announced in a radio broadcast.
Pierre-Claver Mbonimpa spoke to IBTimes UK from his hiding spot in Bujumbura on the morning of the coup. He said: "The ministry told me 'I think things are going to go ahead easily', before adding the president would not return. That's what he meant."