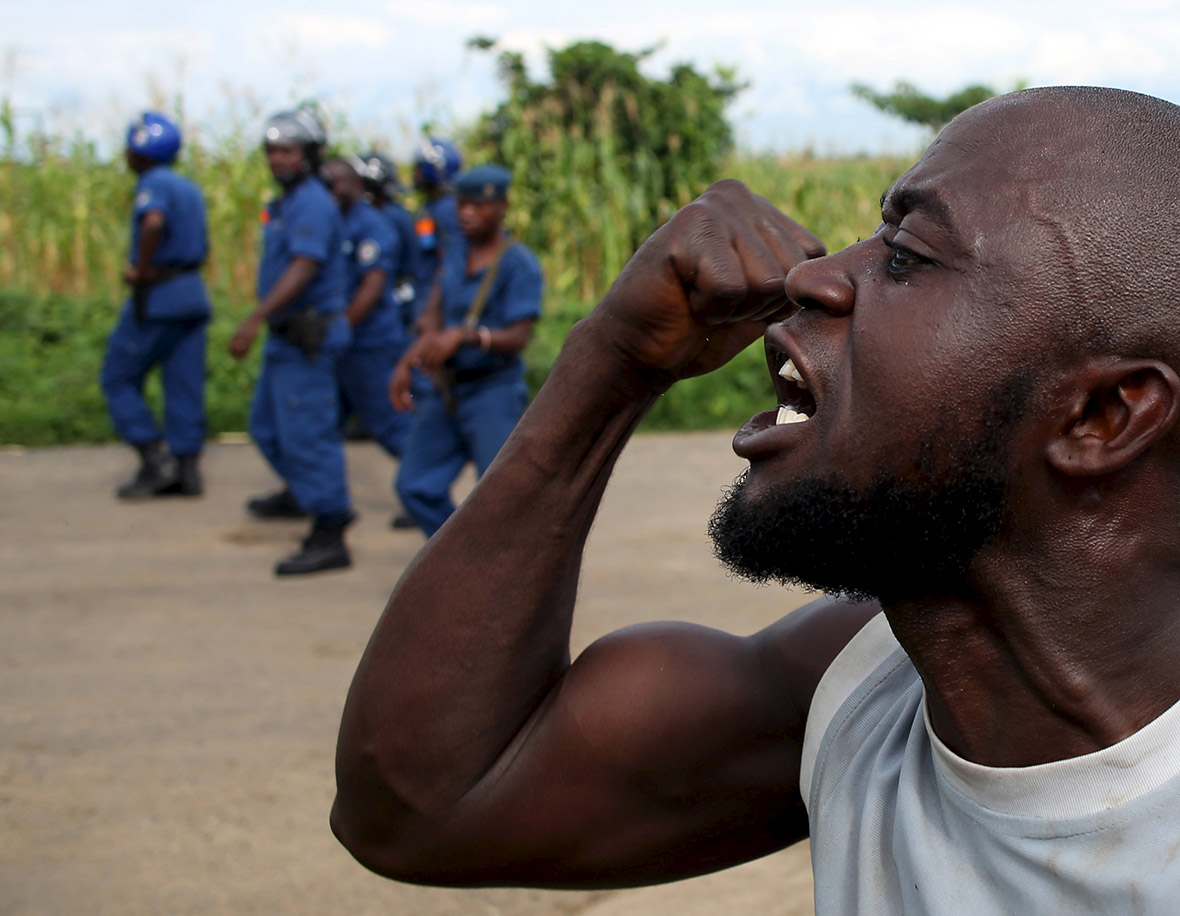 Protesters in Burundi defying President Pierre Nkurunziza by continuing to demonstrate against his decision to run for a third term, were on Monday 18 May met by heavily armed police and army officers and warned: "You march, we shoot".
Burundi has been rocked by a wave of protests and violence culminating in a short-lived coup d'etat on 13 May, after Nkurunziza announced his plans to extend his stay in office by seeking a third term. The coup d'etat was aborted after 24 hours and some of its leaders were arrested after surrendering.
Nkurunziza called for an end to the protests when he returned to the capital on Friday.
No water cannons, only guns
Demonstrations resumed on Monday in Bujumbura's Cibitoke, Musaga, Nyakabiga, and Bwiza districts, according to protest organisers.
Protesters in Ngagara, told IBTimes UK they were met by heavily armed army officers.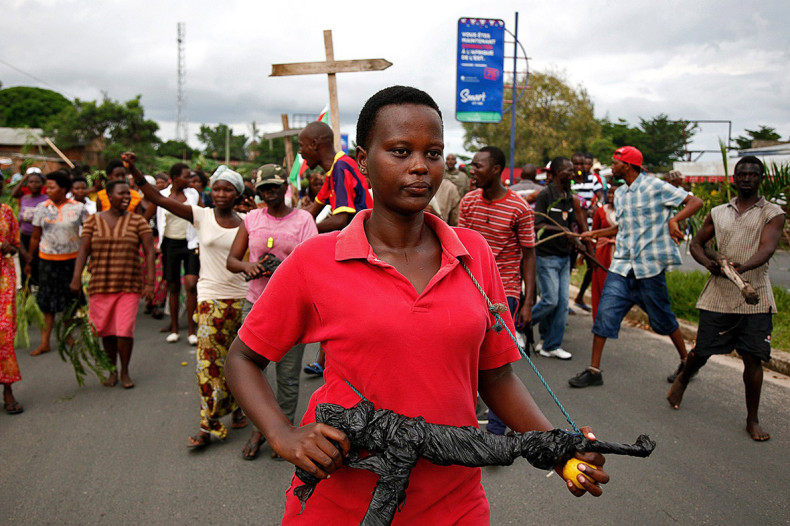 "There are very heavily armed officers everywhere. There were water cannon trucks last week, with which they would spray us (protesters), but this time there are just arms. They told us: 'You march, we will fire at you'," Frederic, one of the protest organisers told IBTimes UK on Monday from Bujumbura.
Frederic, whose name has been withheld for his safety, explained that people, who had decided to hold a protest in the district of Ngagara and Bwiza, have stayed in their homes in hiding.
"The military told them: 'We know you have arms, and we have some too. We're going to end up shooting each other'. The city is pretty bleak there."
In Nyakabiga, protesters had started walking, a protester confirmed. There too, army officers warned they had been ordered to shoot them in the legs.
As the country descended into a media blackout and local journalists have not been unable to report since the attempted coup for fear of reprisals, protest organisers have asked the few international news reporters in Bujumbura to go and meet the protesters "to witness the shootings if there are any".
In Musaga, there has been a tense standoff between the protesters and the army.
"So far, the army had been supporting the protesters, and had behaved well. But now, because of the latest events, we think the government may have sent pro-President army officers," said Pierre-Claver Mbonimpa, the leader of Burundi's civil society and opposition figure.
While IBTimes UK was not able to confirm these claims, protesters say they will only be able to judge the veracity of the allegations if protests turn violent.
Controversial third term
Protesters have accused the president of violating the constitution and the Arusha Peace Agreement, which says the president can only stay in power for two terms.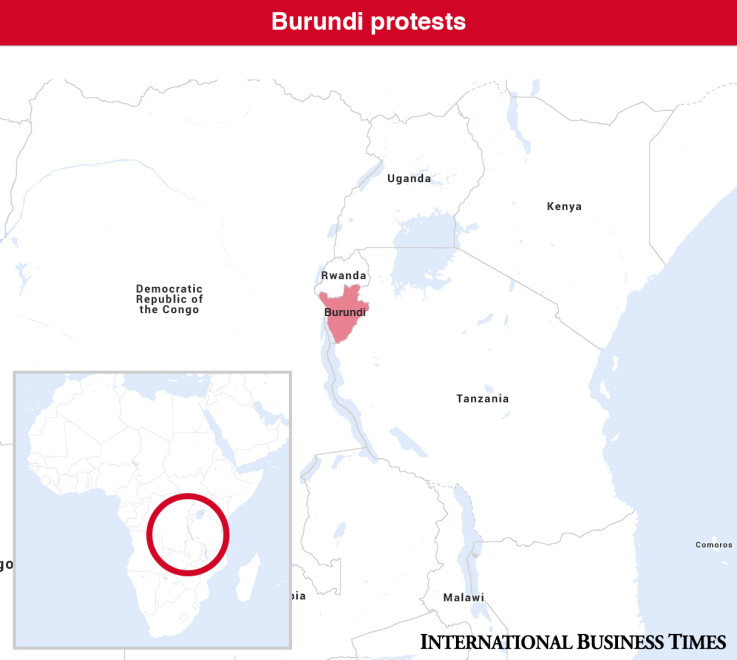 Burundi map
IBTimes UK
Nkurunziza's supporters argue the president's first term should not be counted, as he was chosen by the Parliament and not by the people in an election as specified in the agreement.
In his first address to the nation after the coup, the president drew a link between anti-third term protesters and the failed coup.
"It is obvious that the current upheavals are related to the group that wanted to overthrow the institutions," Nkurunziza said in a statement published on Friday 15 May on the Presidency's website.
The leader also strongly requested the "uprising is stopped immediately and that those who have grievances should go through the path of dialogue and consultation and not through violence".
Presidential focus on Somali jihadist
On Sunday, the president, in his first appearance in public since the attempted coup, avoided mentioning the domestic crisis, instead speaking about his "preoccupation" with dealing with al-Shabaab, the Somali jihadist organisation.
"We take seriously the threat of al-Shabaab," he said.
The group has vowed it will carry out terror attacks in Uganda and Burundi in retaliation for the presence of troops from the two countries in Somalia.
The terrorists released a video in which one of the group leaders tells Ugandans and Burundians not to feel "perturbed when an attack takes place in your lands".
UPDATE:
(14:54pm GMT 18 May): In a video, exclusive to IBTimes UK, protesters are saved by the arrival of foreign journalists after an army officer threatened to shoot protesters in Musaga.
A source explained: "There was this officer who wanted to shoot protesters, but international journalists (the only ones currently able to report) arrived and saved us."
Protests resumed in the district on Monday 18 May.
(10:37am GMT 18 May): In Bujumbura's Nyakabiga district, army officers have opened fire in the air to disperse the protesters, sources have told IBTimes UK, adding these were live bullets.
In Mutakura, military officers responded with gun shots in the air after protesters threw stones at them. Following the stand-off, officers and protesters played a game of cat-and-mouse. Traffic have been stopped on the main side, sources said.
In Cibitoke, there have been reports of an apparent divide between the army officers: a source has told IBTimes UK that "there has been a conflict between those who want to shoot and those who don't". "They are neutralising themselves," the source added.
In Musaga, protesters have constructed barricades again. When a Commandant of the Musaga army base arrived, the army started shooting, which "angered" protesters, a source said. Military officers intervened and asked the others to stop shooting. Phones were allegedly "snatched" from some civilians, but have since been handed back, according to the source. IBTimes UK could not confirm this claim.
A source, who is in touch with other foreign press organisations in Bujumbura, has told IBTimes UK protest organisers have asked reporters to stand nearby the protests to witness any violence.
The source claims reporters could "dissuade army officers from shooting on us".
Sonia Rolley of RFI also described how they put their hands in the air while singing the national anthem.
Meanwhile, in Ngagara, civilians have stayed indoors after they were met by heavily armed army officers.
"The military told them: 'We know you have arms, and we have some too. We're going to end up shooting each other'. The city is pretty bleak there," a source named Frederic told IBTimes UK.