The African Union (AU) has dropped its plan to send 5,000 peacekeepers to Burundi to stop the country from spiralling into anarchy, after the strife-torn nation's government declared it "too early" for a military intervention on its soil.
The country's current political crisis, which has left up to 900 dead, pits supporters of President Pierre Nkurunziza against those who say his re-election in July for a third term violated the constitution of a nation still reeling from its civil war that occurred between 1993 and 2005, leaving 300,000 people dead.
'Unimaginable' plan to send troops
The plan, which was put forward in mid-December 2015 to prevent mass bloodshed, was abandoned after fierce opposition from the Burundian president and some other regional leaders.
While the AU did not need Nkurunziza's agreement, the bloc could have recommended the implementation of Article 4 of the AU's Constitutive Act, which gives "the right of the Union to intervene in a Member State pursuant to a decision of the Assembly in respect of grave circumstances, namely: war crimes, genocide and crimes against humanity".
Officials, however, said the conditions for invoking the charter were not yet in place and sending troops without Burundi's approval was highly problematic. AU diplomat Ibrahima Fall said such a move would have been "unimaginable". Gambia's president, Yahya Jammeh, said some states would only act with Burundi's consent.
Diplomats, however, said they would use a delegation to try to convince the government to accept the peacekeeping force.
But, as diplomats said the troops were "ready to deploy", Comfort Ero, the head of International Crisis Group's Africa programme, warned it could take up to six months to finance, equip and deploy the force.
Other African leaders said they were wary of setting a precedent that might allow the AU to intervene in their own countries without consent.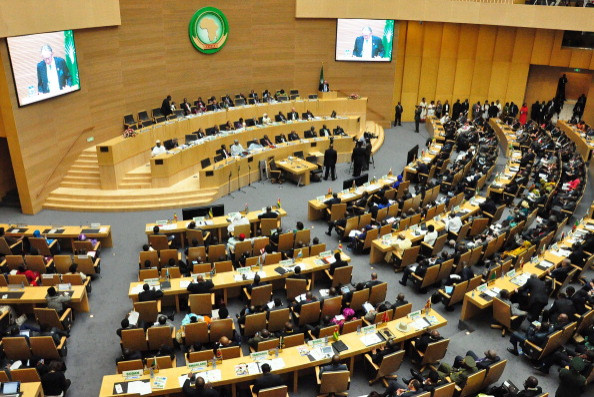 Push for political dialogue
At the end of the two-day summit in Addis Ababa, Smail Chergui, AU commissioner for peace and security, highlighted that the AU had reassured Burundi it had no intention to occupy the country but rather to encourage political dialogue between Burundi's warring sides.

"We want dialogue with the government of Burundi," Chergui told reporters after the summit on 31 January.
He said African leaders had "decided to send a high-level delegation to that country so that they hold dialogue with the government on... the deployment of the force.
Meanwhile, Jeremie Minani - a spokesman for the Council for the Observance of the Constitution, Human Rights and the Arusha Peace Accord (CNARED), an alliance-in-exile of several opposition movements - told IBTimes UK that would the AU decide not to proceed with the intervention, there was a risk that the conflict could degenerate into a genocide "that is irreversible".