Burundi's President Pierre Nkurunziza said he will rule out a fourth term while the country is on the brink of civil war after the constitutional court approved his third term bid for June's election.
Violence erupted in the central African nation at the end of April as people accused Nkurunziza of not respecting the Arusha Peace Agreement, which says the president can only stay in power for two terms.
The document was signed in 2000 and intended to pave the way for democracy and end the civil war fought between ethnic Hutu and Tutsi, that has killed some 300,000 people since 1993. However, Nkurunziza's supporters argue that the president's first term should not be counted, as he was chosen by the Parliament and not by people as indicated in the agreement.
At least one person was killed during the latest protest in the capital Bujumbura, AP reported, bringing the death toll to 14.
Uganda-based independent journalist Fulvio Beltrami told IBTimes UK the protest "has been violently repressed by the police, the Imbonerakure – the youth wing of Nkurunziza's party National Council for the Defense of Democracy (CNDD-FDD) – and Rwandan terrorists from the Hutu rebel group Democratic Forces for the Liberation of Rwanda (FDLR)."
Meanwhile, Burundi's presidential communications chief Willy Nyamitwe told IBTimes UK that the president will "stamp out" the protest and claimed that demonstrators are holding hostages, barricading some of Bujumbura's streets where they also fired on police forces and burned tyres.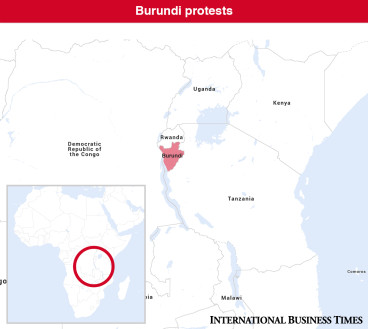 "This is really is reprehensible -- these actions violate even the most elementary rights recognised by national and international law of the populations living in these localities," he said in a phone interview from the capital Bujumbura.
Another source, who spoke to IBTimes UK under condition of anonimity, said that thousands of Burundians, mainly Tutsi, are fleeing the country as they fear a genocide could occur against them.
"Nkurunkiza has let in the country the Hutu militiamen responsible for the 1994 Rwanda genocide and he uses them, together with the Inborenakures, to terrorise people in villages, where nobody sees what happens," the source said and added that tensions between Hutu and Tutsi no longer exist and the problem today is political.
"People are tired of Nkurunkiza because he did not do anything good in terms of social and economic development. Nkurunkiza is Hutu and is the one trying to spread ethnic hate in order to gain the approval by the Hutu population. However, many Hutu are against his third mandate and statistics say that only 20% of the population support him."