Burundi's President Pierre Nkurunziza has announced he still intends to seek a third term despite the fact the country has erupted into violence following his decision.
Earlier in April Nkurunziza 's party, the National Council for the Defense of Democracy (CNDD-FDD), nominated him as its candidate for June's general election.
The decision sparked protests with people arguing that Nkurunziza is violating the Arusha peace agreement. The document was signed in 2000 and intended to pave the way to democracy and end the civil war fought between ethnic Hutu and Tutsi, that has killed some 300,000 people since 1993.
According to the agreement, Burundi's president can only run for two terms. Nkurunziza's supporters argue that the president's first term should not be counted, as he was chosen by the parliament.
At least six people have been killed in recent violence as protesters clashed with police. Among the protesters were human rights advocates, NGOs and opposition members. Hundreds of protesters have also been arrested with some accusing the CNDD-FDD of intimidating the demonstrators.
Senior opposition leader Charles Nditije told AFP that the protests would continue until Nkurunziza agreed not to run for re-election.
"He will have no other choice than to give it up because we are determined to go all the way."
The opposition also rejected government accusations that they were exacerbating ethnic divisions.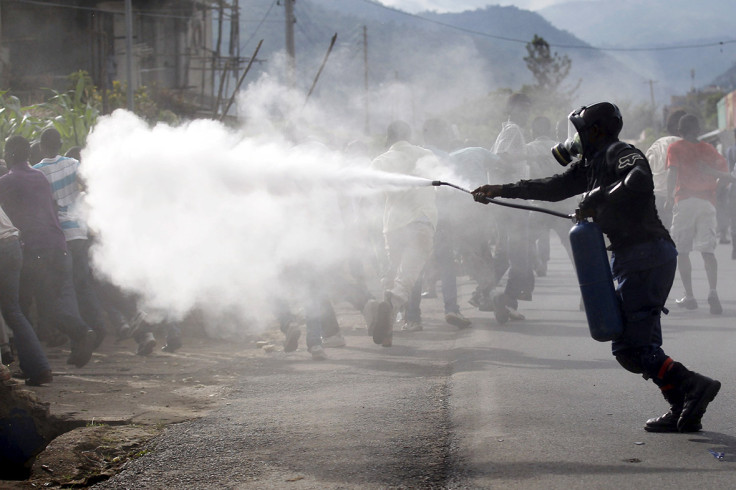 In a separate report by IBTimes UK, independent journalist Fulvio Beltrami warned that thousands of people are fleeing the country fearing violence.
"The protest has been violently repressed by the police, the Imbonerakure – the youth wing of the CNDD-FDD – and Rwandan terrorists from the Hutu rebel group Democratic Forces for the Liberation of Rwanda (FDLR)," he said.
"Meanwhile, hundreds of Burundian Tutsi are crossing the Nyansa lake, on the border with Tanzania, and the Ruhwa and Ruzizi rivers, on the border with Rwanda and Ruzizi, fearing that a genocide against them could occur. They are sheltering in Tanzania, in southern Rwanda and the Congo."
Beltrami, who writes for Italian newspapers L'Indro and Reteluna.it, explained that while the Ugandan government has expressed its concern about the situation, Rwanda has beefed up its security on the border with Burundi.
He added that witnesses said that some Burundian Tutsi have been joining a new, "mysterious" militiamen group.
"There are suspicions that the Rwandan government and army are behind this new group, which might resemble the Rwandan Patriotic Front (RPF), which freed Rwanda after 100 days of massacres against the Tutsi in 1994."