The UK Burundian Diaspora (UKBD) has called on UK Prime Minister David Cameron to withdraw his financial assistance to Burundi's electoral process, as the group claimed President Pierre Nkurunziza's third term bid in elections due to take place in June is "unconstitutional".
The UKBD marched in central London on Friday 15 May to protest against the ongoing violence in Burundi that has left 22 dead, as demonstrators accused the president of violating the constitution and the Arusha Peace Agreement, which says a president can only stay in power for two terms.
But Nkurunziza's supporters argue the president's first term should not be counted as he was chosen by the Parliament and not by the people in an election as is specified in the agreement.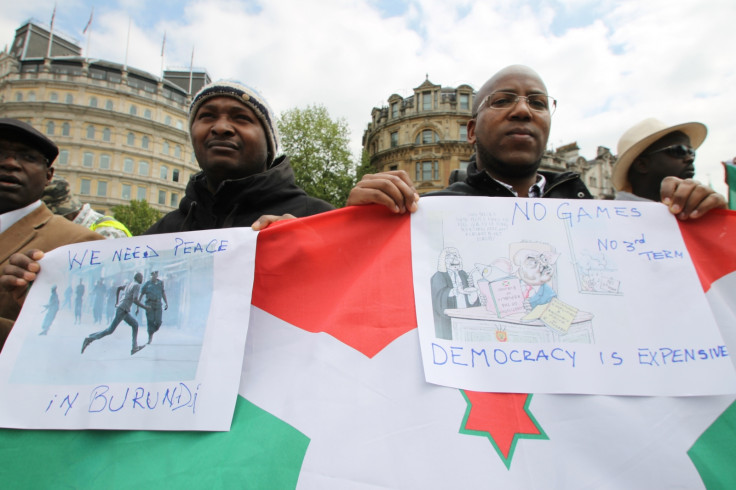 Letter to David Cameron
While there were reports on 15 May that crowds in Burundi's capital, Bujumbura, were cheering for Nkurunziza as he returned to his Presidential Palace a day after a coup d'etat failed, demonstrators in London called on the president to withdraw his third-term bid.
Three members of the UKBD handed an open letter to Cameron at his central London residence of 10 Downing Street.
Through the European Union, which is financing €8m (£6m, $9m) of financial assistance to the contested elections, protesters claim the UK is participating in the "illegal" poll.
Ghilain Mahoro, a London-based protester, told IBTimes UK: "If ever the UK government makes speeches about democracy, if ever they speak about good governance, we ask them to do more than just talk about it. They need to take concrete actions.
It's not worth financing elections in countries that don't have good governance. In Burundi, where over 50% of that budget comes from the West, they should not continue to influence this sort of regime."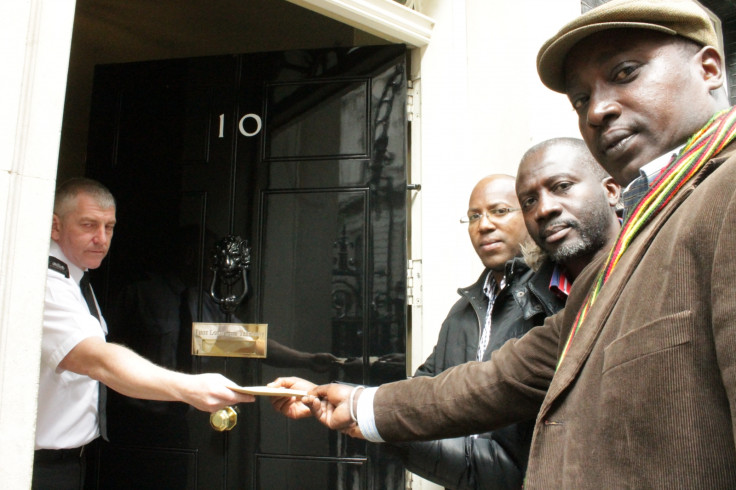 "Mudibu", one of the leaders of the London Burundian community, told the crowd through a megaphone: "We are going through a lot and the world still doesn't know it."
Referring to members of Nkurunziza's party, the National Council for the Defense of Democracy (CNDD-FDD), Mudibu said: "They can propose another member [for the election]. It's not like they don't have other members. It's almost an insult to their party. We say no to Nkurunziza's third term."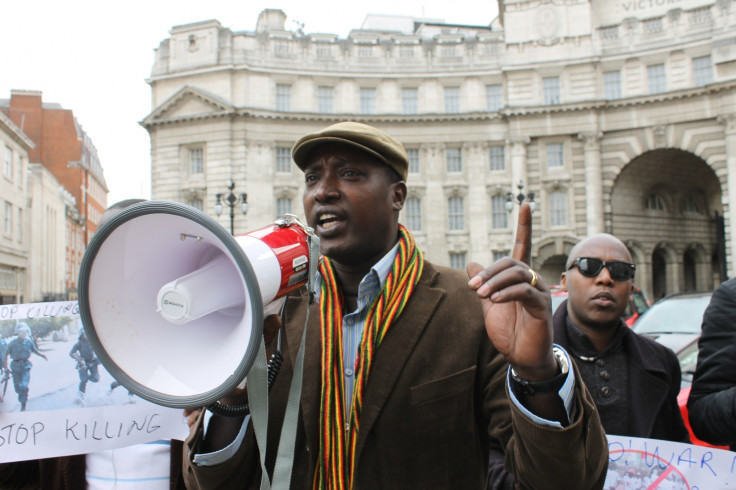 Protesters fearing for their families in Burundi
Fred Ngamiye, UKBD's president, told IBTimes UK that around 30 people turned up for the protest.
He added that more were expected but many decided not to participate because they feared for their families who live in Burundi.
"They texted saying they wished to come but feared for those back in Burundi," he explained, pointing to growing fears of a post-coup repression on opposition figures.
In a speech at the attention of civilians back in Burundi, another demonstrator, student Olenka Ntungane, said: "We are still with you guys. The president will not run again. He has watched as they killed our citizens, our brothers and sisters, and they are criminals to(wards) us."
Commenting on the media blackout that has gripped the country since the announcement of the coup d'etat, Ntungane - who says she is not an activist - added: "We want the foreign media to get it right. It's not about the people who did the putsch or about them bringing social instability. Social instability has been there since they started killing and jailing protesters. It's about the people."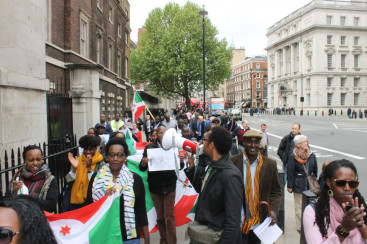 Hutus and Tutsis together
The first democratically elected Hutu president, Melchior Ndadaye, was assassinated by Tutsi extremists three months after taking office in 1993.
Hutus started massacring Tutsis and in retaliation, the army, mainly composed of Tutsis, killed thousands of Hutus, sparking a civil war that claimed at least 300,000 lives.
While Mudibu insisted "it's not about Hutu or Tutsi", Mahoro claimed Nkurunziza's regime was "trying to divide Burundians", by using ethnicity.
"They know that, because of the problems that Burundians have had in the past, he wants to make an issue about ethnicity to stay in power," he said. "It's an instrumentalisation of ethnism."
As protesters contesting the elections in Burundi are from every ethnicity, Hutu, Tutsi and Twa, the crowd in London included Hutus and Tutsis, Muslims, Protestants and Catholics.