UK Weather Chaos: Six Walkers Missing in Cairngorms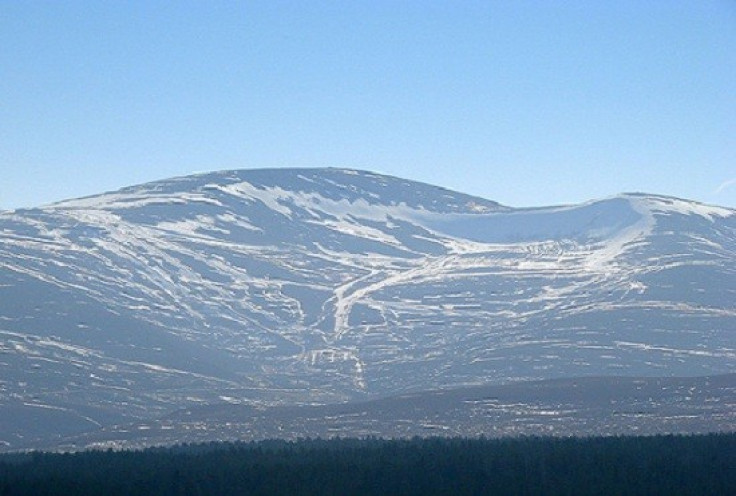 Six walkers have been reported missing on a trek through the Cairngorms in a tough weather conditions.
They failed to return from a trek on Sunday evening in the Scottish Highlands mountain range.
The alarm was raised as the temperature plunged below zero and freezing conditions took hold in the national park. This morning (Monday) the mercury stood at -6C.
Police dogs have been drafted in to aid the search. The Cairngorms, the tallest and largest mountain range in Great Britain, contains five of the six highest mountains in Scotland in an area measuring 1,107 sq km (427 sq mile).
RAF rescue teams were flying over a huge area to find the missing walkers as more snowfall was forecast. With wind chill factored in, temperatures are expected to drop to -12C.
In January, an avalanche in Glencoe in the Scottish Highlands killed four hikers.
The victims, all under the age of 30, plunged 1,000ft down a mountainside as they were returning from a trip to the summit.
PhD students Christopher Bell, 24, of Lancashire, and Tom Chesters, 28, died in the fall, along with junior doctor Una Finnegan, 25, from Northern Ireland and Rachel Majumdar, 29, who worked in Harrogate General Hospital.
They were buried under 6ft of snow.
A 24-year-old woman was left in a critical condition in hospital by the avalanche, which Glencoe Mountain rescuer Andy Nelson described as "brutal." She remains in hospital, where her condition is described as "stable."
He described how quickly conditions in the beautiful wilderness can turn treacherous for even experienced hikers and mountaineers.
"It was a typical Scottish winter day, with strong winds, which isn't unusual, and light snow falling," said Nelson of last month's tragedy.
"The people were on a ridge walk, not climbing per se but walking, and then they chose to descend on the area that avalanched. It was a reasonable route to take but the snow beneath them was very unstable. Being in an avalanche is literally like standing on a carpet and having it pulled out from underneath you.
"Any thoughts of trying to swim out from it is futile.
"You are on steep ground, essentially standing on a raft of snow that is sliding downhill at speeds of maybe 40-50mph.
"It would have unfolded in a split second. They would have felt the snow moving and then they would have been travelling at a speed that was impossible to stop.
"It's a brutal experience. There are enormous forces at work and you are being twisted about at high speed."
© Copyright IBTimes 2023. All rights reserved.