There was a lot of angst and trepidation on Monday (24 October) as many refugees feared they would face rejection and an uncertain future after they were left in the dark about where the French authorities would send them ahead of the planned demolition of Calais' camp.
While more than 20% of the 'Jungle' refugee camp's population left ahead of the eviction – because of fears of being displaced across 451 reception centres in France and the desire to reach the UK for others – a little group of Afghans spent their first night sleeping in their new accommodation in Pays de la Loire.
Outreach worker Netty Miles, who worked in the Calais Women and Children's Service Volunteer Coordination, met the group of six or seven in May 2016 – three months after they had arrived in the camp, home to 8,100. The little group, all of whom came from different regions of Afghanistan and met in Calais, formed what the outreach worker described as an "extended family support group".
In the camp – that is expected to be demolished from Tuesday – members of the group eat together, looked after each other's shelters and kept an eye on each other's welfare.
One of the refugees, Hasan, who worked with a catering unit serving American and Tibetan forces in Kabul after the United States invaded Afghanistan, was ordered by the Taliban to stop working with the US military and that he was a traitor to his country.
"As soon as the foreign forces pulled out, the troubles really started and everyone who'd been helping them in any way directly or indirectly was targeted. Eventually, the Taliban sent him a death threat, and so he and his whole family left," said Miles, event coordinator for Help Refugees, who helped support the group through funding from Cornwall-based charity group RefugeeAid.
The 25-year old lost track of both his younger brothers on the Afghanistan-Iran border. Hasan never heard from them again. Once in Calais, the young man took two teenagers – aged 17 and 18 – under his wing. "He does not let them out of his sight. In a way, he wants to fill the void of those younger brothers that he lost, and wants to help these boys."
After getting to know and identifying those most in need in Calais, Miles recently helped distribute phone credit, shoes, coats or battery chargers during the week running up to the eviction, during which there had been much speculation about what would happen during the evacuation.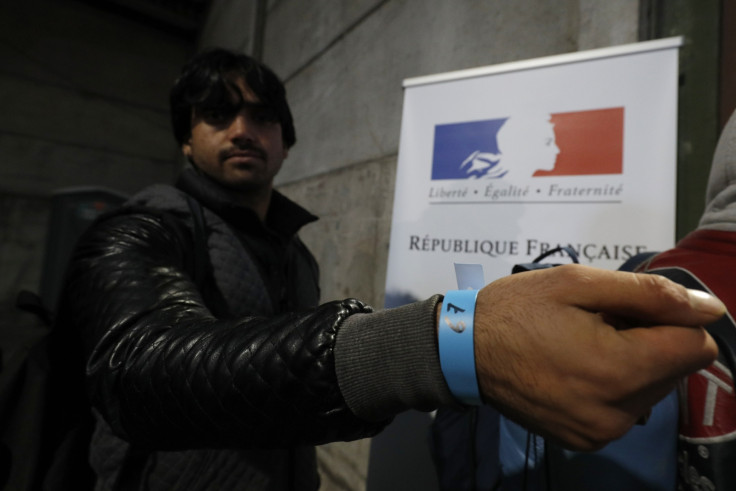 Looking forward to starting a new life in France
Most refugees were only told to go and stand in line for a bus where they would be given a choice of two areas in France to be relocated to, but that particular group had been given the information that they needed ahead of the evacuation, and were looking forward to starting a new life in France as they were bussed away along with 2,500 others on Monday.
While the teenagers could have chosen to be registered and processed as children, they wanted to stay with Hasan and opted to go with their friendship group to avoid being separated. The little group was transported to an accommodation in the Pays de la Loire region in western France – the exact location of their living quarters is kept secret for security reasons. The region provides 36 centres which have fewer than 1,000 beds.
For the first time since 2015, Hasan and his friends were able to sleep in a real bedroom – that sleeps two – and given a shared living room, bathroom and kitchen. The young man confirmed members of this group are free to come and go as they please from their new place he described as "all very clean".
Hasan, who for security reasons wishes to remain anonymous, said that French people there "were very kind" to them.
"It's really good news," Miles explained. "Most of the people I met in the camp who had experienced religious extremism - would it be Afghans or East Africans – only want to be assimilated to the culture and get on with their new life – and become Frenchmen."
Fears and UK dreams largely prompted by greedy smugglers
While the French government pledged to resettle camp residents in reception centres throughout the country, there had been increasing worries that the camp's closure would not stop refugees desperate to cross into the UK from heading to Calais. Without the camp, it is feared people who would resist being moved would end up living in even worse conditions with fewer facilities.
Resettlement of Calais' refugees also left some of France's 18 regions largely divided – because of fears that immigrants would not integrate well or would look to leave to try and reach the UK. But Miles explained that the lack of understanding on both sides – French people and refugees – may be down to efforts from smugglers to persuade refugees France is not truly the land of asylum.
"What's happened to people in this camp is that they have been smuggled this far – all in the camp were at least helped by smugglers in a part of their journey – and the smugglers, by no means want to lose that large source of revenue once the refugees make it through the French border. So refugees were given misinformation in the camp smugglers kept their options very narrowed down. Many camp residents did not realise that another future could be outside of the UK."
The onus can also be placed on the authorities for the lack of information, Miles believes, as she claimed that the UK Home Office had been heavily relying on volunteers and aid workers in the camp to feed information down to refugees.