More than a dozen humanitarian organisations have accused authorities of brutally evicting refugees from the Calais camp, known as the Jungle, as protests of the demolition continued. Those who occupy the Jungle have staged a sit-in protest, with many setting their shelters alight, while others, including activists threw stones at riot police in an attempt to disrupt the continuing demolition work that will affect at least 1,000 people.
The police, who responded with tear gas, are now attempting to contain the fires which have broken out, as work gets under way to clear part of the camp outside the port city in northern France where refugees are trying to reach Britain.
The unrest in the camp, located in northern France, comes after a decision was made by an administrative court in Lille, northern France, to uphold the decision to evacuate the thousands of refugees who were staying in Calais, ignoring NGO's request to halt the eviction order.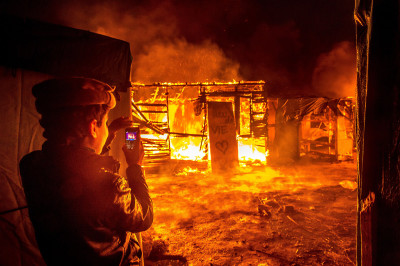 Despite giving those living in the Jungle little-to-no notice, French Interior minister Bernard Cazeneuve had promised that the camp's eviction would be done "progressively, by persuasion and with respect for peoples dignity". This however has not been the case, with some being evicted in the early evening at around 5-6pm with nowhere to go.
Local authorities proposed to relocate them in a state-run container shelter nearby or other refugee centres across France, but numbers are limited, and there is no set day or time for when this may happen, leaving many unsure of what to do next.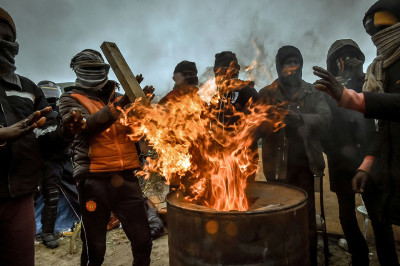 An Iraqi refugee, who did not give the reporter their name, said: "I don't have any plan because I don't know what I can do. If I go to camp, they are going to take my fingerprint. If I don't go to camp, going outside is a problem, especially for the kids as well. I can't stay outside. I don't have any plan and I'm not really sure exactly what I can do."
(On the new container area) "It's full right now. They don't have any space over there. We just tried to go over there but there's no space over there. That's why we are staying outside. We don't have any plan for tonight. We are just staying inside the theater. There's a theater dorm over there inside the jungle. So they told us if we don't have any place to rest, you have to go over there and sleep for tonight or maybe two to three days. Maybe we will find some solution for this."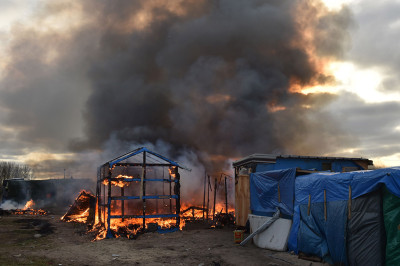 The court who ordered the demolition of the homes of up to 200 people, have stated that common places such as houses of worship, schools and a library that have been built must not be destroyed, yet this does not help those who are now left in limbo, who are unable to determine their next move.