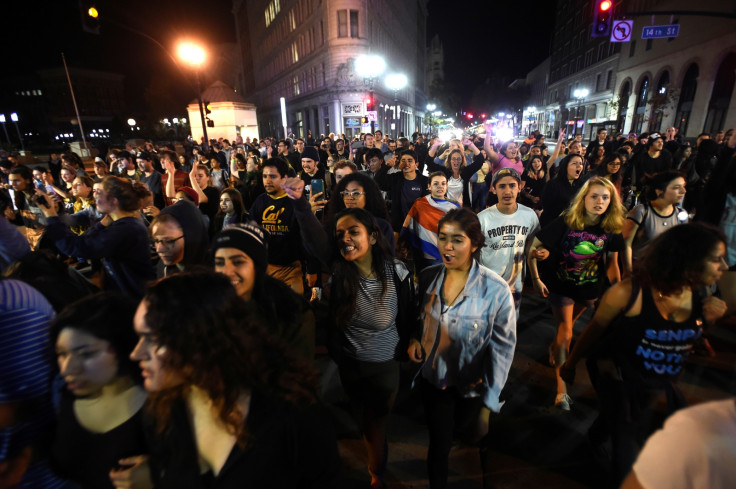 Demonstrators have taken to the streets in cities on the US west coast to protest Donald Trump's victory in the presidential election.
In California, thousands of students from UCLA and UC San Diego gathered near their respective campuses to demonstrate the election outcome, chanting "not my president" after the result was called, while another group in the state is holding an event encouraging people to vote for independence from the rest of the US.
Trump swept to a surprising victory in the 8 November election, defying political polls and pundits to gain a total of 279 Electoral College votes to Hillary Clinton's 228 EC votes, although the Democrat gained a larger share of the popular vote.
But the shock win didn't go down well with those on the west coast of the country, who overwhelmingly voted in favour of the Democrat candidate.
In Portland, Oregon, which went blue along with its neighbours California, Washington and Nevada, groups of demonstrators gathered downtown, chanting "Whose streets? Our streets" after the result was called, with a dumpster set alight during the protests, the LA Times reported.
Many of the people taking part in the protests across the west coast were students, with several schools seeing students stage walk-outs during the first classes of the morning or conducting anti-Trump rallies on campus.
In Oakland, smashed windows and fires were reported after the election night results, with the Bay Area Rapid Transit System closed as a result of demonstrations, which were largely peaceful with some exceptions.
Protesters had marched along Highway 94, where a woman was hit by a car, sustaining serious injuries, while in downtown LA anti-Trump graffiti was spotted near city hall, where a crowd of protesters had gathered.
And a group called Yes California, which proposes 'Calexit', is hoping to capitalise on the election result and is holding an event on 9 November calling for independence from the rest of the US, with disgruntled Democrat voters likely to give the idea more consideration following Trump's victory.
Pro-Trump crowds also gathered throughout the evening, with a group of people spotted celebrating by Trump's start on the walk of fame in Hollywood, although they were also met with a small group of anti-Trump protesters.
In her concession speech, Clinton urged people to come together for the good of the country, while Trump also urged unity in his victory speech.