California threatens Uber with legal action if driverless cars not taken off the road
Move comes after two driverless Uber cars passed through red lights in first day of trials.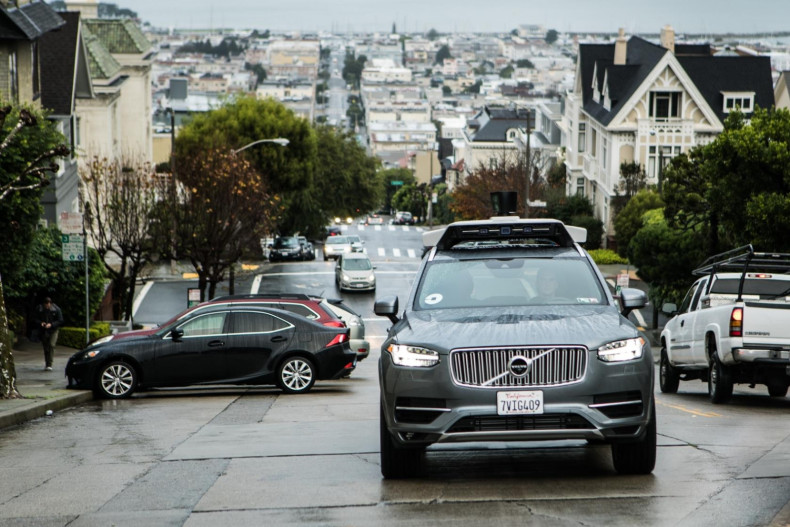 California lawmakers have ordered Uber to remove its driverless cars from the road after they were captured on film crossing red lights in San Francisco.
The state's Department for Motor Vehicles (DMV) already objected to Uber launching the trials of autonomous cars on Wednesday (14 December) as the ride-hailing company did not acquire the relevant permits.
But after dash-cam footage captured Uber's Volvo XC90 breeze through a red light, seconds before a pedestrian crossed the road, the California DMV threatened legal action.
One woman also captured another of Uber's driverless cars crossing a red light, and uploaded the image to Twitter.
In a letter sent to Uber seen by The Guardian, a spokesman for the California DMV said: "It is essential that Uber takes appropriate measures to ensure safety of the public.
"If Uber does not confirm immediately that it will stop its launch and seek a testing permit, DMV will initiate legal action."
However, in a response, Uber argued the red-light violation was down to "human error", blaming the drivers who are required to sit behind the steering wheel.
The statement said: "These incidents were due to human error. This is why we believe so much in making the roads safer by building self-driving Ubers.
"The drivers involved have been suspended while we continue to investigate."
The company, however, did not respond to California's order to remove the cars from the road.
In a blog post the same day, Uber's head of technology Anthony Levandowski addressed why the company proceeded to test its cars without the state of California's authorisation.
"We understand that there is a debate over whether or not we need a testing permit to launch self-driving Ubers in San Francisco," he said. "We have looked at this issue carefully and we don't believe we do."
Levandowski added: "The rules apply to cars that can drive without someone controlling or monitoring them. For us, it's still early days and our cars are not yet ready to drive without a person monitoring them."
In an interview with the San Francisco Examiner, Sergeant Will Murray of San Francisco's traffic department said he was not aware that Uber had released its driverless cars on the road.
"I was unaware the cars have been released in the wild," he said. "Isn't that like the headless horsemen?"