The Cambridge's have arrived in Canada. The British royal family touched down at Victoria airport on September 24, to commence their eagerly anticipated eight-day Canadian Royal Tour. And this time, Kate Middleton and Prince William have brought the children with them.
The royal family arrived on a Canadian Air Force plane on time shortly before 4pm local time after a 10-hour flight.
Dressed in a light blue wool jumper and shorts, Prince George held his father's hand as he walked down the steps from the aircraft to face the awaiting wall of cameras, eager to capture the historic moment.
While he initially seemed apprehensive, with a little encouragement the future king gave a regal wave to the delight of the assembled dignatries and press.
Making her first public outing since appearing at the balcony of Buckingham Palace for the Trooping of the Colour, Princess Charlotte was carried by her mother Kate.
The Duchess of Cambridge looked as stylish as ever in a royal blue Jenny Packham dress, adorned with the Queen's maple leaf brooch and matched with a Locke and Co hat.
But Princess Charlotte still managed to steal her thunder, looking adorable in a pretty, printed dress with matching blue shoes and a bow in her hair.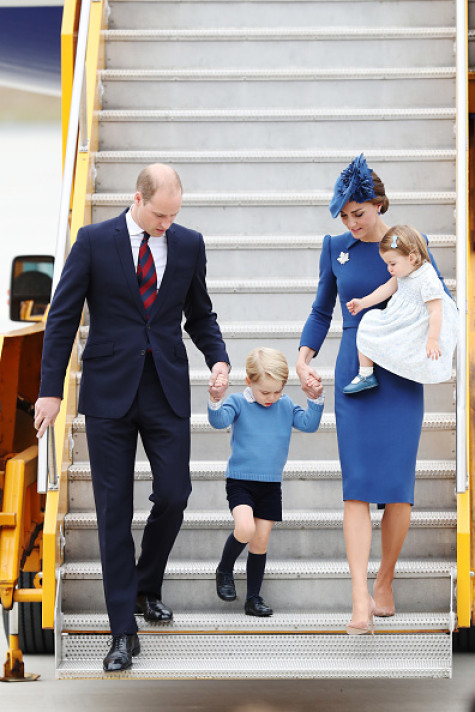 The nation is already gripped by 'Charlotte fever' with everyone eager to get a glimpse of the young Princess. The toddler, who is 16 months old, was chewing on her fingers as she appears to be teething.
The royals were greeted by their hosts Prime Minister Trudeau and his wife Sophie,B.C. Premier Christy Clark and Governor-General David Johnston.
After a few minutes the children were led into a waiting car which had been pre-fitted with infant car seats before the convoy sped off into Victoria.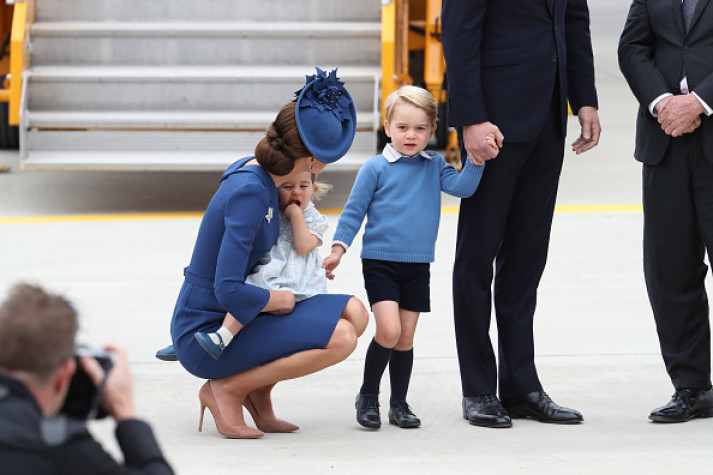 The visit will be Princess Charlotte's first overseas tour and only the second official foreign trip for their son Prince George who previously accompanied his parents on their tour of New Zealand and Australia.
It is the second tour of Canada for William and Kate who first visited in 2011 shortly after they got married.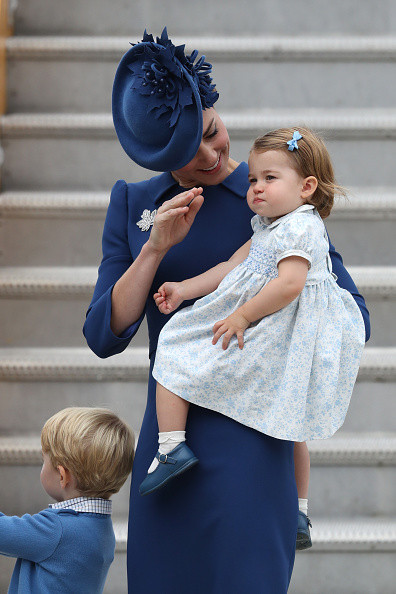 Speaking ahead of the visit, a Palace spokesman said: "They are incredibly grateful to Prime Minister Justin Trudeau for the invitation to visit Canada. This visit is a chance for the Duke and Duchess to deepen their relationship with a country that they will visit many times over the course of their lives."
The royals will stay at Government House for the majority of the visit, where Prince George and Princess Charlotte will be looked after by their nanny.
Special provisions have been made for the royal children, including a new nursery and a menu that will include the children's favourite meals.
Speaking about the royal visit Prime Minister Trudeau, said: "Canadians have tremendous affection for the Royal Family, and are excited to welcome the Duke and Duchess to our nation for their second official Royal Tour of Canada.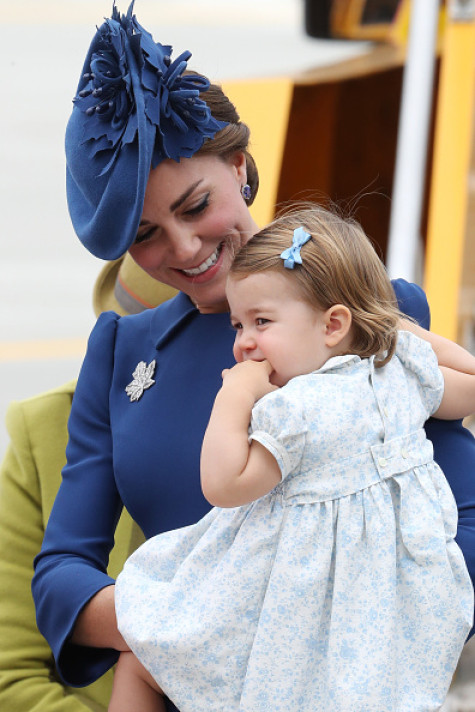 "Sophie and I look forward to showcasing beautiful British Columbia and to promoting awareness of both youth and mental health issues alongside Their Royal Highnesses."
Meanwhile, royal watchers had gathered at British Columbia' Parliament buildings armed with bouquets of flowers and toys for the children as the local residents prepared to wecome their royal visitors.