Camel tears off owner's head after being tied up in the heat all day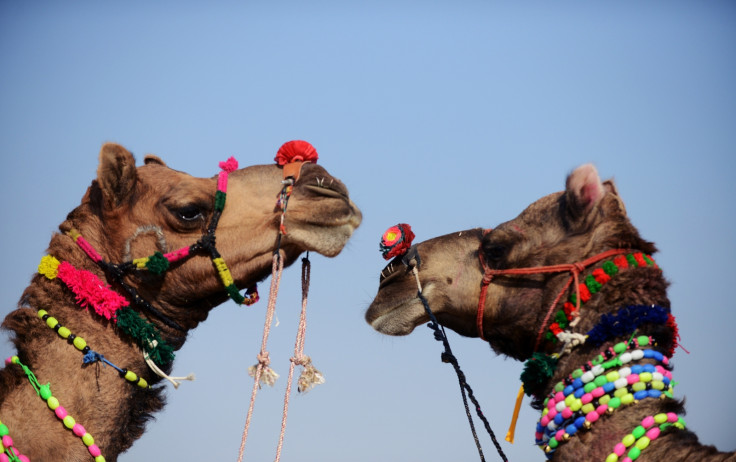 A camel in a village in western India bit off the head of its owner after it spent the whole day tied up in the scorching sun. The incident reportedly happened in Barmer district of the state of Rajasthan where the camel was tied near the owner's house.
The owner, busy entertaining guests, forgot to untie the animal till later in the night, the Times of India reported.
However, when he approached the camel, it attacked him, severing his head. "The animal lifted him by the neck and threw him on to the ground, chewed the body and severed the head," Thakara Ram, a resident of the same village said.
It took 25 villagers and six hours to calm the animal down and take away the dismembered body of the owner. Neighbours informed the newspaper that the animal had attacked the man on other occasiions as well.
Temperatures in the north and north-western India have broken all past records, and on the day the incident occurred, Barmer registered a peak temperature of 43°C (109°F).
India's capital New Delhi has been suffering from the heat wave as well, with May temperatures as high as 47°C. The city has recorded a number of cases of birds simply dropping from the sky due to the scorching sun and dehydration. The Sanjay Gandhi Animal Care Centre has reportedly received more than 50% more cases of heat-related health problems than in any other year. The centre has had to deal with cases of dogs collapsing from kidney failure and monkeys dying from heat-strokes.
"We are getting a dozen of complaints of dogs collapsing every day. Besides, birds such as black kites, pigeons, sparrows and crows are being brought to our hospital with heat-related complaints," said Gauri Maulekhi of PFA.
Villagers residing near wildlife sanctuaries are now concerned that the animals may try to make their way out of the jungle in search of water. Sunil Harsana who lives near Mangar Bani, a sacred forest near Delhi, said earlier this month a leopard met with an accident on the highway near his village. "The animals are straying out of the jungle in search of water. The ponds and other water bodies have completely dried up," he said.
© Copyright IBTimes 2023. All rights reserved.