Cameron pledges to raise income tax threshold to £12,500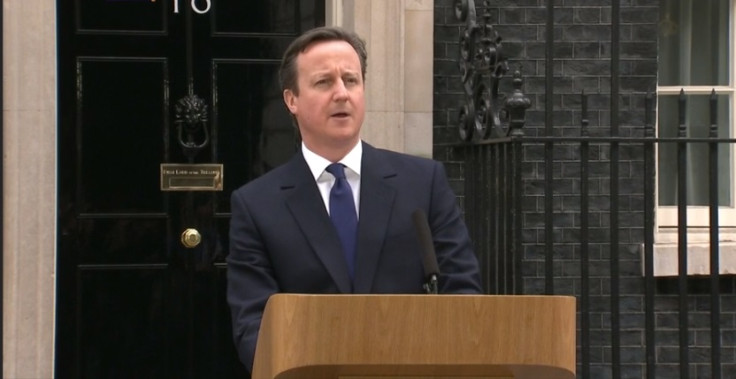 Prime Minister David Cameron has pledged to raise the tax-free allowance threshold to £12,500 and freeze income tax, VAT, and National Insurance if the Conservatives win the general election.
Speaking at a campaign event in Bristol, Cameron discussed his party's long-term economic plan, and reiterated the need for voters to keep the Tories in power.
He also addressed former Conservative supporters who may vote Ukip as a protest vote in May, warning them that in doing so, they could help Labour leader Ed Miliband enter Downing Street.
Chancellor George Osborne also spoke at the event, warning voters that shadow chancellor Ed Balls would introduce tax rises, and reiterating his party's "long term economic plan to build a more secure future."
"Conservatives believe if you've earned your money, you've saved your money, you should be trusted with your money – and from today you are," Osborne said, referring to new freedoms pensioners have over their retirement funds.
"Now the question is: what happens in 12 months' time, at the start of the next tax year – April 6th 2016?" he asked.
"Will we continue with our progress under the leadership of David Cameron – and see taxes cut further for working people?
"Or will we face the first of many tax rises from Ed Miliband, hitting working families, costing jobs and taking Britain back to square one. That's the choice: the future or the past."
Osborne said that the Conservatives will abolish all National Insurance contributions for employers of people under 21, adding that the party believes you should be able to pass on your pension to your loved ones tax free.
The chancellor also referred to a letter signed by business leaders last week, warning that Labour's tax plans will be bad for economic growth.
Earlier on Monday, Labour's shadow chancellor Ed Balls said the Tories have a "secret plan" to raise VAT, calling the 2011 VAT rise "David Cameron's first broken promise".
Labour and the Conservatives are going head-to-head over their respective economic plans on Monday, the official start of the tax year, which the Tories have dubbed "money back Monday".
© Copyright IBTimes 2023. All rights reserved.