6 election campaign trail gaffes – hecklers, ice cream and nannies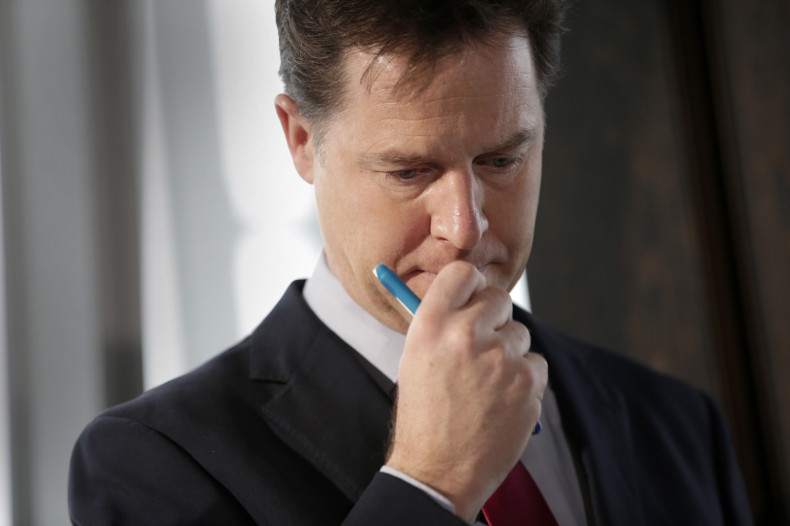 Deputy Prime Minister and Liberal Democrat leader Nick Clegg received a less-than rapturous reception on Monday (6 April) during an election campaign visit in south-west London.
Angry demonstrators in Kingston and Surbiton shouted "Nick Clegg lied to me", referring to Clegg's broken pledge not to raise tuition fees when in government. Unfortunately for the deputy prime minister, the heckling was captured by an ITV news crew.
Clegg may have even longed for the campaign trail days of 2010, when a Lib Dem supporter who failed to recognise the party leader asked him "What are you doing for Clegg?" only to be told "but I am Clegg!"
But despite the commotion, things could have been a lot worse for the deputy PM, as this look at some of the more notable campaign trail fails shows.
1. 'Two Jabs Prescott'
Things escalated pretty quickly for former deputy PM John Prescott, who threw a punch at a protester who had egged him in Rhyl, north Wales, during the 2001 general election campaign.
The politician was promptly dubbed "Two Jabs" Prescott by the Sun, harking back to his nickname "Two Jags".
2. That 'bigoted woman'
Former PM Gordon Brown committed the cardinal sin of insulting one of his own voters when he accidentally left his microphone on during the 2010 general election campaign.
After discussing several issues including immigration with 65-year-old pensioner and lifelong Labour voter Gillian Duffy, the Labour leader was heard calling her a "bigoted woman" after returning to his car.
The recording was played back to a mortified Brown on Radio 4, who returned to Rochdale to apologise to Duffy in person before he was forgiven.
3. Neil Kinnock makes a splash
Former Labour leader Neil Kinnock made a splash when he fell over on Brighton beach in 1983 during the party's leadership contest.
He may have won, but he also instantly cemented the image of being a wet drip to the millions who saw it on TV.
4. Ice cream buddies
Former Labour prime ministers Tony Blair and Gordon Brown were barely on speaking terms in the run-up to the 2005 election, according to reports within the New Labour government at the time.
They tried to present an impression of unity on the campaign trail, where Blair awkwardly presented his long-time rival with a Mr Whippy in front of the nation's press.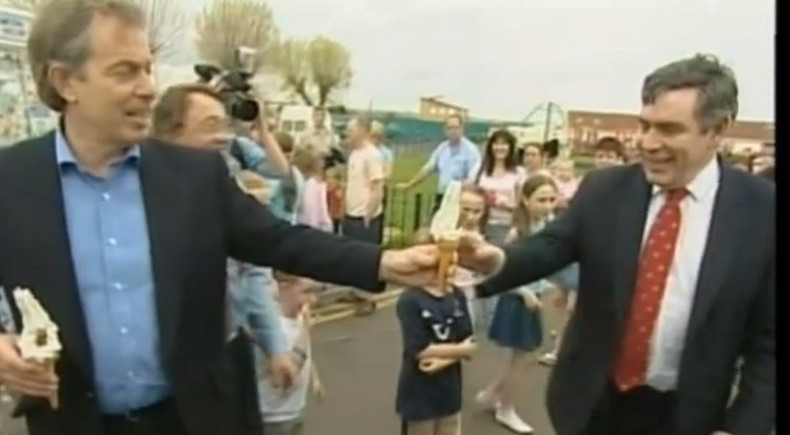 5. Bush calls reporter an 'a*****e'
Across the pond, former US President George W. Bush famously called New York Times reporter Adam Clymer a "major league a*****e" during the 2000 presidential campaign, sparking a huge media storm.
Bush apologised for the incident, saying: "I regret that a private comment I made to the vice-presidential candidate made it onto the public airwaves. I regret everybody heard what I said."
6. Taking the nanny
One of the most memorable campaign trail moments comes from Tory MP Jacob Rees-Mogg, who famously took his childhood nanny to help him canvass the largely working-class neighbourhood of Central Fife during the 1997 general election.
Eventually he came third on election night, gaining 9% of the vote, though he dismissed rumours he had travelled around the constituency in a Bentley, insisting it was a Mercedes instead.
"Of course [nanny] came canvassing; she's part of the family after all — she's been with us 47 years!" he told the Mail in 2013.
"But we took my mother's Mercedes Estate. I don't think a Bentley's a suitable campaigning car. As much as anything it was the petrol consumption: six miles to the gallon."