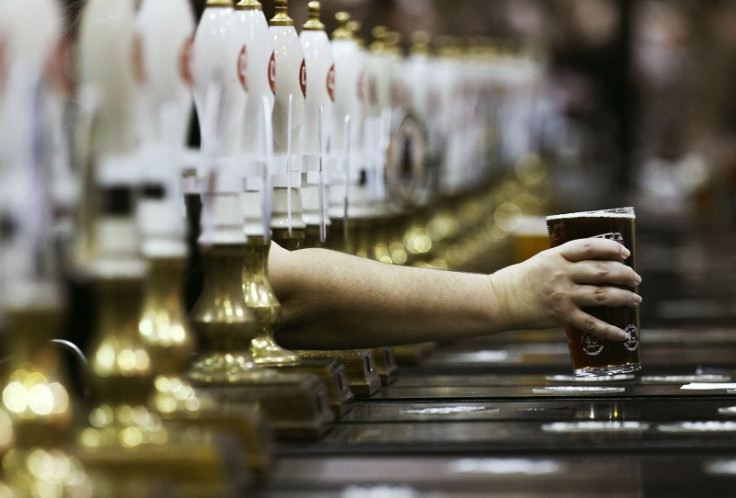 The George & Dragon in North Yorkshire has been named Campaign for Real Ale (Camra) pub of the year 2017. The community-owned pub beat off stiff competition from 15 other regional winners.
Regional Camra pub of the year winners were selected in September 2016 before being whittled down to a shortlist of four in November of the same year. The George & Dragon was announced as the winner on Friday (3 March).
So, which of Camra's favourite 16 pubs in the UK is nearest you? If you haven't visited your local, then why not head down this weekend. All of them are featured in Camra's Good Beer Guide.
"You have to be a great pub to get featured in the Good Beer Guide and an absolutely fantastic pub to be named a Regional Pub of the Year," said National Pub of the Year co-ordinator Andrea Briers.
"Pubs play a huge role in local communities and can help people make friends and build networks... We need to see even greater protection afforded to pubs so that our locals cannot just be demolished or redeveloped without a say from the local community."
Cambra Pub of the Year 2017 Regional Winners
Yorkshire: George and Dragon, Hudswell **UK WINNER
At the heart of the village, this homely multi-roomed country inn has a large beer terrace offering fantastic panoramic views over the Swale valley. Rescued and refurbished in 2010 after a successful community buy-out and opened by William Hague.
Central Southern: Cross Keys, Thame
Home of the Thame Brewery. Transformed from a failing keg-only pub, they serve ales to the discerning drinker. Usually busy, the bar sees at least two beers change every day over the weekend, and more during the week.
East Anglia: Stanford Arms, Lowestoft
A free house offering a wide range of beers (up to 12 on handpump) in a large single "L" shaped bar. The traditional bar has been refurbished with a new tiled floor, wooden tables & a wide range of breweriana decorating the walls.
East Midlands: Old Oak Inn, Horsley Woodhouse
2016 Amber Valley Camra Pub of The Year and taphouse for the Leadmill Brewery. It features an extensive variety of Leadmill beers, plus a couple of guests. There are four rooms of differing character, some with open fires.
Greater London: Hope, Carshalton
Owned by 46 of the customers, this community pub is 'by beer enthusiasts for beer enthusiasts'. Five rapidly-changing guest beers are supplemented by three key keg ales.
Greater Manchester: Baum, Rochdale
A former National Pub of the Year winner. Within a conservation area, it occupies part of the Rochdale Pioneer Museum building on an isolated part of Toad Lane just south of the by-pass.
Kent: Rifle Volunteers. Maidstone
A stone-built, single-bar, street-corner pub located only a short walk away from Maidstone's main shopping area. It is one of only two Goacher's tied houses and has new licensees since March 2015.
Merseyside and Cheshire: Cricketers, St Helens
The Cricketers has established itself as an excellent cask ale pub. Now with 13 handpumps on the bar the beers come from newer regional brewers and local microbreweries. This is a very friendly local community pub on the edge of the town centre which hosts darts and pool teams.
North East: Steamboat, South Shields
Offering an impressive range of beers from independent and microbrewers on eight handpumps plus a real cider, the Steamboat is a regular regional Camra Pub of the Year winner. A pub full of character and atmosphere.
Scotland and Northern Ireland: Volunteer Arms (Staggs), Musselburgh
Superb pub run by the same family since 1858. The bar and snug are traditional with a wooden floor, wood panelling and mirrors from defunct local breweries. The attractive gantry is topped with old casks.
South West: Salutation, Ham
An attractive, welcoming country pub situated in the Severn Valley within walking distance of the Jenner Museum, Berkeley Castle and Deer Park. Two guest ales sourced from micro-breweries and two ciders from Gwatkin, along with the occasional perry.
Surrey & Sussex: Brooksteed Alehouse, Worthing
Worthing's second micro-pub opened on 5th September 2014. It is named after the former name for South Farm Road. There are up to five ever-changing ales and three ciders/perry from far and wide. They are served direct from the cask in a purpose-built cool room.
Wales: Arvon Ale House, Llandrindod Wells
Arvon Ale House opened in November 2014, the first micropub in this part of Wales. Sensibly priced beers are sourced from Wales, the borders and the Midlands and two real ciders are offered.
Wessex: The Bottle Inn, Marshwood, Dorset
Idyllic pub situated on the Dorset/Devon border with a single bar serving two small rooms. Family room and skittle alley at the rear. leading to a large garden overlooking Marshwood Vale.
West Midlands: Earl Grey, Leek
Recently re-opened Free House on the road out of town; the new landlord says that he wants to specialise in beers that are unusual for the area. The house beer, Earl Grey Bitter, is brewed by Whim of Hartington, and real cider is available.
West Pennines: Swan with Two Necks, Pendleton
CAMRA National Pub of the Year 2014 and recipient of many other local and national awards. This is an outstanding and recently renovated traditional pub set in a pretty Pendleside village that's deservedly popular with locals and visitors alike. Five constantly changing ales and one real cider are served and discounts are available for CAMRA members.