Canadian and US hostages plead with governments to secure their release from Afghan Taliban
The two children of Joshua Boyle and Caitlan Coleman are seen in the video for the first time.
A Canadian man and his American wife have appeared in a new video pleading with their respective governments to secure their release from the captivity of the Afghan Taliban. The footage showed the children of Joshua Boyle and Caitlan Coleman for the first time since they were captured in 2012.
The two sons of the Canadian-American family were seen fidgeting and unaware of the camera in the footage released by the Taliban-linked Haqqani network. Coleman was pregnant when she was kidnapped and both the children were born in captivity. The couple were abducted by the insurgents during a backpacking trip.
"We can only ask and pray that somebody will recognise the atrocities these men carry out against us as so-called retaliation in their ingratitude and hypocrisy," said the mother-of-two, 31, in the video. She then added: "My children have seen their mother defiled." She criticised both the Canadian and American governments as well as the extremist organisation. The video was published in Jihadist channels and came into the public domain through the US-based SITE intelligence group, which closely tracks the Jihadist media.
The Canadian government has called for unconditional release of the captives. "We are deeply concerned for the safety and well-being of Joshua Boyle, Caitlan Coleman and their young children and call for their unconditional release," said Canadian Global Affairs spokesman Michael O'Shaughnessy.
The US State Department said it was investigating the footage. The couple had previously appeared in a video pleading with Washington to secure their release but so far there has been no forward movement. The earlier recordings warned that the hostages would be killed if the Afghan government continued executing Taliban prisoners.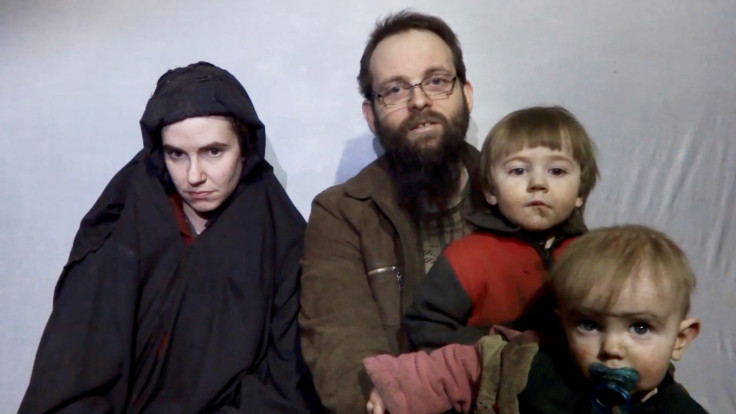 © Copyright IBTimes 2023. All rights reserved.