Cannes Film Festival 2012 Day One Teaser: Multi-Hued Gowns Rule Red Carpet [SLIDESHOW]
Actresses at event sashay in wearing all sorts of colourful gowns, while Jane Fonda goes totally out of the box in Atelier Versace glittering bronze gown.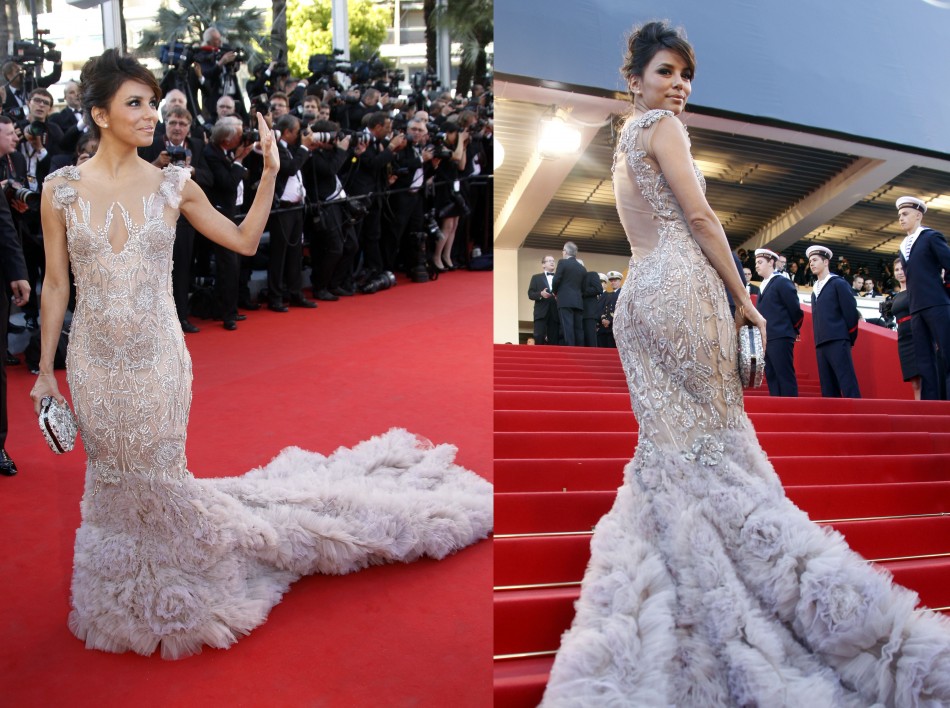 The 65th Cannes Film Festival began on 16 May, with the red carpet arrival of celebrities for the screening of the film Moonrise Kingdom, by American director Wes Anderson. The cast members of the film were in attendance, as were the Italian president of the jury - Nanni Moretti - and jury members Diane Kruger, Emmanuelle Devos, Ewan McGregor, Jean-Paul Gaultier, Hiam Abbass, Raoul Peck, Andrea Arnold and Alexander Payne.
Moonrise Kingdom will be the first film to be screened in competition at the Festival.
The actresses at the event sashayed in wearing all sorts of colourful gowns, ranging from subtle hues such as peach and mint to dark, bold tints and shades of blues and blacks. While those who donned soft colours included actresses Jessica Chastain, Eva Longoria and jury member Kruger, French actress Marie Gillain and singer Lana Del Rey opted for sleek, black floor-length gowns on the first day of the 2012 Cannes Film Festival. Vahina Giocante and French actress Virginie Ledoyen were seen in bold shades of blue, while Chinese actress and singer Fan Bing Bing flaunted a gown adorned with Chinese embroidery.
Meanwhile, veteran actress Jane Fonda, 74, went totally out of the box as she vied for attention in an Atelier Versace bronze gown with shimmering finish and body-hugging fit that suited her slim figure.
"It is a great privilege and a great responsibility for me to preside over the jury of the most important film festival in the world. I would like to thank my jury members for their competence and their good nature. Thanks also to the Festival de Cannes and to France, a country that always reserves a special place in society for cinema," Moretti said.
The closing ceremony of the first day of the festival saw a performance of the song Candle in the Wind, which Elton John composed in 1973, as a tribute to Marilyn Monroe, who is featured on the official poster of the 65th festival.
Start the slideshow to see who wore what on the red carpet and other pictures of the first day of the Cannes Film Festival 2012.
© Copyright IBTimes 2023. All rights reserved.