Cannes Film Festival has apologised after technical problems and unruly audience members disrupted the first screening of Netflix's Okja at the prestigious event.
The streaming service's debut competition film, starring Tilda Swinton and Jake Gyllenhaal, had to be stopped after five minutes due to a problem with the film's aspect ratio; an issue which guests reportedly started hissing and stamping their feet in response too.
"A technical problem occurred during the press screening of Okja, the film by Bong Joon-Ho, this morning at the 8:30 a.m. screening at the Auditorium Lumiere," admitted the festival. "After an interruption of several minutes, the screening started again and went normal. This incident is completely due to the technical staff of the festival who deeply apologise to the director and his team, to the producers as well as to the audience."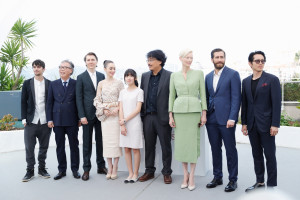 Also starring Seo-Hyun Ahn, Paul Dano and Lily Collins, Okja centres on Mija, a young woman who has taken care of a huge animal in the mountains of South Korea since she can remember. But when a multinational business named the Mirando Corporation takes the titular creature to New York in the name of self-promotion, Mija sets out on a rescue mission.
Distributed by Netflix, the movie's presence at the French event is proving controversial, as some officials and attendees don't believe that a film which is shown out of cinemas should be treated in the same way as one that does. Earlier this week, Cannes jury president Pedro Almodovar ruffled a few feathers by criticising the festival's line-up of titles and suggested organisers should ban films without French theatrical releases from next year onwards.
Fuelled by such remarks, some of the audience allegedly booed when the Netflix logo appeared onscreen before Okja started. Boos also erupted the film's restarted, however there were also cheers and applause in response.
To coincide with the film debuting at Cannes, Netflix released the film's first look trailer online. Since the screening, Okja has received predominantly positive reviews with The Guardian describing it as a "glorious family adventure" and Indiewire claiming it's a "delightful tale."