Captain of cargo ship El Faro reported 'hull breach' and said hatch blown open before sinking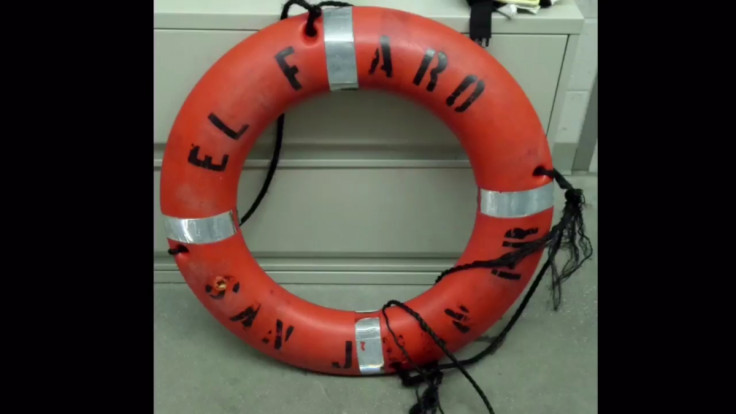 The captain of sunken cargo ship El Faro reported "a hull breach" and said a hatch on the vessel had blown open before it sank off the coast of the Bahamas in the middle of Hurricane Joaquin in 1 October, the National Transportation Safety Board announced on 20 October. Captain Michael Davidson called the ship's owner over satellite phone to report he had 'a marine emergency' when one of the holds took on water.
In an update on its two-week-old investigation into the sinking, the NTSB said the captain also reported that the 40-year-old ship had lost its main propulsion unit and could not be restarted by the vessel's engineers. The ship's owner, Tote Inc of New Jersey, previously stated that the ship's loss of propulsion was likely what led to the ship's sinking.
The NTSB stated that the US Coast Guard received electronic distress alerts from three separate sources on board the El Faro but did not have direct voice communications with the crew. According to CNN, three former crew members questioned why the ship sailed during a major storm given its structural problems.
"The chief cook's room was constantly leaking water," Kurt Bruer, a quartermaster told CNN. "The drainage didn't work well on that ship." The shop's owner, however, claimed that the ship met all the standards and certifications. "The El Faro was a well-maintained vessel, classed by the American Bureau of Shipping and regularly inspected by that classification society and the (US Coast Guard)," the company told CNN.
That claim was supported by the NTSB, which found that the ship successfully completed the American Bureau of Shipping class and statutory surveys in February and met all regulations and rules. The ship underwent its annual inspection in March and safety drills were conducted on a weekly basis.
The agency also found that the company shut down one of the ship's two boilers to be inspected in September. When the boiler service company recommended service to both boilers, service was scheduled for November, CNN reported.
The El Faro had a crew of 28 Americans and five Polish nationals between the ages of 23 and 54. The cargo ship disappeared on 1 October as it was sailing from Jacksonville, Florida to Puerto Rico. Unfortunately, the ship sailed right into the path of Hurricane Joaquin, vanishing just north of Crooked Island in the Bahamas.
© Copyright IBTimes 2023. All rights reserved.