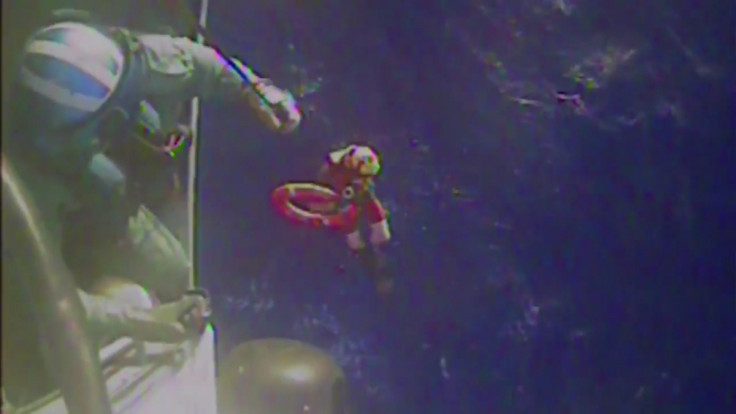 Missing cargo ship the El Faro, which has been missing since 1 October with 33 crew members on board, is believed to have sunk 15,000 feet in the middle of Hurricane Joaquin. The US Coast Guard announced on 5 October that their efforts have turned to finding "people in the water" instead of finding the ship.
Coast Guard Captain Mike Fedor spoke to reporters and confirmed that an "unidentifiable" body, in a survival suit, was discovered on 4 October in a 225-square-mile debris field of wood and cargo. As previously reported by IBTimes UK, a C-130 trying to find the vessel discovered the debris field, which included Styrofoam, a cargo door, pieces of wood and multiple 55-gallon drums.
Fedor said that the Coast Guard had also recovered a life preserver ring, as well as a life boat with the ship's markings, life rafts and survival suits. "If the vessel did sink on Thursday, and that crew was able to abandon ship they would have been abandoning ship in a Category 4 hurricane," he said. "Those are challenging conditions to survive."
However, he noted that the El Faro's crew, consisting of 28 Americans and five Polish nationals, were trained mariners. "We're not going to discount somebody's will to survive."
The El Faro went missing on Thursday (1 October) near the Bahamas as Category 4 Hurricane Joaquin dropped heavy rainfall on the islands. The 735-foot-long cargo ship was traveling to San Juan, Puerto Rico from Jacksonville, Florida when it reportedly lost power at 7am. Fedor previously told reporters that the ship was very close to the eye of the hurricane when it lost power.
The ship's crew made one contact with the Coast Guard, saying the vessel was taking on water and was listing at 15 degrees, NBC News reported.
Michael Sacco, president of the Seafarers International Union, which represents American merchant mariners, told reporters: "As the search for the El Faro mariners continues, our thoughts and prayers remain with them and their families. In this age when we are all accustomed to instant information and quick answers, it has been an agonising wait these last few days."
According to NBC News, at least six of the 28 Americans on board have been identified. They are: Jeremy Riehm, Steven Shultz, Keith Griffin, Mariette Wright, Mike Holland and Danielle Randolph.