Viral video footage of car dragging a dog tethered by a rope down a highway has sparked outrage in Argentina.
The man thought to have been behind the wheel tried to justify his actions after being identified on Facebook. Juan Carlos Rios said the dog was already dead, and that he towed it down the road to dispose of the body.
The vilified driver claims that the dog had been a much beloved pet, which he found dead at his home, presumably poisoned by burglars that broke into his house in Las Termas, Santiago del Estero.
Why the heartbroken owner decided to drag his pet's corpse down a highway, rather than put it in the boot, remains a mystery.
He was filmed in the act by another driver's dashcam. The footage quickly went viral after it was uploaded to social media.
Animal lovers identified Rios on Facebook and bombarded him with abuse, describing him as a "monster" who also owns firearms.
"Watch out Santiago del Estero Province! This [expletive] dragged his dog until he killed it – he alleges it was already dead but he lies," wrote one.
"He killed it in a cruel way!! If you know him or he is your neighbour or relative then take care of your children because he is a monster! He has firearms, he should be checked to see if he has a permit or belongs to some armed force, share on your Facebook to warn others!"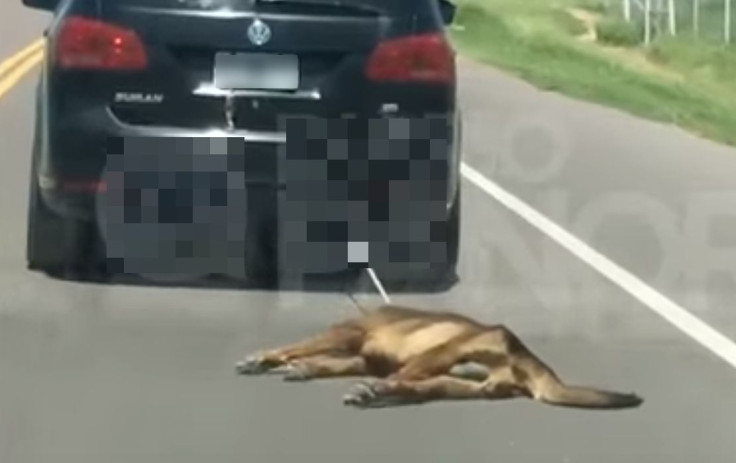 Rios was angered by the accusations on Facebook, which appear to have no evidential basis. He replied in kind in a public post.
"You are even more of an [expletive]," he said. "Someone poisoned my dog. When I got home from work the dog was already dead and the guy who filmed me dragging it is completely ignorant. My children are very upset but there is a God and he will make the culprit pay."
Several commenters counter-responded that Rios had not chosen the most dignified method of transport for his dead dog's body. Animal rights groups have said they are considering filing legal charges against Rios for dragging the dog's body down the road.